Becca and the Beast
Hang on for a minute...we're trying to find some more stories you might like.
Theatre junior Rebecca Suskauer has led many shows in her acting career, but recently she has been given the opportunity to portray one of the world's most memorable characters in a tale as old as time. Suskauer was chosen to play Belle in "Beauty and the Beast" at the prestigious performing arts camp French Woods. French Woods is a summer camp located in the heart of the Catskills, but you won't find campers roasting marshmallows over campfire. Instead, you'll see young artists preparing to put on reputable musicals and plays.
"French Woods has definitely improved my theatre performance at Dreyfoos," Suskauer said. "It gives me knowledge about puting up a show in such little time, [and] makes me access parts of my personality to play different characters and gives me a chance to work with different production teams and actors in which I can take traits I like and apply them to my own acting."
This is Suskauer's eighth year at French Woods, and Belle isn't the only notable role she has played. Over the years she's been casted as characters such as Hodel in "Fiddler on the Roof," Mame in "Mame" and Eve in "Applause." To be selected for these roles, Suskauer has to go through rigorous audition processes.
"You go in to a room full of directors for the shows that session and you have prepared a 16-32 bar cut of a song of your choice. The directors do callbacks on the second day of their shows for certain parts and then the following morning the cast lists are posted," Suskauer said. "After I got a callback for the show, I walked into a room full of girls and we sang a small excerpt of a different character's song and then I got the opportunity to sing for Belle."
Playing an iconic character such as Belle comes with its own trials and rewards.
"It's such a fun challenge to play such an ingenuous princess-y girl, yet I'm headstrong, brave, and often sarcastic. It's great," Suskauer said. "The hardest part about being Belle [is] her physicality. If you're friends with me, you know I'm an awkward weirdo who walks like I'm in the middle of a musical number; in other words, not like a non-awkward girl with grace and reserved strength. I like a good challenge."
The opening night for "Beauty and the Beast" is June 27, and there are two performances during the festival weekend, a special weekend at the end of camp where friends and family view camper's performances. Suskauer has to work hard to be prepared before the three-week camp session ends.
"Every morning I wake up and just practice my lines and blocking through from the scenes we blocked the day before. I take advice from other actors/teachers about their critiques on how I'm doing," Suskauer said. "In the end, the best way to be prepared for any role is to just be focused, not distracted, a good listener, a co-operative person with the production team, [crew and cast], stay in the style, remember your lines and lyrics and tell this beautiful story to the audience."
About the Writer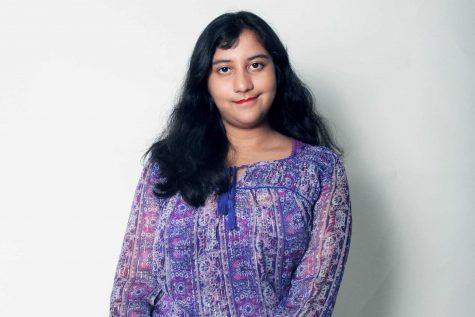 Uma Raja, Assistant Managing Editor
Communications senior Uma Raja, Assistant Managing Editor and third-year staffer, was born in Manhattan, New York City. She loves animals and enjoys traveling...