Teachers
Coming straight from a loss in 2022, the teachers felt they should prepare in order to succeed this year. To prepare for the game, social studies teachers Ross Vening and Jeffrey Stohr and athletics director Matthew Vaughn practiced their skills outside of school.
"Mr. Vening, Mr. Vaughan, and (I) played a little basketball last week to prepare," Mr. Stohr said. "All three of us work out a lot. I run and swim and lift weights. Vaughan is very athletic, so he's clearly still good, and Vening does CrossFit, but there's nothing that compares to playing in a basketball game. You have to play the game to be ready for it."
On the other hand, some teachers took it less seriously, with science teacher Stephen Anand joking that the only thing he did to prepare was "put on shorts and a jersey."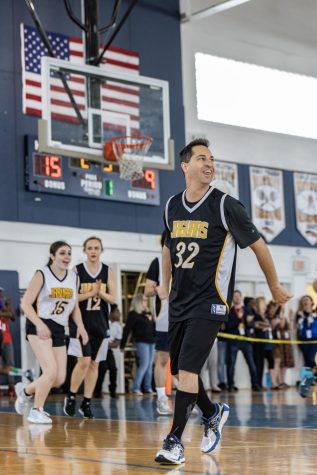 Although the teachers ultimately lost the game, students only won by four points with a final score of 39-35. The teachers still saw this as an achievement in contrast to past years in which the student lead was greater. 
"It was a very close game, and a pretty good game all in all," Mr. Anand said. "There's a lot of effort out there, and I put some points up there, so I'm proud."
According to a casual Instagram poll from SGA, only 30% of students were rooting for teachers. However, students cheered for the teachers from the bleachers. When the sophomores saw their social studies teacher Samuel Mick score, several erupted into a standing ovation.
"Mr. Mick making a 3-pointer was awesome," Mr. Stohr said. "We have a fun staff. We had a good time today."
Teachers adopted an attitude of "It doesn't really matter who wins. I think we all had a good time," Stohr said. However, this didn't stop teachers from believing that they would dominate the competition in 2024.
"We look forward to a rematch next year," Anand said. "They're going down."