Students
Students aimed to maintain their champion title. Some, such as strings sophomore William Tong, felt his biggest obstacle in securing the win would be the fear of his peers' judgment.
"I just don't want to be embarrassed," Tong said. "There's going to be a lot of pressure because the whole school is watching, so obviously the main focus is having fun but don't embarrass me."
Some students took on the additional pressure of their friend's expectations, with Tong stating that because his friends bet him $10 that he wouldn't dunk during the game, he's "been training his legs a lot, so (he) can try to dunk better."
On the other hand, since part of the game included passing to and communicating with other team members, theatre junior Kara Mullings felt the game didn't need to be prepared for, and it was more of a way to play basketball with other students who share the same interest in the sport.
"Honestly, I didn't do anything to prepare for the game," Mullings said. "I knew this would be another chance for me to play a sport I enjoy with people I love, and I just signed up."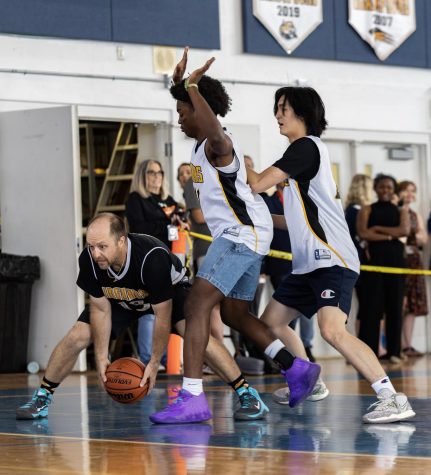 Although the students took the victory, winning team members understood that beating the teachers would not be easy, with Mullings listing her least favorite part of the game as "underestimating the teachers."
"I was scared to play against Coach Vaughan because his shot is really consistent, and he hits them all with precision," Tong said. "He understands the game and knows everything there is to know about how to make good shots."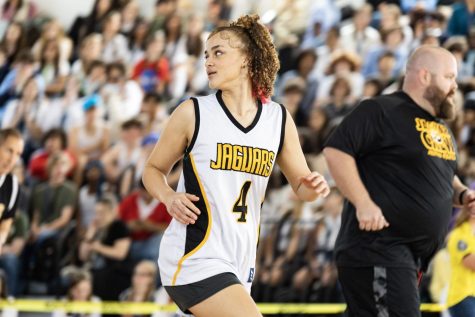 Overall, some students, according to Mullings, were able to use the game as an opportunity to learn, both from the teachers they were playing against and from their personal setbacks in the past season. 
"My mindset going into the game was to just remember everything Coach Stohr told me and apply it," Mullings said. "Also, I wanted to use this time to make up for my past mistakes from my previous games and show myself that I learned from them."
To see more about the cheer performances that went during the game's halftime, read this opinion article on Powderpuff.