Before the gym floods with students, club officers carry balloons and candy, putting the final touches on their eye-catching booths, complete with 6-foot-tall rockets, red carpets, and military costume displays to draw attention to their clubs.
Club Rush, an event where students browse club tables and sign up for the ones that pique their interest, took place during lunch on Friday Sept. 9. The setup for Club Rush occurred after school on Thursday and gave club officers the chance to decorate their tables to attract new and returning members to their clubs.
"Club Rush is so important for every club because it gets students excited to participate," communications sophomore and co-president of the Colleen Hoover Book Club Duriana Guy said. "You walk into this gymnasium and you hear music, you see balloons, and you see candy, and everyone's like, 'Oh, this is so much fun,' and it (makes) everyone want to join a club and find their community, which I think is so important."
New officers, in particular, felt preparation was necessary to maximize their club's success. Some spent hours cutting up QR codes, designing stickers, and formatting flyers. The day before Club Rush, officers prepared their tables complete with table cloths, poster boards, and neon balloons.
"I feel like it (the preparation) honestly has paid off so much," dance junior and co-president of Fostering Feminine Isabella Passos said. "As tedious as it was, even our (custom club) shirts and what we're wearing caught a lot of people's eye."
Returning clubs relied on resources from past years, including old decorations, poster boards, and signs. Reusing old items not only saved money but also helped maintain club traditions.
"Our poster board has actually been passed down school year after school year," said vocal senior and co-president of Latin Hispanic Heritage Club Jacqueline Alvarado. "I know everyone usually makes a new one, (but) ours is like tradition. The poster board has been in the club for a lot of years and since so much artistic intricacy is involved in it, it's a really important piece of our club."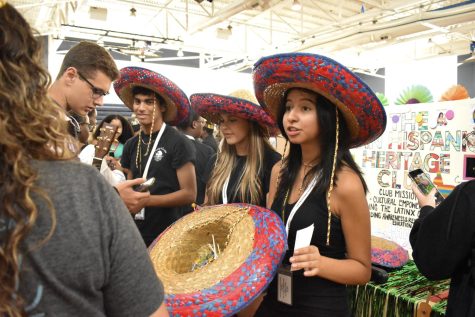 Both new and old clubs participate in Club Rush to find new members and give the club more traction. Niche clubs especially benefit from Club Rush, as it gives them the opportunity to reach out to the student body and offer them the chance to know more about their community.
"For us, Club Rush is a way to get ourselves out there," piano sophomore and treasurer for the Aerospace and Rocketry Club Luca Weisman said. "As a STEM-based club at an arts school, it's not really the first choice of a lot of students but by exposing them to the fields of rocketry and aerospace, we can really get a lot of members. Last year we had about 50 members enrolling, so we're (trying to) go as far as we can for the Aerospace Club. We're shooting for the stars."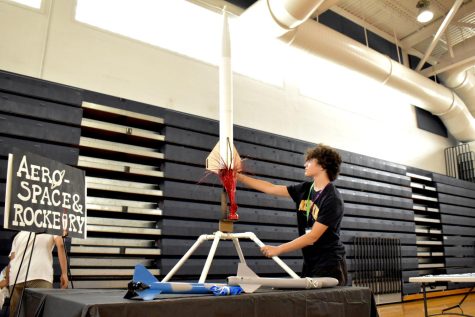 Although it occurs annually, no two Club Rush rosters are the same, with new clubs forming every year and old clubs continually reinventing themselves to better serve their evolving community — this year, there were 64 returning clubs and 27 newly established ones.
"Every year there's new clubs, new people at the school creating new ideas, old ideas getting transformed into new things," vocal senior and co-president of ARTS Club Ruby Steigenga said. "I'm on SGA, so I got an opportunity to look at all of the clubs before they came and help approve things, and it was really cool to see how many people were interested in creating
The impact of Club Rush spans more than the candy wrappers, flyers, and streamers that littered the gym floor after lunch. As Steigenga says, "it's a great way to kind of show the Dreyfoos community."
"I think it's important that Club Rush is held because, if you look around, there's a club for everyone," said Alvarado. "If you're into space, if you love the ocean, and no matter who you are or what you like, you will find a community and I think, especially at Dreyfoos, finding and meeting different people and making connections is a really big deal here."
Information regarding clubs and how to sign up for each one can be found here. 
How many clubs did you join?
Sorry, there was an error loading this poll.