For the first day of Spirit Week, students dressed in holiday clothes walked through hallways lined with doors decorated with photoshopped faces, hand-cut flowers, and painted posters. 
This year's Spirit Week kicked off with new events such as the club door decorating contest. Since the beginning of the month, clubs had the opportunity to decorate their respective sponsors' doors at lunch and after school. They will be judged based on creativity, quality, and how well the design fits the club and the Spirit Week theme of "fantasy series." The top three club doors will be announced at the Pep Rally, and the first-place door will be awarded a trophy.
Artists Reaching Out to Society Club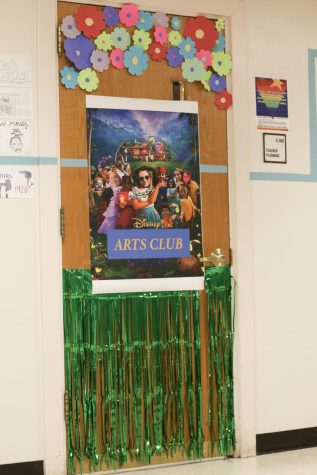 "
The series we decided to use is 'Encanto.' We decided to base our door off of this because we at ARTS Club are one big happy family, and we wanted to express that through our door theme.
— ARTS Club co-outreach committee member and communications sophomore Sophia Nemes
ㅤㅤ
ㅤ
ㅤ
Green Team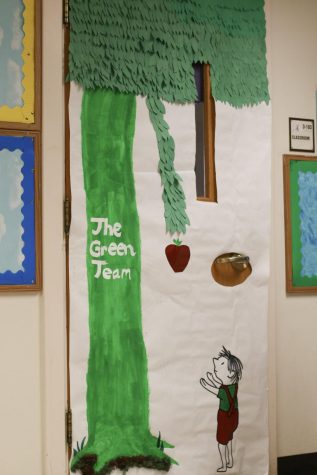 "
Our vision is to do 'The Giving Tree' because it connects with the club and its fantasy. I think 'The Giving Tree' is a timeless book. It's really cute, and it's classic. It's a tale about taking away from Mother Nature and not giving back, so we're putting our own little twist on it where we say 'Don't take from Mother Nature. Give back to Mother Nature.
— Green Team co-president and vocal senior Amelia Williams
Video Game Association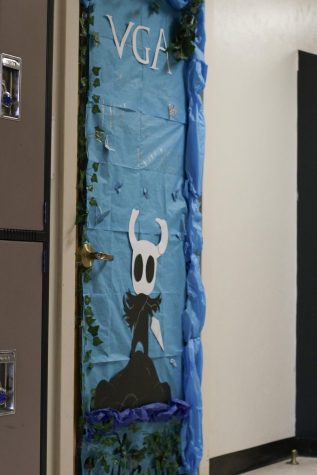 "
Our vision is to do '(Our door) is based (on) the game 'Hollow Knight,' which has a lot of storybook elements, and it has a nice and simple look and aesthetic. Since the theme was fantasy storybook, we thought that this would be a really good way to incorporate how most video games, despite just being pieces of media, can also have storybook elements to them as well.
— Video Game Association vice president and piano senior Nicholas Correa-Perez
Academic Games Team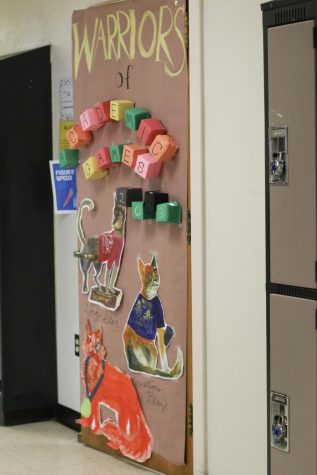 "
We really wanted to incorporate the theme of fantasy books in our door, and we wanted to go a little bit more unique, so we decided to go with 'Warrior Cats.' The goal was to design each cat themed like a different season of our games, so we created the cats and then used the cubes from the games to spell out 'Academic Games' at the top. I think that the door decorating is a really cool idea, (and) it's something that can become a good Spirit Week tradition.
— Academic Games captain and visual junior Ava Grave de Peralta
Asian Cultural Society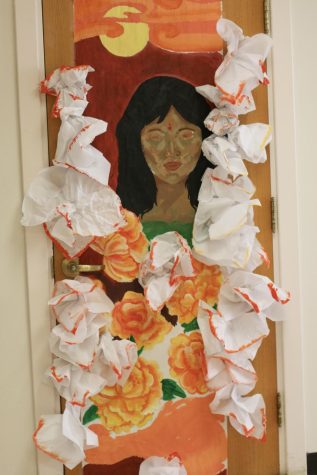 "
The vision is just an amalgamation of different Asian folktales. First, we measured the door, sketched it (the design) out, and we're painting. We're having origami lotus flowers on the outside, and it's epic.
— Asian Cultural Society co-president and visual senior Alyssa McIntosh
Spanish Honor Society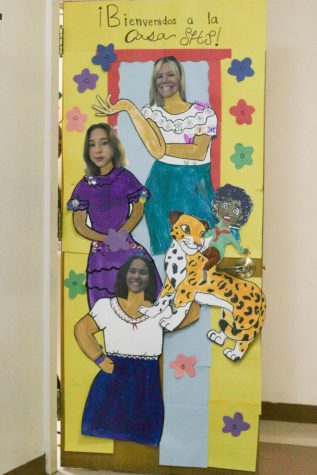 "
'Encanto' is based off of the book series "La Familia Madrigal" so that's what we got the inspiration from, and we really tried to do our best and go all out with it. We got a lot of officers and a lot of members from the honor society. It (the design) is me as Luisa, Mrs. Brown as Mirabel, and Sandra as Isabela. It's the infamous door in which they open to see where they get their powers (from).
— Spanish Honor Society co-president and strings senior Sofia Plaza
Knit and Crochet Circle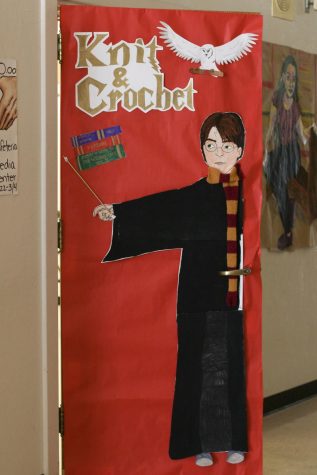 "
"Since the theme is fantasy book series, I was trying to think of how to tie that into knit and crochet, and I remember when I watched the (Harry Potter) movies, and I saw those scarves that they were wearing, I was like 'These are beautiful,' and I always wanted to make one, and then I had the idea of using a knitting needle as a wand for Harry, and I was like, 'This is the perfect idea. I have to do this.'
— Knit and Crochet Circle co-president and strings sophomore Mia Hakkarainen