CLASS OF 2019 GRADUATION RECAP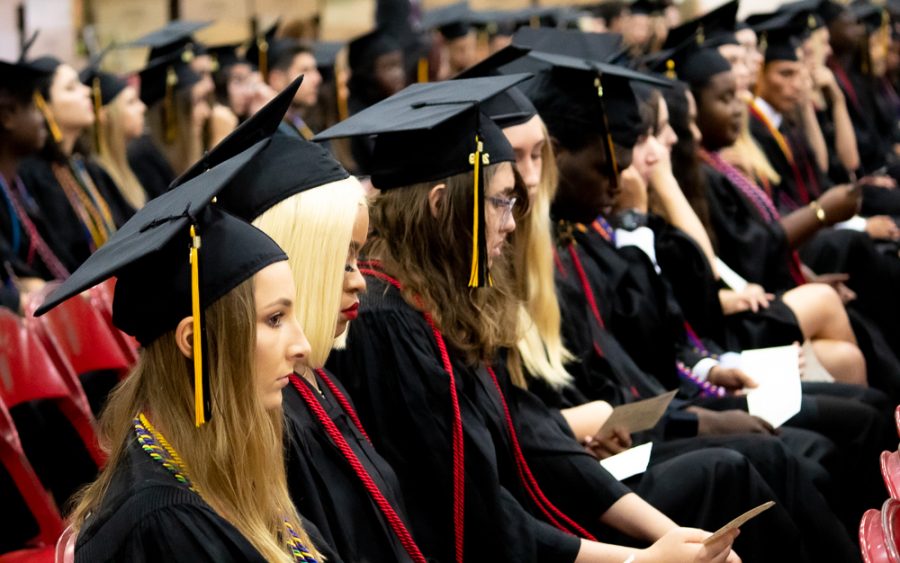 Four years. Four years of AP testing, extracurriculars, and sleepless nights. Four years of parties, pep rallies, friendships, and memories. All of this culminated in a graduation ceremony, symbolizing both the end of a journey and the commencement of another.
Dreyfoos held its Class of 2019 graduation ceremony on Friday, May 17, at the South Florida Fairgrounds. Parents, teachers, and other guests crowded the auditorium, where members of the 2019 senior class walked the stage and received their diplomas.
"I'm delighted because [the graduates] are all going to good places," said Brian Ross, a former college admissions officer who helps Dreyfoos students. "That's the best part. We get to enjoy it today and celebrate, know[ing] that they're all in much better places because they all worked really hard to figure out how to get there."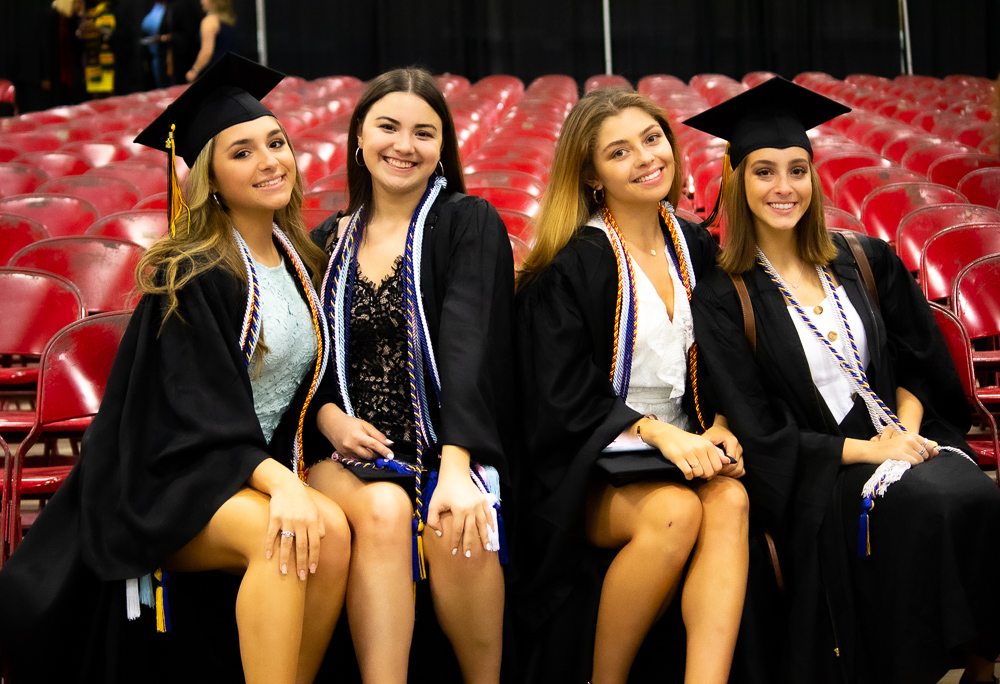 The ceremony began with the classic "Pomp and Circumstance," performed by the DSOA Orchestra, followed by the Pledge of Allegiance and the national anthem, performed by vocal senior Laura Santamaria-Mendez.
Audience members took their seats as Principal Dr. Susan Atherley began her opening remarks. Dr. Atherley mentioned the achievements of the 2019 graduating class, including six seniors being awarded first place in the 2019 Pathfinder Scholarships. She then spoke about "authenticity" and being true to oneself.
"Authenticity is not something you have or you don't have; it is a practice," Dr. Atherley said. "It is a choice to show up and be real, a choice to be honest and a choice to let your true selves be seen."
"
Growing up, I thought I was just another mediocre person, but going to high school and meeting such believing teachers and supportive friends [has] taught me to really believe in myself."
— Nina Zaremba
Superintendent Dr. Donald E. Fennoy II made an appearance and delivered a speech to the Class of 2019. Dr. Fennoy spoke about protecting one's "personal brand" and making professional choices to protect personal integrity.
"Your brand combines the things that make you. Protecting your personal brand today is more important than ever before," Dr. Fennoy said. "Build real relationships, not just followers. Seek out authentic conversations, not just Snapchats and instant messages. Be authentically you—not just online, but [everywhere]."
"
We are the generation that holds the future in our hands. Despite some of the frightening things happening in our world today … we can feel confident moving forward … because we are passionate, empathetic, and capable of using our talents to enact meaningful change."
— Ryan Huang
Following the performance of Johannes Brahms' "Hungarian Dance No. 5" by piano senior Lylybell Zhou and strings senior Sahana Shravan, Class of 2019 salutatorian and piano senior Ryan Huang, along with Zheng, delivered their speeches. Zheng emphasized that there is "so much to be grateful [for]" from the time they spent at Dreyfoos "despite the obstacles and hardships" they encountered.
"Our four years spent together at Dreyfoos have been incredibly valuable and meaningful, and I feel excited and hopeful for our future," Zheng said. "However, I also recognize there will be difficulties and challenges of being an adult."
"
It's bittersweet because I know I'm going to miss most of these people and I'm never going to see them again. But at the same time, I'm going to meet new people at new colleges and different places."
— Luke Han
After the piece "The Greatest Showman Medley," played by piano seniors Karen Copeland, Hope Lee, and Adele Denizard, members of the graduating class were awarded their diplomas, signaling the end of an era and the start of another.  
"These were my first Dreyfoos babies," English teacher Peggy Mellon said. "It's really sad to me that they're leaving. It makes me very emotional seeing them walk across that stage one last time."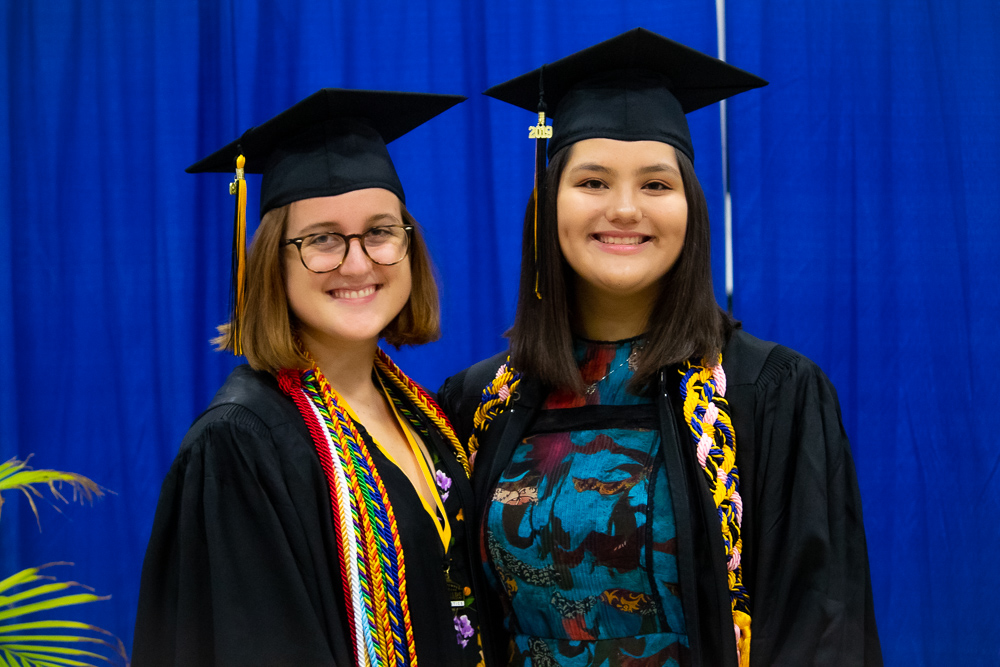 Finally, as the Class of 2019 rose from their seats, bedecked in the caps, gowns, tassels, and cords, the audience rose with resounding applause.
"Just go out there and do whatever you want," former Student Services Secretary Lynn Berryman said, offering her last piece of advice to graduating seniors. "Be what you want to be and succeed."
As the graduating class greeted eager friends and family members outside the Expo Center, they reflected on not only the remarkable comradery they felt at Dreyfoos, but also their futures away from the campus and community they had grown close to.
"[Graduating] feels really weird," vocal senior Joshua Snyder said. "I mean, I can't really imagine any other world or people than the community at Dreyfoos. It's gonna be interesting. It's gonna be a change."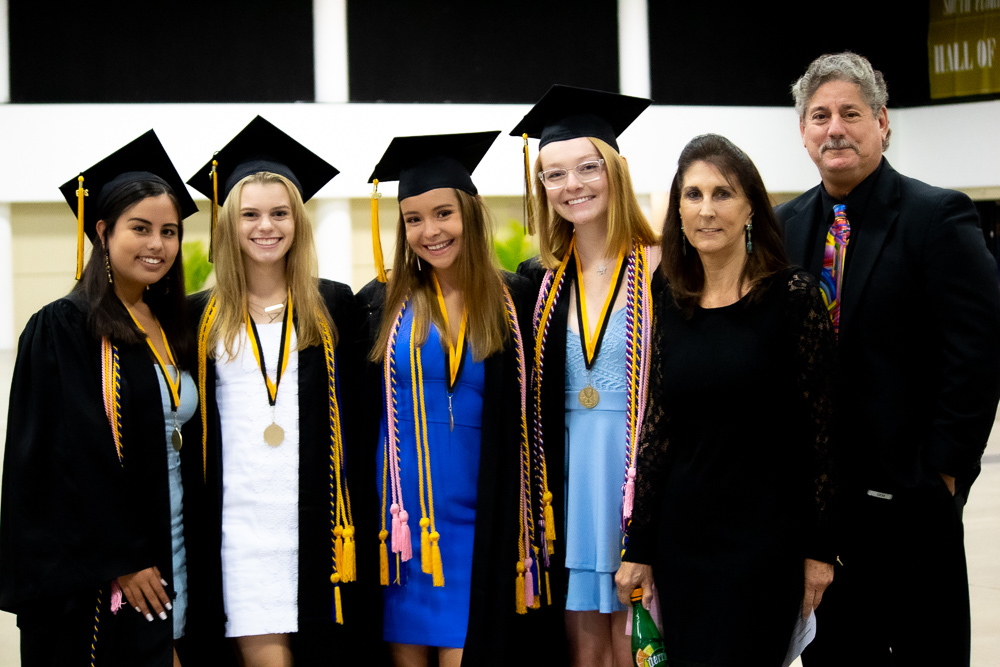 Many seniors will attend the same college as their fellow classmates. Others have intentions of keeping in touch with the friends they made at Dreyfoos to maintain lifetime relationships.
"There are definitely people that I want to have in my life for the rest of my life," Zaremba said. "I mean, I could count them on one hand, but they do exist. I'll probably keep track of them through Instagram and Facebook."
"
I've seen [seniors] that just did some of the most amazing things. I know they're at Dreyfoos and you're supposed to be talented, but something about them is really extra special."
— Peggy Mellon
Graduation was a time for many seniors to reflect on the things high school has taught them. From unexpected experiences to important lessons, Dreyfoos served as an environment for individuality and growth for many.
"In high school, you learn [about] yourself a little more, [and] you get to know who you really are," vocal senior Giovanni Pignotti said. "You grow confidence, and I really learned who I was this year."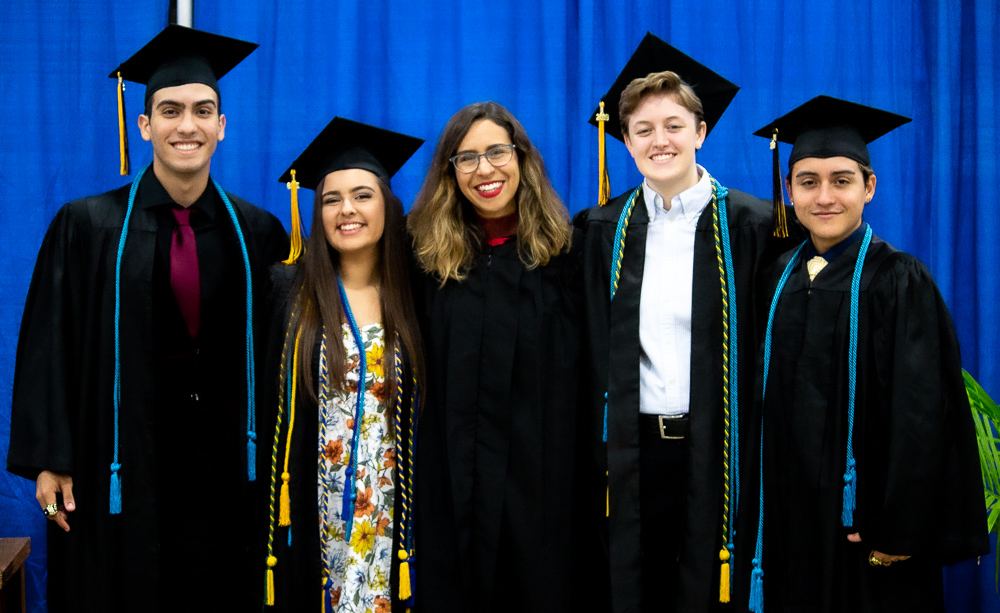 Through all of the excitement, pride, joy, and sadness of graduation, there was a special emphasis on remembrance.
"So, my fellow classmates, friends, and peers, remember the spirit of Dreyfoos," Zheng said. "Remember to cherish moments in life, no matter how big or small. Remember to focus on having an optimistic outlook. And lastly, remember to be happy. I'll miss all of you guys a lot, and I'll miss Dreyfoos a lot. Congratulations to the Class of 2019. We made it!"