After a summer of silence, the campus filled with the clamor of students' voices echoing through the halls as they became acquainted with the place where they will spend their high school years.
Incoming Student Invasion, held on Saturday, Aug. 6, is an annual event for all new students that provides them with the opportunity to tour the school and get to know more about their classes and classmates for the coming years. 
"I'm super scared for Wednesday, like super scared, but I guess I have to deal with it," strings freshman Jordan Galloway said during lunch at the end of the Invasion. "I feel like Invasion has really helped me get a grasp on what to expect in my classes." 
Through interacting with teachers, upperclassmen who gave tours and ran booths, and fellow students, the Invasion showcased the school's accepting atmosphere and culture. For band freshman Angelina Nesbitt, her assumptions about the school were proved wrong when she described it as "more of a welcoming place than (she) would have thought." 
With planning and preparations for Invasion starting back at the end of May, administration and SGA have been working throughout the summer to ensure that the new students' first experience at Dreyfoos made them feel like "they are being welcomed into a great environment" SGA Co-President Sofia Plaza said. 
"I think it's super important that they (the incoming students) have some help before school starts next Wednesday, just so that they can have a feeling of the campus layout," SGA Co-President Kate Wagner said prior to the event. "They can meet some students, and our hope is that they make some friends at Invasion so that (on) their first day they're not lonely at lunch or (feel) unsure of who they can talk to."
Plaza explained SGA's role as ensuring that "it all runs smoothly, and everything looks pretty."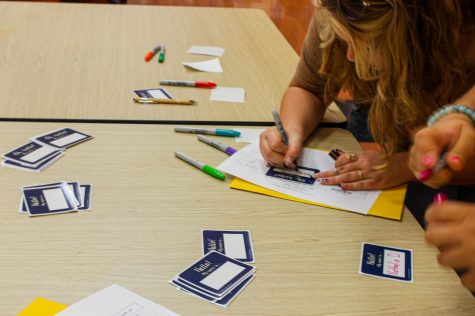 Maintaining this image entailed SGA members going back to school over the summer to stuff drawstring bags with student resources and decorating bare bulletin boards around campus with colorful backgrounds and school pictures to make them more inviting. 
"Before (Invasion), we had to do so many bulletin boards in Building 7, leading up to Meyer Hall," Plaza said with a face of mock horror. "Never in my life did I think bulletin boards was such an undertaking."
Sporting matching yellow shirts, many student volunteers also showed up to the Invasion to lead tours around the school, sell merchandise in the gymnasium, direct traffic, or hand out information to the new students around the cafeteria.
Communications junior Alicia Bickel, a volunteer at Invasion, helped set up and sell merchandise at the Seeds Literary and Arts magazine table in the gymnasium before going over to the media center to lead tours for the incoming communications students.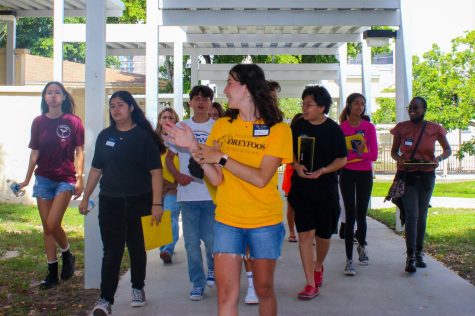 "I know I came on as a sophomore with COVID and I didn't know anything, so I hope (the tours) make them more comfortable coming into Dreyfoos before they have to start academics," Bickel said.
After getting their schedules and folder of school information, the incoming students headed off to their respective art areas to learn more about their majors and get to know their peers through chaotic scavenger hunts in the piano laboratory and a myriad of theater games played in the Black Box Theater. 
After a tour of the school led by upperclassmen and the new student presentation in Meyer Hall, the day concluded with lunch in the cafeteria and shopping for Dreyfoos and department merchandise in the gymnasium.
 "I think Freshman Invasion was wonderful," Bickel said. "I think it's amazing that the freshmen got an opportunity to come on to campus, learn where everything is, (and) get familiar with Dreyfoos before they actually have to come start classes."
Many students said they felt nervous when they first got on campus, and many psychology experts agree that the transition from middle to high school is one of the most stressful events for adolescents, but after talking to their art area teachers and touring around the school, many students shared they felt more prepared for the upcoming school year.
"I used to see (Dreyfoos) as super prestigious and only the best of the best can get in," Galloway said. "But now that I'm here, I realized that everybody's human and everybody still has feelings. I just feel that the school is more humane."
As incoming students have now completed their first week of school, SGA hopes that last Saturday's event helped them with their recent transition and allowed them to reshape nerves into excitement for their first day.
As Wagner put it after Invasion, "I hope (the new students) had a good time. We're very excited for the new year, and we're hoping that for the first week, we'll definitely be able to involve the new freshmen as much as possible."