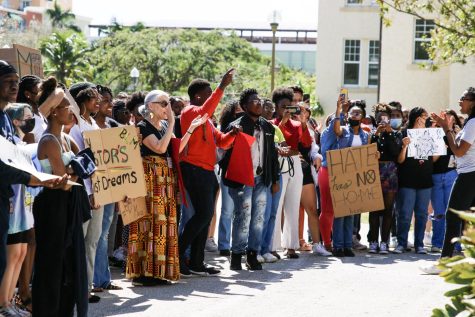 "I Am My Ancestors' Wildest Dreams."
A sign with this phrase was held at the front of the crowd as students gathered together during the March on Dreyfoos. With students' clasped hands raised towards the sky, nods of agreement, and hand-crafted posters lifted towards the sun, the march paid tribute to the March on Washington and marked the end of BSU Spirit Week.
On Feb. 24, members of Black Student Union (BSU) welcomed all students to meet on Burt Reynolds Road (the school's road for parent pick-up and drop-off) for the March on Dreyfoos, a recreation of The March on Washington for Jobs and Freedom. Officers and members of BSU handed out signs that students could hold during the march, and practiced chants with the students.
"Instead of everyone just looking at it from an old documentary, we are able to get in it and experience it in live-action," digital senior Aundria Mitchell said. 
On Aug. 28, 1963, an estimated 250,000 people arrived in Washington D.C from all over the country for the March on Washington for Jobs and Freedom. Peaceful protestors flooded the streets of the National Mall bringing justice to employment discrimination, civil rights abuse towards African Americans, Latinos, and other minority groups and supporting the Civil Rights Act. 
"It was a staple event in Black history where people of all ethnicities and cultures came together to fight for equality," theatre senior and BSU secretary Brianna Souffrant said, referring to the March on Washington. "We want to make sure this sense of unity is present at Dreyfoos."
The crowd of supporters marched between Building 2 and 3 and continued down the pavement towards "Freshman Hill." They turned right. "We want justice, we want peace," echoed in front of the Banyan tree that sits on the hill. Some students sitting on the hill joined the march. 
"We do go to a predominantly white school where, a lot of the time, it feels like we're alone," communications sophomore and BSU secretary Cloe Barrau said. "BSU as an organization is already so impactful in the sense of ensuring the Dreyfoos Black community has somewhere to go. But a celebration like this one that can't be ignored, and is in your face, is our way of showing our unapologetic blackness."
Officers of BSU, including Souffrant, sought to spread the message that "all students (were) welcom(ed) to participate" in the march. To do so, BSU contacted SGA to "get the word out" through social media. 
"It shows me that, as young people, we have the power to come together and respect Black culture, despite the fact that some people that participate aren't a part of it," Souffrant said. "Even though Black people led the civil rights movement, it wouldn't be as impactful if we didn't have the help of other ethnicities. Celebrating this moment emphasizes that."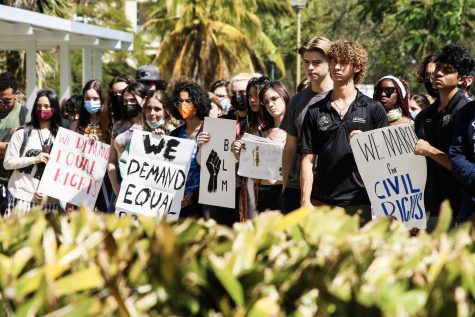 As the increasingly large crowd of marchers finished marching along the route, making their way back around to the front of Building 2, a podium awaited them. 
"I know everything that I said, everything that I did, and the way I did it, serves its purpose and definitely impacts our entire school community," communications sophomore Josiah Manners said.
BSU asked Manners to start preparing his rendition of Dr. Martin Luther King's "I Have a Dream" speech back in January. To craft something that would not only "prick, but will stick," he had considered what events have ensued in our nation over the past year. This included discussing the racial and cultural climate of African Americans in both the past and present. 
"We served Dr. King's legacy and history by empowering the next generation here at Dreyfoos to celebrate that change so that dream will one day become reality," Manners said.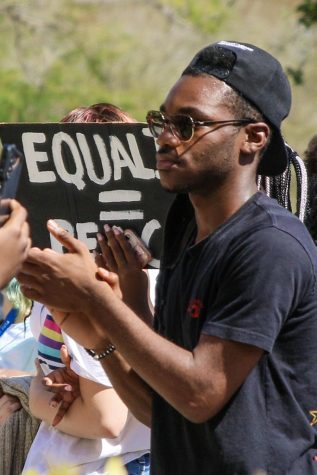 Manners wrote seven drafts of his speech before he decided it was ready to be presented to the students and faculty standing outside Building 2. After giving his speech, Manners walked away from the podium with tears in his eyes. Waking up this morning with "nerves in the pit of (his) stomach," Manners said he was proud to share his message of celebrating your identity. 
"I'm grateful to be Black, always and every day, but especially today," theatre sophomore Lillian Jones said. "We are all unified and always going to be together. We are always going to be Black people. We are always going to be powerful." 
 As BSU Spirit Week came to an end, Souffrant notes that "for the rest of the year, (she) can keep (her) voice heard because this legacy shouldn't just be taught in February."  
"Black history is American history, it is important to teach it, and for everybody to know it and to celebrate it, because my culture is everything," Souffrant said. "It should be taught for the rest of my life. I'll make sure that my voice is heard in this world."
Jasmine Mullings