Class of 2016 Senior Superlatives
As the second semester is well underway, Dreyfoos' annual senior superlatives have been decided. This year, the categories included classics such as Cutest Couple and Class Clown, as well as newer superlatives like Sass King and Queen and Most Likely to be Late to Graduation.
"It was really awesome to be a part of superlatives. The fact that I won was funny, because I somehow qualified for mine," communications senior and Most Likely to Get Away with Murder winner Erik Ridd said.
During the weeks leading up to the decisions of superlatives, some students even campaigned for themselves based on their categories. For instance, theatre senior and Best Dressed co-winner Taylor Blount had a "power week," in which she wore the best clothes in her wardrobe to get a few more votes. Others campaigned on social media so they too could win.
The superlatives were finalized last week using an online voting system through Naviance. The Marquee did most of the voting process by establishing preliminary rounds for each category, counting those by hand and working with school counselor administrator Ms. Georgia Mounce to move the final voting online.
"We were pretty efficient this year in comparison to what we have done in the past. I don't recall any part of the process being particularly difficult, but tallying the names from the preliminaries was definitely tedious," communications sophomore Maya Levkovitz said.
All 12 categories had a male and female winner, except for the category Best Dressed, which had two female winners along with the male winner due to a mishap on the Naviance voting. For the first half hour or so, communications senior Gabbie Hanks was left off of the ballot. At this point, Blount's win was already decided. However, Hanks was added back onto the ballot and another round of voting was held, allowing two female winners.
"The mix-up was no one's fault and it all worked out in the end. The turnout was still fine and everyone who was involved, including myself, are happy with the result," Hanks said.
Check out all of the superlative results below:
Most School Spirit: Nick Baldwin and Savannah Alberty
Cutest Couple: Philipp Popp and Madelyn Winchester
Class Clown: Victor Paytun and Emma Sue Harris
Most Likely to be Late to Graduation: Bennett Morgan and Alyssa Scheible
Most Likely to Brighten Someone's Day: Minh Ton and Ashley Simpson
Life of the Party: Charles Comiter and Rachel Labes
Sass King and Queen: Jacob Crossey and Bethany Ebanks
Best Dressed: Zak Biggins and tied between Gabbie Hanks & Taylor Blount
Most Likely to Succeed: Zachary Amrose and Catherine Chen
Most Athletic: Paul Rispoli and Riley Gore
Most Likely to Get Away with Murder: Erik Ridd and Nicole Abis
Best Friends: Jack Reagan & Abbott Schrotenboer and Beatrice Hood & Morgan Aumick
About the Writer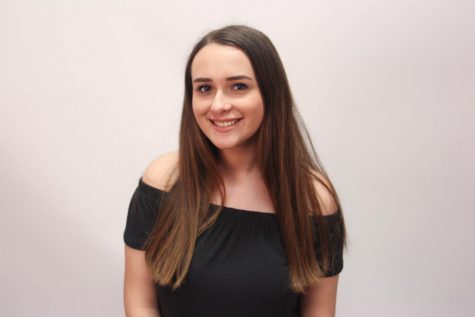 Noa Kroyter, Assistant Managing Editor
Communications senior Noa Kroyter is an Assistant Managing Editor and this is her third year on The Muse. She loves journalistic writing, designing layouts,...