A correction was made to this story on 9/18/2022. An incorrect number was used in the sentence "Mr. Clark's fourth grade class picture from the 1998-1999 school year." The number "89" has been changed to the correct number "98." 
Short on time? Listen to this story on Anchor.
Every morning, assistant principal William "Billy" Clark can be found sitting on a golf cart in the bus loop, smiling and making conversation with students who pass by him as they enter school.
Mr. Clark is a new addition to administration, serving as the fourth assistant principal, working with the communications and math departments. He says he also acts as a "friendly face" for students around campus, involving himself in the most busy areas of campus, such as the cafeteria and bus loop, to make it easier for him to form relationships with students. 
"I think being a new assistant principal, it's been very important that I can kind of make connections with students early on," Mr. Clark said. "It was really important to me to put myself out there and put myself in the highest populated areas to be able to meet as many of the students and let them know that I'm here as an advocate for them throughout their day."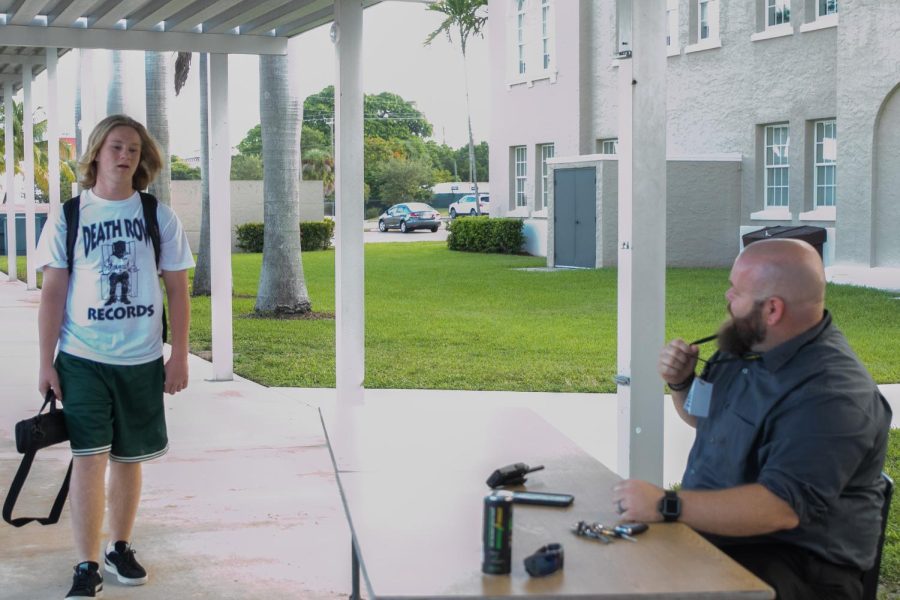 Mr. Clark begins his school days greeting students in the bus loop and ends them by waving them goodbye as they walk off campus.
"They all come through the gate where I am, and I like to be a real positive force," Mr. Clark said. "I think that really starts their day off (in) a better way and really starts me off on a high note because it gives me energy going through the day. I take a lot of pride in that."
Mr. Clark attended elementary, middle, and high school within the school district, making him a "product of Palm Beach County." He even has connections with existing staff around school — he was a former math student of Principal Blake Bennett and a former elementary school classmate of film and media studies teacher Ruby Hernandez.
"I kind of lost touch with Mr. Clark but we recently reconnected, so that was a pleasant surprise," Mrs. Hernandez said. "He's just always been very enthusiastic, very hard working, and just a genuinely really good person."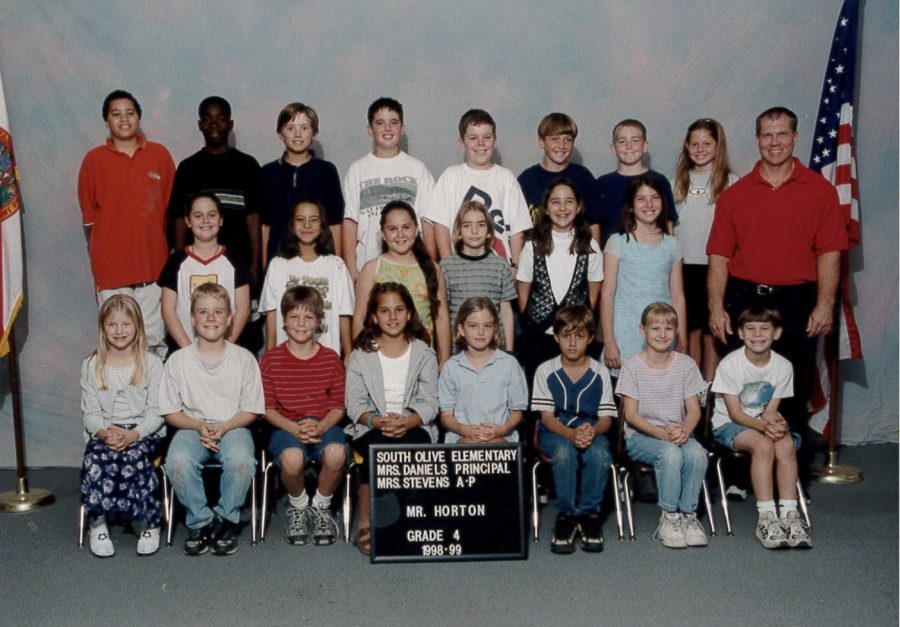 Ever since he was young, Mr. Clark has always wanted to be a teacher or work at a school. With both his parents having served as school principals, he says it's "kind of in my blood."
"We'd be at Publix and people would come up to my mom or my dad and say, 'Oh my gosh, Mr. Clark, Mrs. Clark, thank you so much for what you did for me when I was 12, when I was 11, when I was 14,' whatever the age may be," Mr. Clark said. "To be able to see how something that they did made such an impact on that young person's life, I knew immediately that's why I wanted to be a part of it (teaching)."
Although Mr. Clark has always worked in school environments — previously serving as the crisis intervention teacher and football coach at both Palm Beach Gardens Community High School and Park Vista Community High School — this switch has been a whole new experience for him as an educator and administrator.
"It's been so special to be a part of someplace that is so unique and so outstanding," Mr. Clark said. "The students, the staff, the leadership here, it blew me out of the water. It empowered me, and it's really invigorated my career."
While transitioning schools has been a "whirlwind of an experience" for Mr. Clark, the change was made easier for him with the help of people like assistant principals Jennifer Napuli, Ronald Lewis, Teneisha Finney, and testing coordinator Alyssa Arterburn.
"It (administration) is a very cool, unique team to be a part of, and (they) made that transition that much easier," Mr. Clark said. "Just like there's a place for every student, there's a place for every educator."
Mr. Clark's favorite part about the school is the students and the culture they have created, characterized by a passion for the arts and academics that shines through during school events.
"I feel like this is a place where everybody has a sense of belonging. Everybody here has a place, and everybody here is so widely accepted," Mr. Clark said. "It's so powerful to be a part of."
Students like communications sophomore Sarah Ferguson say Mr. Clark himself has also already contributed to the supportive culture he admires about the school with his humor and "welcoming aura."
"With him (Mr. Clark), once you actually start talking to him, he's welcoming to everyone," Ferguson said. "He calls everyone homie, so you can tell he came from a place (where) he had a good relationship with the students."
Mr. Clark aspires to create connections with students to ensure that everyone knows they have someone to go to if they need anything, and his efforts have not gone unnoticed by the students, staff, and other administration.
"I think Mr. Clark is a genuine person," Ms. Bennett said. "I also think that he, as an educator, focuses on building relationships and doing the absolute best he can and from what (I've seen) in the last three weeks, I think he wants everyone to succeed, and he has already exceeded my expectations."
Mr. Clark said that some of his most memorable experiences on campus have been all of the "little moments I think are so special" because they make up the school's spirit.
"I really have to take a breath to take in what's going on," Mr. Clark said, referring to Dreyfoos events like DJs or The Collective playing during lunch. "It's so special, and I don't want to forget the uniqueness and how special these moments are because it doesn't happen in any other school. The ability of you all and the ability of the campus to be able to host and empower students to do that is really my favorite part."