Feliz Mes de la Herencia Hispana
Teachers and students across campus find ways to celebrate Hispanic Heritage Month
Students dashed to the ever-growing conga line, snaking through the cafeteria, to celebrate and honor Hispanic culture. Latin music resounded in the room; the plucky guitar and jubilant syncopation invited students to stand up and salsa. Suddenly, it seemed that strangers became dance partners. The audience erupted in cheers as individuals showcased their moves.
Hispanic Heritage Month, which ran from Sept. 15 to Oct. 15, is dedicated to acknowledging the traditions of students, staff, and faculty who have roots in spanish-speaking countries. The school highlighted different aspects of Hispanic culture in many ways: from DSOA Today's Hispanic Heritage segments to the Latin-Hispanic Heritage Club's mariachi gram fundraiser. 
"It's super-duper important to celebrate Hispanic Heritage Month," foreign language dean Lori Brown said. "Within [the US] we welcome everybody, and everybody here is from different heritages. Everybody has different backgrounds. We're the melting pot of the world."
Hispanic Heritage Month begins Sept. 15, a date chosen because it coincides with the independence anniversary for several Latin American countries, including Costa Rica, El Salvador, Guatemala, Honduras, and Nicaragua. Within this 30-day period, other Hispanic countries celebrate their independence or other holidays. 
"It's not just about, 'oh, look at me I'm Hispanic,'" theatre junior Mary Keith said. "It's more like, 'I'm Hispanic, but let me teach you and educate you on what we go through and really bring to light what others might not be aware of, the struggles that we face and the hardships that we endure because we are a minority in this country.' It's just a great time to celebrate our culture or colors or fashion or music or people and just spread it with the world."
Because of the proximity between Florida and its Central American neighbors, the state has a large number of immigrants from spanish-speaking countries. Among the school community, 22.2% of students identify as Hispanic.
"It's a really welcoming school," Keith said. "[You are] able to be your authentic self and be proud of your culture and be proud of who you really are and be able to celebrate it with people who are also Hispanic."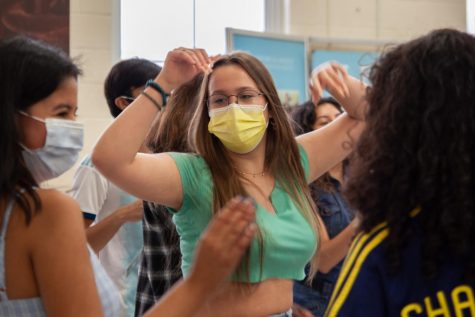 Keith is the event coordinator for the Latin-Hispanic Heritage Club. She and the rest of the officers reinstated the annual Fiesta, a lunchtime celebration of Hispanic culture that was cancelled last year due to Covid-19. During lunch on Oct. 1, dozens of students gathered in the cafeteria to dance, sing, and party. 
"People really let go of themselves, and that's something that Hispanic music can do [to you]," Keith said. " [The Fiesta] really liberates you to just feel the salsa, bachata, and reggaeton." 
Students of any ethnicity and background were welcomed and encouraged to take a step into the center of the student-formed circle and practice their salsa skills with English teacher Nieves Lopez. 
"It didn't matter who you were, what grades you are in, or what you look like, it was just a party. It was a celebration of love and Hispanic culture," digital media sophomore Cora Strickland said.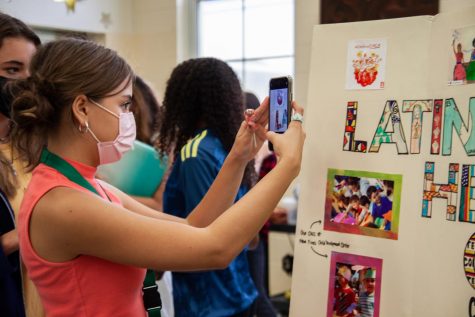 Aside from the Fiesta, the club organized a Mariachi-Gram fundraiser. For $3, students could send friends, teachers, administrators, or themselves a musical serenade by the mariachi band. On Oct. 7 and 8, third period classrooms were filled with students clad in sombreros and adorned with carnations and guitars. Desks were used as stages for musicians to perform "El Jarabe Tapatío," and desk aisles were turned into dance floors. Recipients of the Mariachi-Grams were gifted carnations. 
Communication sophomore Adriana Midence bought a Mariachi-Gram for herself because she wanted to see the "overwhelming" experience and thought it was "actually really cool."
  "A lot of people are excited about [Mariachi]," Keith said. "It's just an awesome experience to be able to share your culture with people who will accept it and will celebrate it and love it just as much as you do."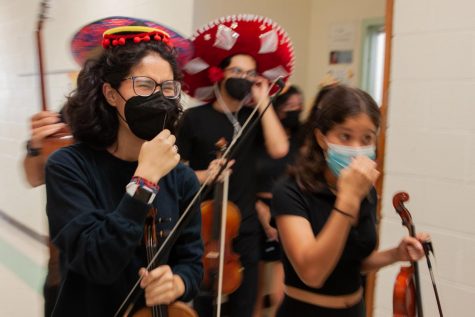 Spanish teachers also dedicated their class time to educate and introduce students to different aspects of Hispanic culture. Spanish teacher Monica Zarini, whose family originated from Cuba and Brazil, gave students a project to create a virtual tour of a Hispanic city. She also created a Latin music "March-Madness" inspired bracket to introduce students to the vast array of Hispanic music. 
"Until you can visually see what [Hispanic] countries are like, we have a lot of preconceived notions," Mrs. Zarini said. "We may think that in Mexico they may not have as [highly] developed cities, but [they do]. It's not just America that can make something look beautiful or only have the upper scale places. It's nice for people to see that."
In Mrs. Zarini's Spanish classes, Hispanic and Latin American students shared food from their culture and guided classmates on 3D Google Earth tours in the cities that they or their family grew up in. Spanish teacher Marina Ratchford's class groups presented about the types of Latin dance and performed those dances to the class. Vocal freshman Peter Hennessey-Correa identifies as Hispanic; he and his partners taught the song "La Cucaracha" to the class while also teaching them Spanish vocabulary. 
"It was kind of exciting for me because I got to show everyone what I was working on with my group," Hennessey-Correa said. "I think it's important to share our culture because it really helps people see different parts of the world."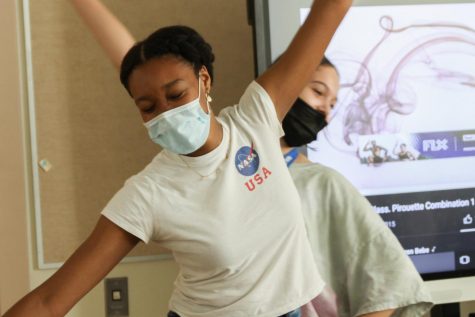 In the past month, students and faculty celebrated the rich culture at school and showcased the impacts of Latino and Hispanic people in both the country and community. 
"It is about learning about the people who emerged from [Latin America and Spain], and who progressed their own nation, or beyond," digital media junior Melissa Barbosa Dias said. It means sharing [our culture]. Sharing and coming together for what makes us Hispanic."