The four walls of the Brandt Black Box Theatre held parents, teachers, and friends as a white spotlight illuminated the center of the stage. This spotlight created a focal point, centering on the Speech and Debate and Creative Writing students who performed in Figure of Speech.
"You normally wouldn't think they're two worlds that collide, especially for the audience," communications senior Emma Jade Cantrell said. "It's something where if they're into Speech and Debate pieces, they're getting that, but also, they're seeing creative writing, which is a completely different realm. There's something for everybody who comes to Figure of Speech."
Figure of Speech is a collaborative showcase between the Speech and Debate and Creative Writing tracks within the communications department. The first Figure of Speech event occurred in 2019, but due to COVID-19, the second showcase took place virtually, marking this year as the second time students performed for an in-person audience.
"It's a little nerve wracking because there haven't been many stages in the virtual realm," Cantrell said. "The rush you get when performing does not compare to any virtual (or) any recorded submission. I'm excited to finally get to be on the stage again." 
Performers such as communications sophomore Emily Singer felt Figure of Speech was an opportunity to interact with the audience and "(have) a conversation" with them.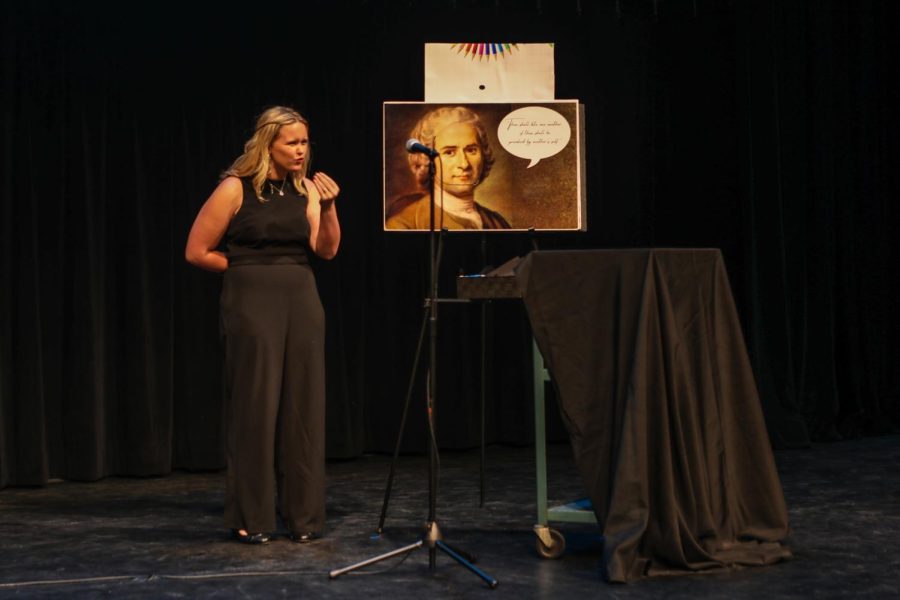 "Speech and Debate feels very formal. It almost feels like you're telling a very scripted story, whereas slam (poetry) is more unfiltered," Singer said. "It's more impactful in this setting, because every single person in the audience has the ability to just grab onto what we're saying, and it may mean something different to every single person."
Most performers had pieces written about personal topics like Yelanie Aguilar's "Guantanamera," which spoke of her Cuban heritage, or Riley Flynn's "Crazy Ex-Girlfriend," which depicted how she expresses love. 
"She's full of personality, and in that reading, she expressed every emotion I've seen," Maddy Kassoff, Flynn's grandmother, said. "I think she's fabulous."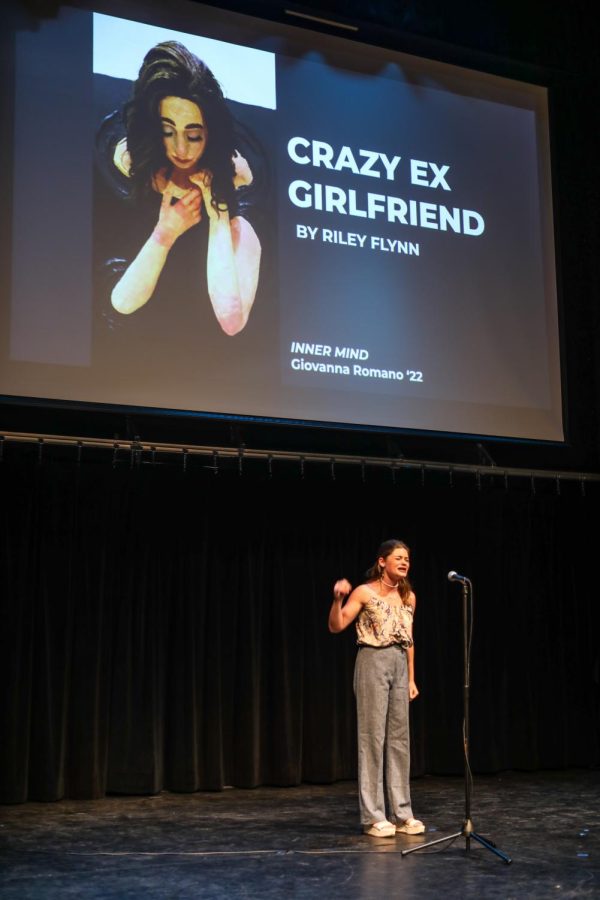 Performers such as Cantrell had pieces which encompassed their opinion on recent political and social controversies. Cantrell performed a slam poem titled "Don't Say Gay," expressing her feelings as a future educator who identifies as bisexual and grew up in a "very homophobic environment" about Florida's recently passed Paternal Rights and Education Bill. Also referred to as the "Don't Say Gay Bill," it states educators cannot discuss LGBTQ+ topics in kindergarten through third grade classrooms.
"I felt elementary school years can be really formative, and I'm looking to major in elementary education. I knew it not only impacted the profession  I wanted to go into, but also all the students I'd be working with," Cantrell said. "I needed to speak out and take action against something I didn't agree with."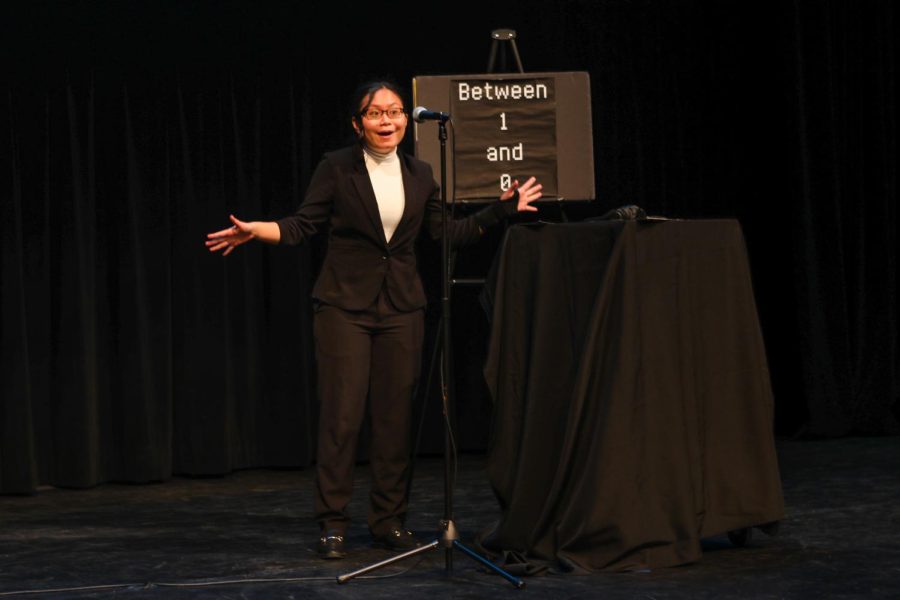 The reflections on societal issues in the pieces not only dealt with career choices, but also perspectives on other key components of the other performers' personalities. In his slam poem "Blood Diamonds," communications sophomore Eddie Culmer highlighted the duality in his love for jewelry and his awareness of the damages that mining for precious jewels causes to surrounding communities. Culmer connected back to themes of "Neo modern day slavery in other countries."
"I feel like there's a lot of issues we just ignore in other countries, and I wanted to bring more light to it," Culmer said. "It's always good to draw comparisons between history and the modern day so we don't let history repeat itself."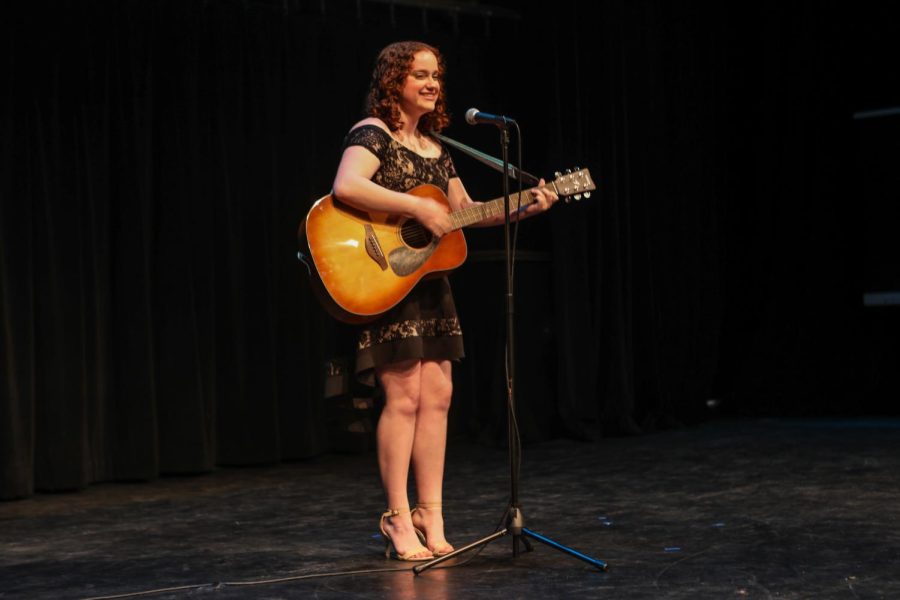 Other performers had commentary on historical societal issues such as Singer's poem "Let Me Be Your Muse" which calls to "(empower) women to tell their stories, unfiltered from the bias of others."
"So much literature historically has been overrun by men, and I think when women can just open up and share their stories with the world, we create a future where we can all benefit from each other's stories," Singer said. "I was feeling very excited to open up (to) a new kind of poetry." 
Creative writing teacher and slam poetry coach Brittany Rigdon encourages her students to perform on the live stage and "couldn't be prouder of them" when she saw them perform.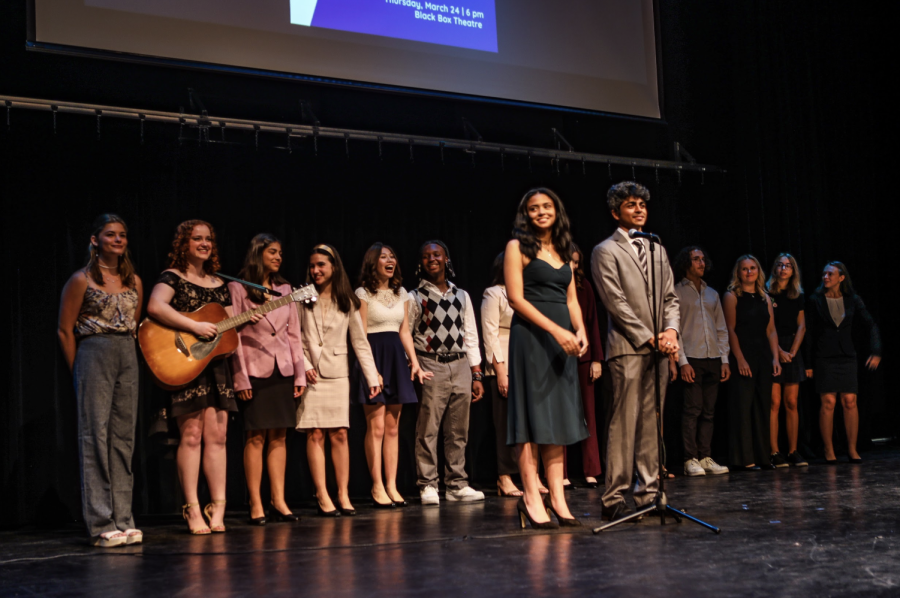 "It's just amazing to me when you give someone a platform, and you allow them to be vulnerable, and to use that platform in any way they see fit. I think any human being, but especially the students in the Communication Arts Department, rise to that occasion," Rigdon said. "It's a beautiful thing. I think the world is a better place when people use their voices to tell their truths, and that's what Figure of Speech is about."