When a musical centers around quirky 12-year-old spelling prodigies, chaos comes with the territory — and it includes a lot of spinning. The onstage bleachers and white board spun while the actors twirled and danced, oddly in sync with the blinking LED lights, as they sang the number "Pandemonium" in organized disarray.
The Black Box theater featured the Fall 2021 musical, "The 25th Annual Putnam County Spelling Bee," from Nov. 12 to 14. The show follows six eccentric middle school spelling bee participants and their journeys towards failure, success, and ultimately, self-reconciliation, all delivered through humorous flashbacks and actions. The adaptation by the theatre department, featuring a cast of nine, was directed by theatre teacher Kristina Leljedal.
"It's one of my favorite shows in all of musical theatre because it allows for such hilarious moments, but it's also pretty heartwarming at the same time," Mrs. Leljedal said. "I originally saw the first cast that was on Broadway in New York at the Circle in the Square theater. Oh man, I saw it in 2005 … We have gotten so much further in life from 2005 to 2021, but I think we did a good job of making it feel current for right now."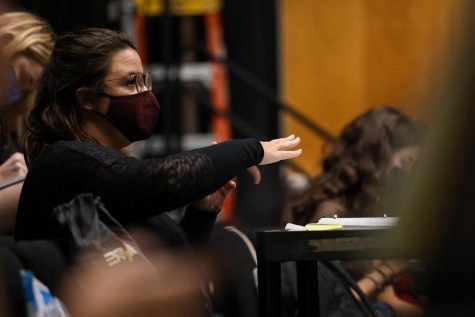 "The Bee" is not your typical musical. There is virtually no barrier between the audience and the performers.
"We'll take four audience members, and we use them as spellers in the show," theatre junior and cast member Brandi Quigley said. "And they kind of drive the plot. If they get out, we sing a song, if they don't get out, we have to mold the show. It's kind of an improv show within the written musical."
Theatre students got an exclusive preview of the show Wednesday evening before the official Friday opening allowing them to cheer on their peers in the cast. However, cast members like theatre junior Carsten Kjaerulff noticed how the improv component had a different feel with the full audience compared to the preview with theatre students "who are rowdy by nature."
"It's amazing because you never know," Kjaerulff said in reflection of opening night. "You never know what they're gonna do. You have songs where you're dragging them around on stage, and you have no idea if they're going to listen to your instructions. So luckily, we had some good rule followers today, and one who didn't, and it was hilarious. They just make the show better, the unknown element of it."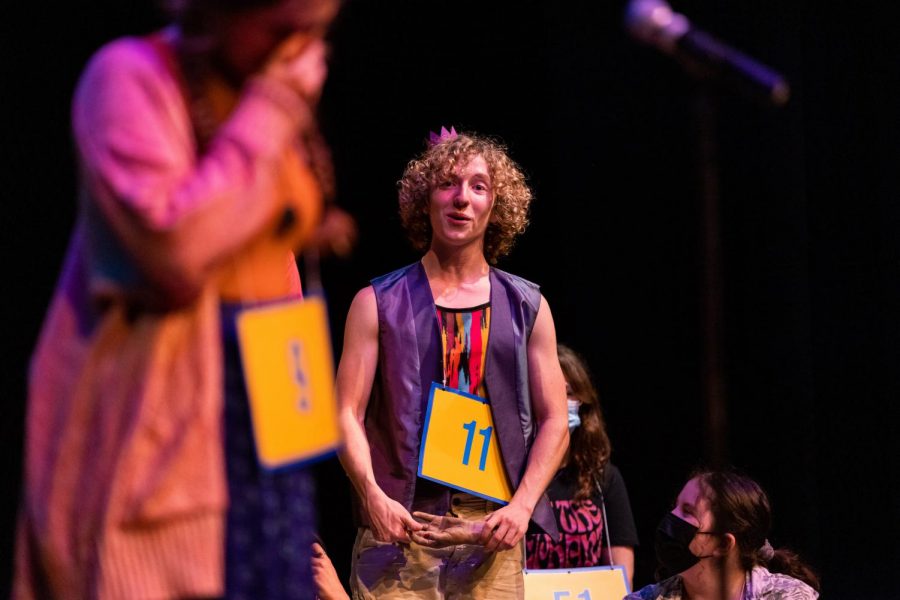 "The Bee" is the second theatre production at Dreyfoos this year and marks the return of musicals to the Black Box theater after mostly virtual performances last year.
"This show will always have a special place in my heart because it's the first show back from COVID that I got to direct," Mrs. Leljedal said. "There's something so special about theatre, being in the room, and being able to act with people (while) not having to unmute and to figure out how to fit it in a box. It makes me feel emotional thinking about how we're back on the stage and get to perform without masks."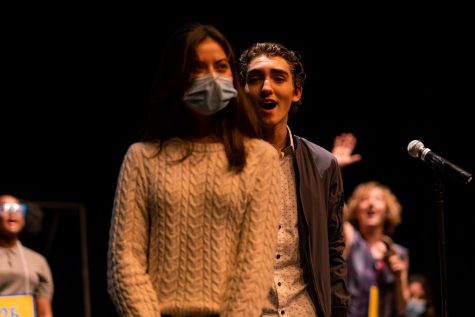 The week before the first showing was "Tech Week." Building 7 buzzed with theatre students who stayed long after dark to ensure that the lights, sound, and music were thoroughly prepared before opening night.
"We've put three months into this show," theatre junior and Spelling Bee stage manager Devyn Humble said. "I've dedicated over 130 hours to this show. All the actors (have) had all their time dedicated here, but also at home, as well working on memorizing lines. It's definitely been a big time investment for all of us. But it's been so much fun. I've loved this experience, so it's definitely worth it."
As stage manager, Humble acts as the liaison between the actors and crew members and calls the cues. Coming into the official opening night of "The Bee," the cast and crew felt a jumble of emotions.
"It's very nerve wracking because I feel like I (should) be doing more. I keep second guessing myself," Humble said. "I'm so excited for tonight's opening because Wednesday was (the theatre department's) preview, and it went really well. I've only heard good things, so it's made me really excited for tonight."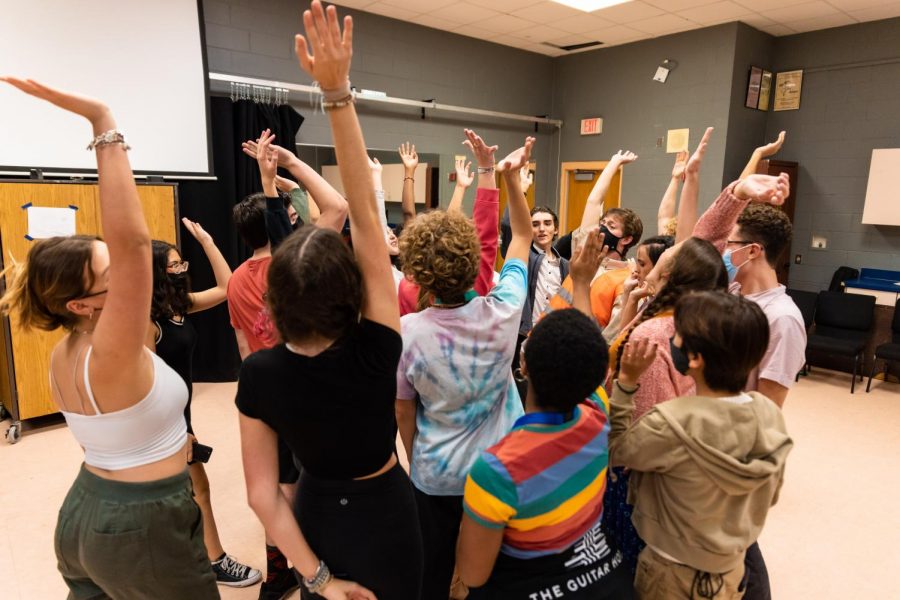 Within 10 days of ticket sales opening, the show was sold out. Just a week before the opening, 20 additional tickets were added to each showing to compensate for rising demand to see the much-anticipated performance.
"I was really surprised because I wasn't sure how people would respond to the live show," Quigley said. "We've been out for a while (due to COVID,) so I wasn't sure if people were going to want to go and see us in person. So, I was super excited and just surprised by the turnout."
"The Bee" received interspersed applause and overflowing laughter all throughout its 90 minute runtime.
"I'm most excited for two things," theatre sophomore and cast member Austin Bailly said the day of the opening. "One, I'm excited to make everyone laugh. I love making people laugh … and also, I can't wait for us to perform. I can't wait for all of us to be back on stage, do what we love, and just present this hilarious story to everyone."