A musical chime bellows from the computer as a pixelated depiction of the word "start" flashes on the screen. Clicking on the word, the audience plunges into the mystical world of a "Dungeons and Dragons" game and the screen flashes with the switch of an LED remote.
The theatre department's most recent production, "She Kills Monsters," debuted on Nov. 27, as their second virtual show. Students and even some of the cast and crew members questioned how the lively performance of the actors and the beaming colored lights contrasting the shadowed auditorium could be mimicked through this digital dimension.
"She Kills Monsters" follows Agnes (Miranda Sampaio) as she navigates life after her sister Tilly's (Hannah Reynolds) death. Caught up in high school drama and cheerleading, Agnes finds she truly didn't understand her sister and her sister's love for "Dungeons and Dragons" (D&D) when she was alive. That is, until Agnes finds herself inside the game itself.
"We're just inside of a big D&D game," theatre freshman Nicolette Clivio said. "It's filled with so many ups and downs, and it's a really amazing production. With every story comes a lesson learned, so we feel like the moral of the story [is] to never take who you love for granted and just spend as much time with them as you can while you have the chance."
Amid the changes from the COVID-19 pandemic, there have been many alterations applied to art on campus. This show was originally expected to be performed in person in front of a full house, but following a sudden change of plans, the theatre department was able to adapt this play to fit within the new guidelines. Theatre sophomore Felicia Voehringer was direct about what she felt was the biggest challenge.
"Transportation," Voehringer said. "We had crew members making the props at their house, and then we had to find people that were willing to drive all over Palm Beach County and bring it to the actors' houses."
A couple of the cast and crew members were freshmen, the artful collaboration and bustle of producing a play now a hallmark of the new normal. The virtual format of their first show and new environment proved to pose challenges.
"I was a little bit scared at first," theatre freshman Maya Gary said. "I wasn't sure how it was going to go. I've never seen or done a show online, until now. It was a really cool experience. It was very different than doing theatre in person, but I think in a good way. It was a very interesting process to go through and learn how to use the technology to make sure that everyone's cameras were working and all that stuff was really interesting."
Students of various grade levels worked together in the art of producing a show, helping to build a sense of normalcy and community.
"I was working closely with my friend Chloe and she's a freshman," theatre sophomore Mckayla Mokotof said. "It was a new experience for her, and for me as well, and so it was just really good to work as a team. We had a great crew."
The introduction of a new world of virtual theatre simultaneously introduced a tension between interest and uncertainty. Despite that uncertainty, Ms. Whetsell, theatre teacher and the director of the production, and the cast and crew took the step toward reinventing the ways productions are formed and executed.
"[Participating in the shows] definitely helps you create bonds with other actors and technicians that are a lot different than just being in the class with somebody because you're working on something …" theatre sophomore Maggie Bohanek said. "It's honestly kind of amazing to see everyone's creative input because [of] the way that Ms. Whetsell as a director likes to work is to take all of the actors' ideas, and we put it together, so it's just a melting pot of creativity."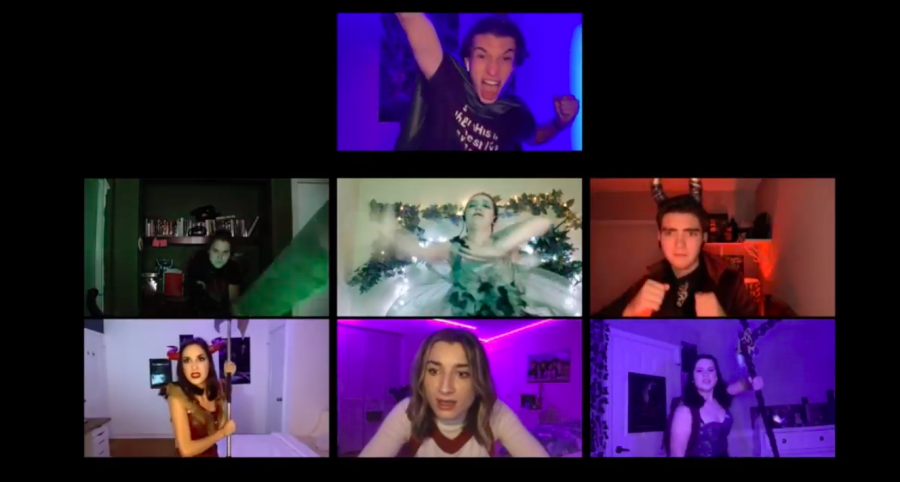 This creativity manifests in the ways the department applied in-person performance elements with lighting and sound in this virtual show. To switch in and out of the real world and the D&D world, LED strip lights were used. The lighting cues acted like choreography, with blue lighting and the serene sound of a waterfall transforming Miranda Sampaio's bedroom into a lush, natural landscape. This lighting is also used in the battle and fight scenes, the flashing of red light suggesting the loss of blood.
"I was interested in the fantasy element of the show so there [were] a lot of effects and props and lighting that [were] going to need to be developed during the show, which we had our designers do," Bohanek said. "Filming was really cool because we've been in rehearsal the entire time, [and] all you see is them in their bedrooms, but as soon as you saw them in their costumes and their props and with their lighting effects, it just came to life and it was completely different."
Amid the unorthodox plot of the story — a plot filled by mystic elves and raging dragons — theatre senior Seth Greenberg was able to find connections between himself and Chuck Biggs, the character he played.
"I personally relate way too much to Chuck Biggs," Greenberg said. "I feel like every line is something I would say, and when I was doing research on my character and developing what I thought he liked and did not like, I realized that everything that I love my character loves and everything that my character secretly thinks about are things that I'm secretly thinking about. It's very funny how similar we are, and that made it very easy to play that character in the show."
Those who worked on the production worked hard to edit together a final product. The cast joined a Zoom call with headphones plugged in, masking the sounds of barking dogs and the chatter of family members. Actors filmed themselves through the lens of another camera or phone set up on a tripod or other stand, and sent final clips to the director through Google Photos. Editors spliced together individually filmed clips to create a show that appeared like a Zoom call.
"I hope that [people who saw the show] see that it's still possible to produce theatre during a pandemic," Bohanek said. "Even though it's not your average show where you sit and watch it in person, it's still something that we like to consider theatre and that we worked hard on to make this production."
These shows have cultivated theatrical passions. Theatre senior Hannah Gardner, who played Vera, has been dancing since second grade, which then inspired her to start performing. These school productions had never fully "clicked" with her until the Dreyfoos production of "Much Ado About Nothing" last fall.
"I had the most fun I ever had in my entire life," Gardner said. "'Much Ado About Nothing' was a lot of improv because our director gave us freedom to do whatever we wanted every time. Each show was completely different than the last. It just gave me the freedom to work with my partners on stage and create an amazing story and just absolutely entertained my audience and that's when it really just clicks and you're like, 'this is such an amazing thing and I want to do this.'"
One favorite memory from the production instantly comes to Gardner's mind.
"There's a scene where it was in the middle of a wedding and we thought of this joke but we were supposed to be quiet because we had no lines in that scene, but we could not stop laughing," Gardner said. "Every single time she would whisper the joke in my ear, we would just be dying laughing and we'd have to cover our faces with our props while the scene was going on. The scene was super serious, people were crying in the scene, but we were laughing so hard. When I think of that show, I just think of [how it was] so much fun and you're always laughing in our cast."
Understanding the context instills a desire to know the joke.
"We all had to sit in these rows and the villain of the show is sitting behind us, and me and Miriam played really stupid police officers," Gardner said. "The villain basically ruins the wedding and he makes this whole thing where he's like, 'I'm leaving and you're ruined.' It's like the biggest scene. So he leaves and he's sitting behind us, and five minutes later, Miriam turns around and she's like, 'hey where did that guy go?'" Gardner laughs, her next words masked over the laughter.
"We laughed for, I kid you not, three weeks straight," Gardner said. "Every single time we did that scene, we could not survive."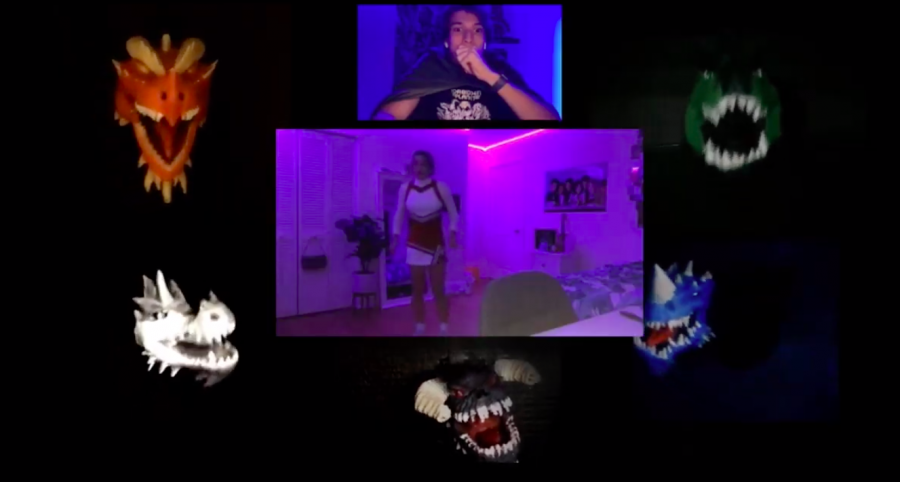 Experiences from past productions has also helped to shape the creative endeavors of Greenberg when he went to the French Woods Festival at the Performing Arts summer camp in upstate New York when he was eight years old. His debut role was as Buddy the Elf in the "Elf Jr." production.
"I just remember when everyone else was playing Gaga ball or eating ice cream at The Canteen, I was in my bunk memorizing lines or at a piano picking out my melody with a mic with my musical director who's a kid, 15 [or] 16," Greenberg said. "I was really able to work with young professionals and I was able to just discover that passion for theater, and that nothing else is as fun as theater. I could care less about sports if I get to perform in a show, or learn, or to be Buddy. So that definitely was the moment where I was thrown into theater at a million miles an hour and loved every second of it."
With little to no prior experience in theatre and the performing arts before hitting center stage in an elf costume, he delved into his first lead role in about an hour and twenty minute production, with thirteen days to have it memorized.
"I remember not feeling nervous," Greenberg said. My eyes widen. "I know that sounds weird. I do remember feeling ready somehow, and I remember feeling nervous that I was going to forget my lines, but I knew I got everything else down, which is weird, like I feel like the lines are the easiest part. And yet, that was the thing at eight years old I was the most worried about. Nowadays, I'm the least worried about the lines and the most worried about not remembering which scene comes next and making sure that the message comes across to the audience."
Since his debut role, Greenberg has continued this newfound love.
"I think theater is a driving force for me through my entire life so far," Greenberg said. "Theatre has driven me to seek out volunteer opportunities that are specifically needing me to be creative and social and tell stories. I definitely feel like if I wasn't in theater I wouldn't have ended up at storytelling."
Developing a passion for the performing arts at an early age is a theme that relates to Bohanek as well; her interest in dance started when she was two years old. This love seems to run in the family: Her uncle was on Broadway. She began taking vocal lessons in third grade and she has just "always had a love for it, I can't remember a time when I haven't."
"[Theatre] is kind of my whole life," Bohanek said. "I've spent pretty much every minute I can outside school working either on a production or on a piece … It's just a way to help you keep being motivated because some of the work is so inspiring and you hear the stories of these actors that [are] just fascinating. The friends I've made through theatre, I can't imagine not having them anymore. I can't even say how it's influenced my life, because … it is my life."
The "She Kills Monsters" production takes a stride toward redefining theatre shows that still hold the same intricacy and entertainment. Through the passion of students, these productions are made possible, a network of connectivity that allows performance to live. As the show came to an end, Hannah Reynolds (Tilly) left the audience with the final words, "She'll always remember the day she kills monsters." Dreyfoos will always remember this show and its groundbreaking production.