The Man Behind The Curtain
Trey Mazza shares his journey behind the scenes of "Pride and Prejudice" as stage manager
The final scene. The show was about to end, but everything now depended on the closing cue. His "heart was palpitating." Everything he had done in the past 90 days had led up to this moment. As he called the show's closing cue, the curtain fell and the audience gave their final applause. Theatre senior Trey Mazza knew this is what he'd do for the rest of his life. 
Mazza has worked as a stage manager for the past four years. He managed his first show, "Much Ado About Nothing," during his sophomore year. Since then, he has continued his journey in stage management and worked on four other productions: "Waiting For Lefty," "Radium Girls," "We Make the Future," and "Pride and Prejudice." After he managed his first main stage show, "Radium Girls," Mazza knew he had found his calling.
"My proudest moment in my experience stage managing was calling the final que in 'Radium Girls.' I remember how fast my heart was pumping," Mazza said. "The feeling of sheer pride that came from my performance as a manager, I was so proud of myself."
Mazza originally became involved in theatre at 13 years old, as an aspiring actor. Mazza was not interested in working backstage until he met his acting teacher, Courtney Hess, who exposed him to this aspect of the arts. They still stay in contact: She came to support him in his position of stage manager for "Radium Girls."
"I had that life-altering realization like, 'This is it, this is what I want,'" Mazza said. "Stage management alteres people's lives. You're a beacon of leadership and light, and it is so interesting to see the effect my work has on others."
After his work on the set of "Radium Girls," Mazza knew his position was more than just a spot on the production team. He says that the gratification he got from his cast, crew, and audience members contributed to an unforgettable experience.
"Never in my wildest dreams would I have thought that people love and care and respect me so much, and are that appreciative of the work I do," Mazza said. "People were genuinely altered in their perception of the show, and their lives had been touched by my work as a manager."
Theatre teacher and director Savannah Whetsell has worked with Mazza for three years and has served as a mentor to Mazza.
"His energy affects the rest of the room, and makes it a safe and fun rehearsal space … everyone loves him," Ms. Whetsell said. 
Mazza arrives on set 35 minutes to an hour before rehearsal begins. He consults with the director of "Pride and Prejudice," Ms. Whetsell, about what they plan to accomplish that day. This allows them to stay on track and have a smooth-running rehearsal. He also writes down all new notes, blocking, scene changes, and anything Ms. Whetsell decides to add to the production so they could work on it in production meetings. For Mazza, these meetings are one of the most essential aspects of the production process, as they tied all the crew heads' work together so they could review their progress.
"My reason for doing this work is to help other people," Mazza said. "My entire purpose in this life is to serve others. From the moment I rise to the moment I fall asleep, I am fully interested in helping other people."
From the pre-production process, to conducting rehearsals, to the production, a stage manager is responsible for executing the production's creative vision. This three-step strategy helps construct a show in the most efficient and organized way possible, and Mazza is in charge of it all. 
"My voice is theatre God," Mazza laughs. "It's my command that makes the stage move."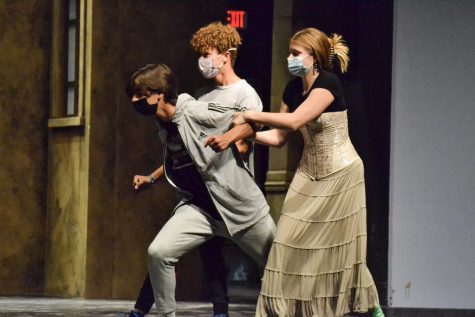 When in the rehearsal stage of a show, cast members do not have access to all the props they will eventually use during the performances. They also don't have a set, costumes, lights, or audio. It is Mazza's job to ensure that the technical crew assembles all these things in a timely manner. 
During rehearsal, Mazza also takes notes on blocking. Blocking is the show's pre-planned choreography — the rehearsed way an actor moves on stage and gets from place to place. Blocking has to be detailed so the actors know exactly what they're doing at that moment in the show, and it is Mazza's job to write all of it down. 
Now, the department is working on their fall play "Pride and Prejudice," debuting Oct. 22, with Mazza working as the stage manager. Mazza is "so excited" along with the crew to perform for an audience again after live performances were put on hold during hybrid learning.
"I feel beyond thankful and gracious to be finally back doing what I love and pushing my passion, all while working with such an incredible group of actors and technicians," Mazza said. 
The two assistant stage managers, theatre juniors Amberly Rodriguez and Maggie Bohanek, help Mazza's production process with the stage management of "Pride and Prejudice." It is Rodriguez's first time working as an assistant stage manager, and working closely with Mazza has taught her new strategies she can use for future productions. 
"He explains everything to me [and] tells me what to do," Rodriguez said. "Whenever I have a question, I don't feel shy or dumbfounded since I know he will help me and show me different tools and tricks.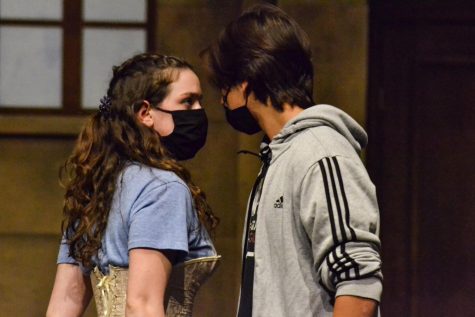 Beyond the materialistic work he provides for the other stage managers, he always provides an optimistic attitude. The other crew members appreciate Mazza's considerate nature, and Rodriguez recalled a time when Mazza reassured her when she felt overwhelmed. 
"He really just helped me figure out what management was and he helped me find a passion for management," theatre junior Devyn Humble said. "Anything that I need, he makes sure that I know he's there for me."  
Mazza believes that even though his work isn't seen by the audience, it works to serve the other members of the production. And the other crew members admire him for his work ethic and his commitment to the cast and crew. The audience may not be able to see him, but they can't see a show without him.
"He knows exactly what to do," theatre junior Liam White said. "He is there from the beginning of rehearsal until lights out and it is so special knowing that he is so committed to not only the show, but us, the cast, as well."
Mazza does not know what the future holds for him, but he does know that whatever it is, it will involve his passion for stage management; he wants to travel with the art form itself. Whether that is stage management on a cruise or in another country, Mazza will always carry his art on his sleeve. It is without doubt Mazza will leave a legacy in the limelight, so it's time to applaud the unsung hero.
"If you don't think you are performing well enough to your own standards, that is something to work and improve on," Mazza said. "It wasn't until I found something like stage management, something I was so passionate about, where I finally realized that worth and value come from no one else but you."