AMÉLIE: A PRODUCTION OF FIRSTS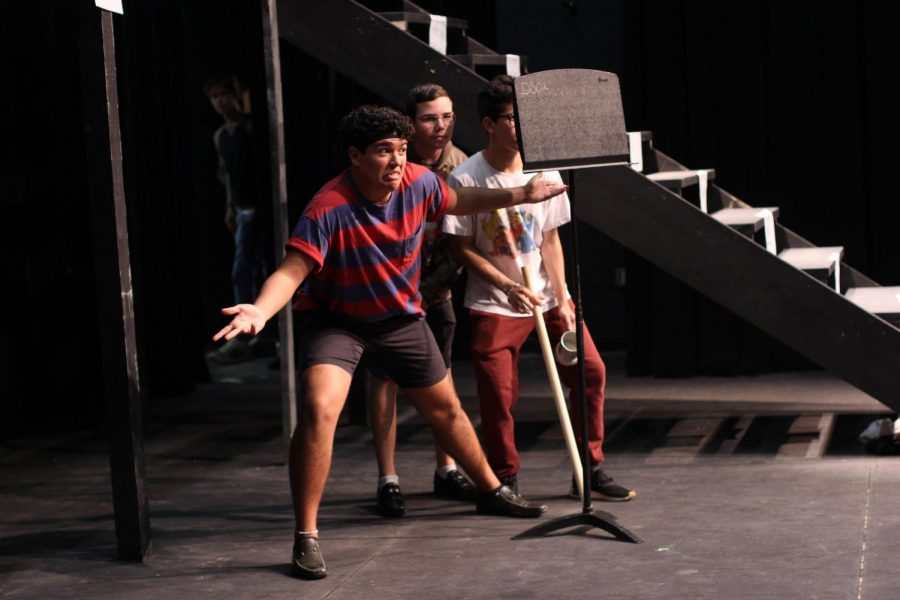 In the minutes before rehearsal for "Amélie," theatre senior Makenzie Rivera sang her lines on double time, darting around the Brandt Black Box Theater. Stage managers and assistants moved meticulously labeled chairs from the storage closet to the stage. Vocal exercises, after-school chatter, and soaring high notes (like theatre junior Juan Carlos Romero's "MA'AM, I am a gnome") electrified the air.
Not only was it the first full run-through, but it was also the first starring role for Rivera, who plays Amélie Poulain; the first full show to be performed in the Black Box; the first high school rendition of the show, which opened on Broadway in March 2017; and the first student production of "Amélie" that its lyricist Nathan Tysen will ever see.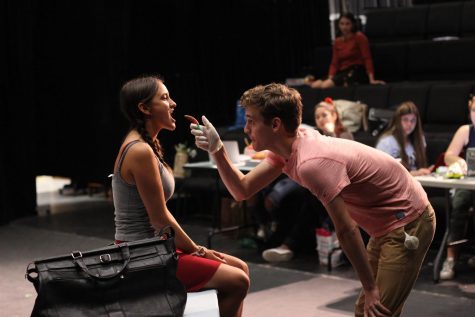 "Although 'Amélie' on Broadway was short-lived, it now has a global life," Tysen said. "It's happening all over the place. I'm going to see the first high school ever do this show, and I can't wait to see that. I also think it's a good show for high schools to do the songs. It's young people in the piece itself."
Based on the 2001 French film of the same name, "Amélie" is a romantic comedy about a young woman with a deep inner world, following her on a quest to better the lives of those around her. In the show, Amélie's mother tells her, "We all remain completely alone, never touching." Growing up isolated, Amélie relied on her dreams to connect with the world.
The Dreyfoos cast and crew wanted to connect to the audience using their performance space, the smaller Brandt Black Box Theater, which is seeing for the first time what "Amélie" musical director and theatre teacher Andrew Gilbert called "the whole shebang," including a set with two staircases and an eight-foot platform, a full cast, and a 12-piece band.
"Spacing … is definitely an issue when it comes to scene changes, of course, because there's no backstage, [and] there [are] no wings,"  Mr. Gilbert said, "but I also believe that [this] offers some really great opportunities. It creates this atmosphere of intimacy. There will be times when [the] audience will be not more than three feet away from the actors as they're going through really intimate moments, which is very different from Meyer Hall."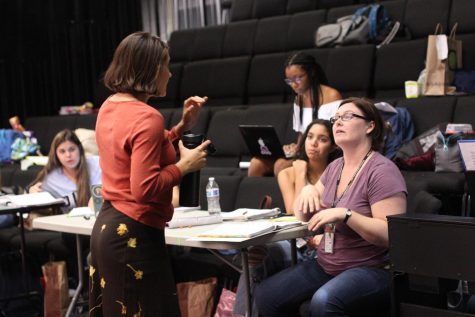 Despite difficulties with fitting the elaborate set in what normally serves as a teaching space, the cast and crew worked to create seamless transitions. Every chair, every prop, every sign is assigned to cast members to shift around on stage by stage manager and theatre sophomore Grace Johansson.
"I'm really just trying to get the production to get up and running and keep it running," Johansson said. "I want to get a really fun environment for the entire cast and crew and make it functional and easy to work in."
The show is mostly student run, from management to each actor's interpretation of their character.
"As directors, our first step is to let the student make their own choices," Mr. Gilbert said. "First, you do whatever you think feels right, and then we'll talk after."
For Rivera, her character fit like a raspberry on young Amélie's fingertips.
"[Amélie is] a lot like myself," Rivera said. "She has this compassion for others, even though she's unable to make these connections with them. She somehow feels connected to everything around her, and she really appreciates life for what it is. I think that we can all connect to that, wanting to feel good by helping others."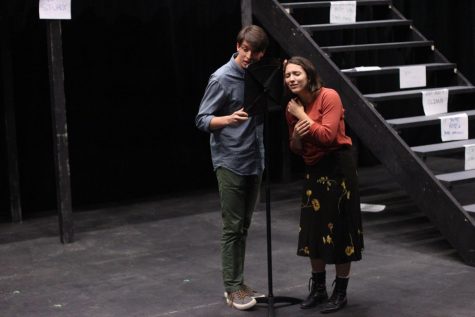 Small kindness making a large impact frames the narrative, whether Amélie is taking a blind beggar on a tour through Paris or instigating a romance between her coworker and customer at the cafe. To Tysen, Amélie's love for the world made the adaptation from screen to lyrical script obvious.
"[The other writers and I] were interested in trying to figure out how [Amélie] sings," Tysen said. "To me, the musical component is Amélie's imagination and the fact that she can go into this wild, crazy place. Of course, the world should break into song."
The cast and crew took inspiration from the Broadway show. For example, Rivera studied Phillipa Soo's performance as Amélie, and the set design maintains the same "integrity of levels and playing space" as the original, as Johansson said. However, this production sets itself apart not only in its minimal approach in order to fit the Black Box, but also in the new perspective of a young cast.
"No matter what space you're doing a show [in], even if it's on Broadway, each new cast member brings something special to that production," Johansson said. "Every time you switch Amélie, every time you switch Nino, it's an entirely new musical. We have this cast of high schoolers, and they're really doing such a great job."
After months of planning and work put into the show, "Amélie" is entering the Kravis Center Dream Awards alongside "Cry-Baby: The Musical" on May 12. In the meantime, the cast is polishing their performances with care.
"I think it'll go on and live as one of my favorite roles and one of my favorite shows, probably forever," Rivera said. "I'm not that nervous because I do hold a lot of love for it, and I'm really excited because I think this is such a beautiful and inspiring story that I'm so excited to share with people."
After the interview, Rivera broke away to rehearse, laughing and dancing with her castmates. Johansson sat at her table and reviewed information with her assistant stage managers, theatre sophomores Alena Serrano and Juliette Maners. Mr. Gilbert sat at the piano, marking his sheet music. Following the full run-through, they took a 15-minute break. Then, like clockwork…
"Everybody in the hall, set for top of show!" a voice called out.
They started all over again.
Check out the video below to see "Amélie" in 60 seconds!
Or, to see the show in person, "Amelie" takes the stage April 26–28 in the Brandt Black Box Theater. You can purchase tickets here.
About the Contributors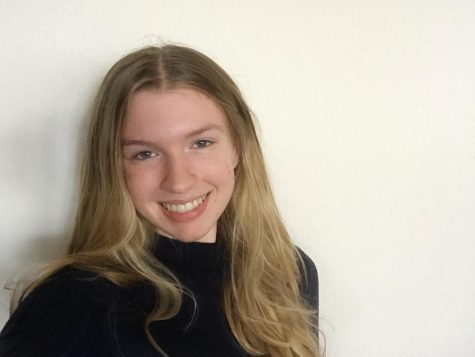 Emma Garrett,
Emma Garrett is a third-year staffer and the co-editor-in-chief on The Muse. When she's not writing, she's reading whatever she can get her hands on,...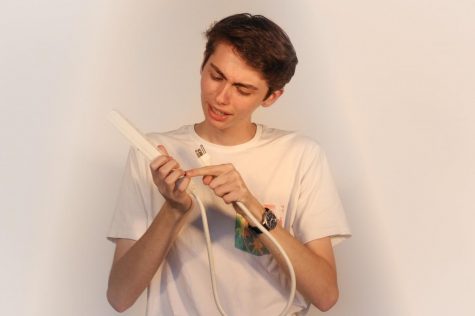 Bruce White, Multimedia Editor
Communications senior Bruce White is a second-year staffer and the multimedia editor for The Muse. Aside from jamming out to political podcasts, he spends...