Propped on her director's chair in front of the mirrors of the Brandt Black Box Theatre, doubling as both a performance space and her classroom, theatre teacher Sandra Christie observes her class as they replicate a dance to "All That Jazz" from "Chicago." 
Mrs. Christie is the newest addition to the musical theatre track, serving as the dance teacher for the theatre department. She says she aims not only to teach her students but also to individually connect with them. 
"My goal when I'm teaching a dance class, no matter if somebody's advanced or not, is to get everybody on the same page," Mrs. Christie said. "I want us all to thrive. I don't want to focus on just advanced dancers, (and) the beginners stay behind. My goal is for the whole class to leave at the end of the year feeling we all accomplished something."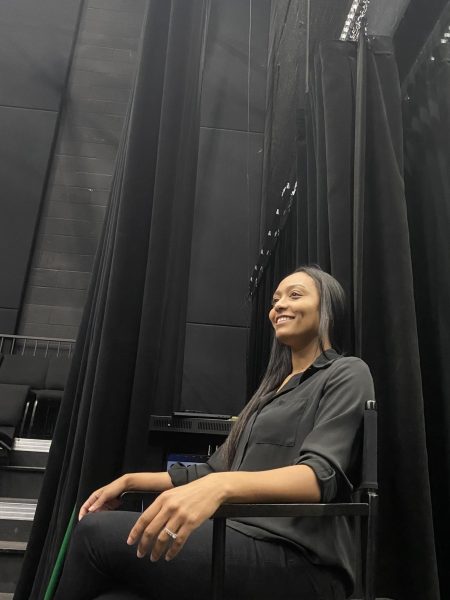 Beginning her dance training at eight years old, Mrs. Christie utilizes her exposure to various styles of dance when coaching her students. 
"I teach ballet, I teach jazz, (and) I teach contemporary," Mrs. Christie said. "Jazz technique is the most important in musical theatre. I focus on the aspects of each technical movement. I do implement ballet into the program because it's the basis of all dances; it's something that's going to help everybody with their techniques so that they're able to master more difficult jazz combos."
Mrs. Christie teaches classes for all grade levels; however, she instructs the sophomore class alongside theatre teacher Charles Swan. Mr. Swan accompanies her choreography with piano, along with teaching the students the vocals to the dances they learn. 
"Her choreography is like the icing on a cake," Mr. Swan said. "Her numbers are magical. I'm so glad she's joined our team. She adds a fresh new perspective and brings her life experience with her. She brings a great energy and a new layer of insight."
In order to facilitate the success of the group as a greater whole, Mrs. Christie explains that she likes to look at her students individually.
"I feel like at the end of it, no matter what levels you have, your goal as a choreographer should be to get everybody to the same level and create something beautiful onstage together," Mrs. Christie said. "But, it's not just about technique; it's also about driving passion into the students."
In addition, she is choreographing her first show, "Mamma Mia!", this season's first show mainstage musical. Having prior choreographing experience, Mrs. Christie said she was "very excited to take on that responsibility."
"It's just so much fun, and they (the cast) made it fun," Mrs. Christie said. "The energy that they brought in caused me to become creative. Collaboration is my number one thing."
Theatre junior Satya Hamilton worked with Mrs. Christie as the assistant dance captain for "Mamma Mia!", learning all of Mrs. Christie's choreography in order to teach it to the rest of the cast.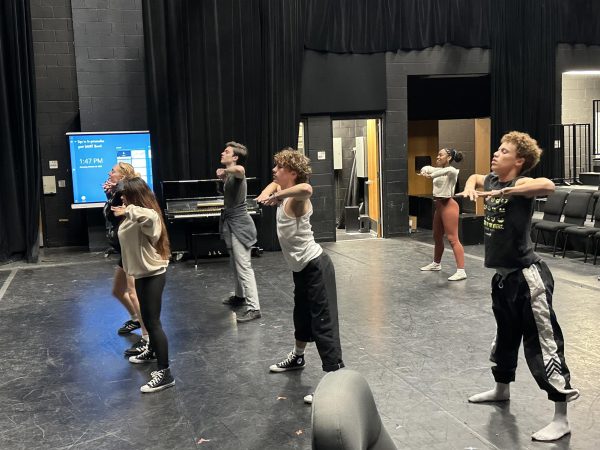 "At the beginning of the year, we all sat in a circle, and she had us write down what makes us stand out as artists, and then she was like, 'What do you think you can improve on?'" Hamilton said. "It was really interesting to hear other people's perspectives, and she gave us advice about comparing ourselves to others."
Mrs. Christie says she works toward finding a "healthy balance" between toughness and softness in her teaching. 
"I learned to find that balance through experience," Mrs. Christie said. "I've taught both ways before, and I've realized that it helps some students, but it doesn't help others and vice versa. Through experience, you fix the things that you notice that help specific students. The most effective teachers are the ones that can learn how to grab every student's attention."
Mrs. Christie cites her father, a former sergeant first class in the army, as the main influence of her leadership style and the way she goes about teaching her students. 
"He says that in order to get somebody to do something, it doesn't mean you break them," Mrs. Christie said. "If somebody fail(s), that means we failed them because I'm supposed to be getting them to the place where they're supposed to be." 
Although a teacher, Mrs. Christie feels that she learns just as much from her students as they do from her.
"It doesn't matter about our age difference," Mrs. Christie said. "We learn a lot from the youth as well. You bring us a lot of fresh ideas. It's a different generation than where we came from, and we're all still evolving. I'm still growing too."