STUDENT SPOTLIGHT: SONYA MIKOLUTSKAYA
Switching schools four times in two countries was the beginning of a new story for visual junior Sonya Mikolutskaya. When Mikolutskaya tried out for the swim team, despite not knowing any of her teammates prior to joining, she was welcomed with open arms.
At age 5, Mikolutskaya moved from Belarus to Texas. After living in Texas for three and a half years, she moved back to Belarus to train in synchronized swimming, which sparked her passion for the sport. Now, Mikolutskaya lives in Palm Beach Gardens, Florida. 
When she was accepted into Dreyfoos, she planned to continue swimming. Since there is no synchronized swimming team here, Mikolutskaya decided to join the competitive swim team. Quickly, she discovered that swim here is different from swim in Belarus.
"[At Dreyfoos], teammates are more supportive of each other," Mikolutskaya said. "In Belarus, it is much more of a competition." 
In Belarus, she practiced six hours a day, seven days a week; at Dreyfoos, her practices are shorter, swimming for only 90 minutes every weekday.
Although practices are shorter, Mikolutskaya has created stronger bonds than she had in Belarus. Her experience of less competitive sports in America has given her more time and freedom to talk to the people on her team and connect with them. Now, the people who she met have started to view her as a fun person to be around, rather than just a swimmer.
"[Mikolutskaya] has a really cool vibe about her, and she's not afraid to speak her mind," vocal sophomore Lillian Critchett said. 
Mikolutskaya could not speak English very well when she first moved to America. Now, she has managed to spend time with new friends and still be a great teammate who puts in the work to help her team succeed. She attends every practice that she can and practices outside of school as well. 
"[It was] hard [to make friends] since I'm very introverted, but I managed," Mikolutskaya said. "Now, I have friends in a lot of different places." 
About the Writer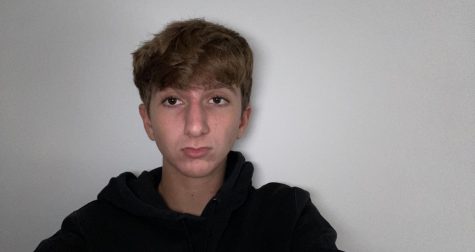 Dorian VanCoppenolle, Multimedia Staffer
Dorian VanCoppenolle is a second-year multimedia staffer. You can always find him at Duffy's or at home on Sunday watching the Patriots. He enjoys watching...