Meyer Hall, usually filled with playbills and families waiting to see a performance, was instead filled with blood donors, vital machines, and snacks to make sure students stayed fit for blood donation on Oct. 18.
Every year, the National Honor Society (NHS) coordinates with One Blood, a nonprofit organization, to take blood and send it to nearby hospitals to help patients who need blood replacements. Six buses lined up outside Meyer Hall, each taking different types of blood, blood cells, plasma, and platelets. Inside, they set up stations to check vitals before drawing blood and a recovery station with beverages and snacks. 
"We have a lot of older people (that have) been donating for years, and now that's slowing down or they're not able to donate any more." One Blood account representative Claudia said. "We need the younger folks, the new generation is coming out."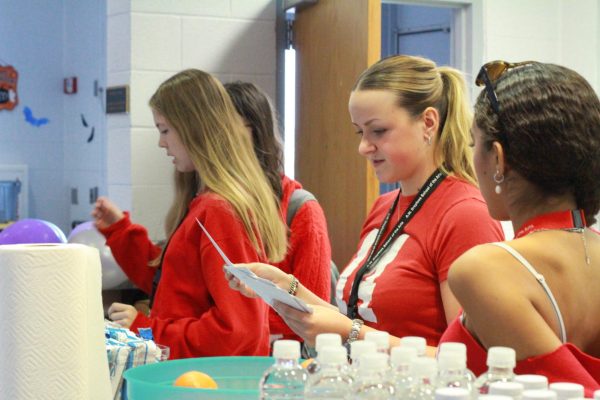 113 students signed up to donate blood. After preparing for over a month, NHS and One Blood tried to prepare the environment.  Halloween decorations were hung up all over Meyer Hall, along with snacks and beverages for the donors' safety. Students aged 16 or older were eligible to donate, with 16 and 17 year olds needing to get a signed permission form from their parents. 
"I know I could help a lot of people, and I've never donated blood before," visual junior Finn Fielding said.  
As well as giving blood to hospitals, students who donated could earn NHS hours. The NHS gave students two hours for donating blood, four hours for donating platelets, and one hour for attempting to donate.
"It's like you're giving back to the community but the community is giving back to you." Fielding said.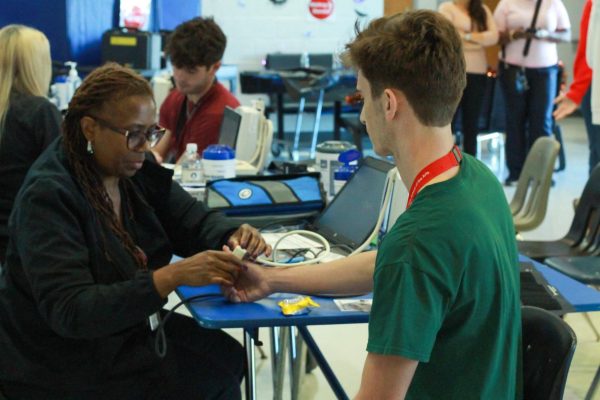 Blood donations are kept in hospitals at all times for emergency situations. When a patient has an emergency, it is essential for a hospital to be stocked with blood of all types.
"It's so crucial that people donate because there's always someone in need," communications junior Ava McCaulley said.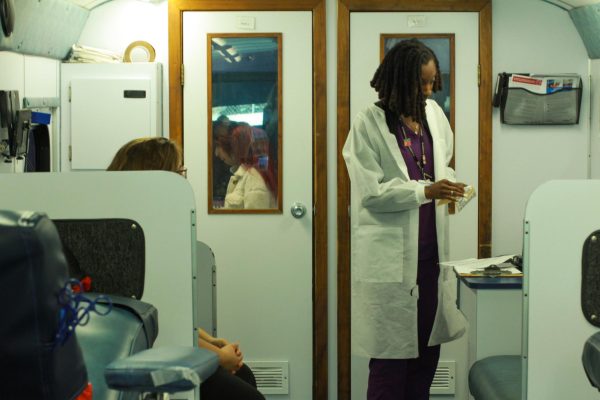 One Blood currently has operational buses in Florida, Georgia, and the Carolinas. . The ultimate goal is to make blood donations easy and accessible for more people.
"We need to work together so we can have that blood supply coming in to either help a burn victim or cancer patients that need it." Claudia said. "We have shootings that you see everyday, car accidents that happen everyday. The blood is needed … so that we can try and save that person's life."