The low thrum of the bass shakes the ground as students dance to "Doo Wop" and "Floetic." Vibrant clothing and screams of excitement fill the area outside of the cafeteria. The final event of BSU Spirit Week is in full swing. 
"The culture is everything," theatre sophomore George Bostic said. "That's what makes people come together with the music because there are so many different types of music that people haven't heard, and when someone else explores that type of music, it keeps it going and puts it into other people. And from that comes dances and remixes, and it just keeps going. It's amazing."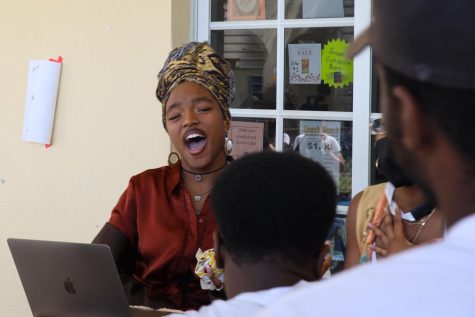 On Thursday, Feb. 16, BSU hosted their third annual block party, a neo-soul-themed end to their Spirit Week. However, due to unexpected circumstances, the block party changed from its original date, Friday, Feb. 10. Despite the delay, BSU provided students in attendance with a "groovy time," according to theatre junior Sophia De Freitas.
Yet, this year's block party, along with the previous ones held on campus, would not be possible without the block party that solidified its role in popular culture.
From the Block to Beyond
The block party had a breakthrough on the night of Aug. 11, 1973, when Cindy Campbell, known as the "First Lady of Hip-Hop," threw a "Back-to-School Jam" in the street outside of her apartment building in The Bronx, New York. Campbell's brother, DJ Cool Herc, the credited "Founder of Hip-Hop," was the party's DJ. The party's goal was to raise funds for Campbell to afford back-to-school outfits. By the end of the night, the brother and sister duo raised close to $300 and changed culture forever.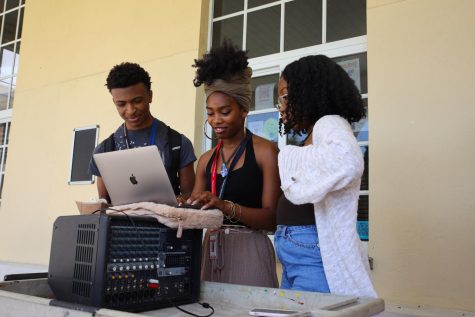 Over time, the block party evolved, featuring different music genres, venues, and artists. It has been referenced in the media through films, plays, art pieces, TV shows, and songs, some with serious connotations. For example, according to Vibe Magazine, Bronx native Nas rapped about throwing a block party in honor of a friend who passed away in an altercation with police in the song "Shootouts."
Among these changes, the core idea of the block party has prevailed, as Genius, a popular music lyric website, describes, "In our modern world … there's still an intense need for human connection that continues to fuel block parties across the country, if not around the world."
Getting in the Groove
Midway through lunch, the block party gained momentum as more people showed up to dance and spend time with their friends. With songs like "Killing Me Softly With His Song" by Fugees and "Tell Me" by Groove Theory, the party was in full effect.
"It's very lively," band sophomore Roodley Blaise said. "I just came from class, and class can be stressful, but I really like the energy. It feels like there is a lot Dreyfoos magic out here."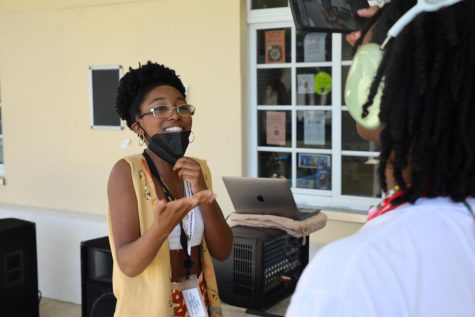 While students danced to "Wobble" by V.I.C. around visual sophomore Taniyah Aris, she commented on feeling a "tremendous" connection to her peers. 
"It feels like we can always come together and always have a party and put away disputes for a moment, and I love that unity factor that we have at BSU," Aris said. "Everybody's here. We're dancing. It's so perfect. Honestly, I love it."
This connection accomplished BSU's goal: to "unify" students across campus, as BSU co-president and communications junior Cloe Barrau puts it.  
"The goal for the entire week is to show the unity of not only the Black Student Union, but the unity of the entire school and all of its cultures," Barrau said.
As the music wound down, the bass stopped its bumping, and students started to scatter, BSU co-sponsor Teneisha Finney shared her view on the reason for BSU Spirit Week.
"This Spirit Week has been a time for them to celebrate their culture, to come together in the spirit of unity, and bring awareness and attention to who they are," Ms. Finney said. "This block party is about honoring their dances, their music, their culture. It's all for them."