The girls volleyball team honored its seniors at the last home game of the season, claiming a victory against John I. Leonard High School on Friday, Oct. 7 with a final score of 3-1. This win contributed to the "electric" morale of the team at their annual Senior Night. 
The four seniors leading the team were honored by fellow teammates, coach Michael Esopakis, and students in attendance. While the team warmed up, students set up banners for the seniors as the bleachers began to fill with people. 
"It's going to be a battle." Mr. Esopakis said before the match.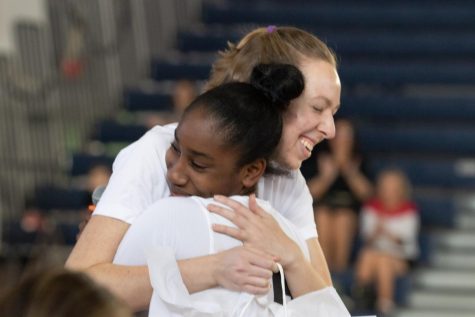 After 15 minutes of warming up, a buzzer sounded, and the teams high fived each other at the net. Before the game commenced, junior team members read a speech for their partnered senior, a tradition "that has been going on for years" communications sophomore Olivia Williams said.
The four seniors, vocal majors Madison Silver and Amelia Giuliani, strings major Aine Mullen, and visual major Zofia Killeen, were awarded with golden volleyballs painted like trophies.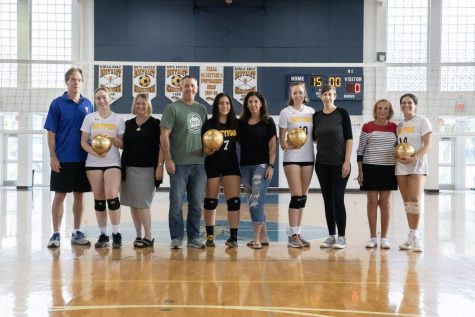 Then, with yells of "Play Ball!" the game began.
Although the first few minutes of the game were slow for the team, after a timeout was called, they gained a substantial lead and won the first set. With every point scored, "Dreyfoos Magic" chants filled the gym.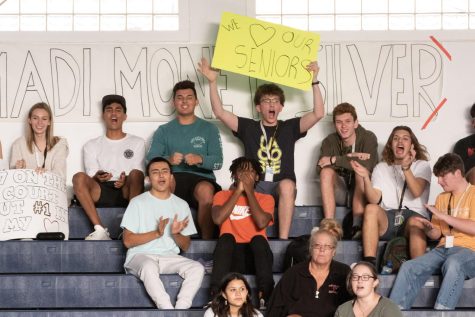 The Jaguars came up short in the second set, making the score 1-1. However, the team persevered, an ability that Williams attributes to their togetherness.
"As a team, we're really close and like a family," Williams said. "We have fun when we're playing and it carries through to how we do in our sets."
The team won the third and fourth sets, securing the victory. As the final buzzer sounded, the team celebrated and the spectators joined in from the sidelines.