Study Tips for Exam Season
With final exams approaching, try these methods for a more mindful studying season
With the constant promotion of detrimental and time consuming methods, building healthy study habits can be difficult. But it's important to remember the cardinal rule of studying: Don't panic! A study conducted by Stanford scholars determined that using study strategies caused college students' exam scores to improve by one-third of a letter grade on average, so it's important to find study habits that work for you.
1. Avoid Cramming
Most people are guilty of it. And if you're not as of now, you might be soon. Cramming, the practice of studying large amounts of material right before a test, is a popular study method, with 99% of students admitting to have done it. For many students, it is their primary method of studying; however, it may not be the most conducive to academic success. 
Digital media junior McKenna Dickinson strongly advises against it. "(Avoid) cramming until the last minute, and (study) for a little bit each day," she said when asked about her study habits.
Research supports her view: BBC News explains that studying material in a structured way assists memory, which is what makes cramming ineffective. Studying periodically for an upcoming quiz or test may ultimately be the better choice in order to retain information long term.
"I think studying last year was a lot of cramming right before I joined the (Google) Meet, because I did school online all year last year," vocal sophomore Ellyn Cross said. "This year, it's a lot more (about) studying for longer hours and going over multiple materials." 
2. Use Your Arts Classes
On campus, students use their arts to find unorthodox forms of studying. In fact, some students use the habits they learn in their art areas to aid in academic success. Cross said music students can incorporate the "muscle memory" they use for music theory into other subjects. 
"Just like dedicating a lot of time (to) practicing certain notes, you could do the same thing for math (with) a certain formula," she said.
Similarly, visual junior Kiara Martinez recommends incorporating the time management used in visual art classes to academic classes. 
"(Make) sure you get your work done on time. If you have an art piece due in two weeks, make sure to get something in before then," she said.
3. Test Yourself
One of the most effective ways to study for an upcoming test is to write your own questions, or speculate about what kinds of questions might be asked. The Survey, Question, Read, Recite, and Review method (SQ3R) collects data by telling students to ask themselves questions and imagine themselves as the test maker. At the conclusion of the study session, they quiz themselves to see how well they comprehended the material. 
Band sophomore Katelynn Pham says that she tests herself when "having to memorize a lot of things at once."
4. Teach Others (or yourself)
The Feynman Method stresses the importance of reteaching information while studying. Assessing your ability to teach material to yourself or to someone else is a way to gauge your understanding of it. You begin by explaining a topic in your own words, either writing or typing (though writing might be more useful for memorization). Then, review everything you explained and check its accuracy against any class notes or textbooks, resolving any errors as you go. After you have fixed any mistakes, try to simplify your lesson by defining any technical terms and using more familiar language. 
"I personally find it helpful to hear different explanations of certain things because it is sometimes easier to understand," Pham said. "But there are also times where it gets more confusing."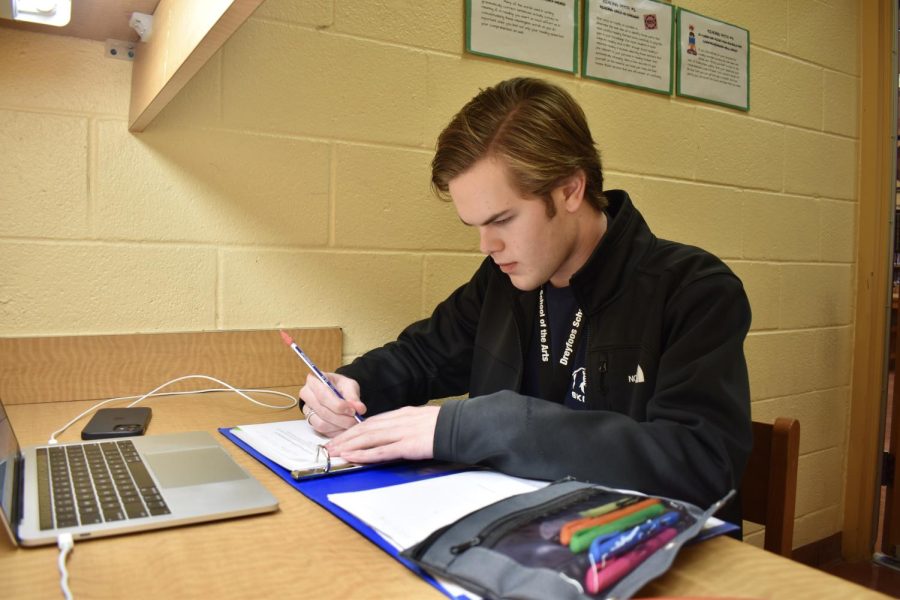 5. Use Online Resources
Today, students have access to an abundance of studying apps and websites. Fortunately, the volume of online resources available makes it possible for students to find what's right for them.
Both Martinez and Dickinson advocate for Quizlet and recommend it to others looking for a helpful resource. The site allows its over 50 million active users to create sets of flashcards that they can memorize through repetition and games. 
Natalia Sanchez, senior strings major and NHS tutor for Spanish, also endorses Quizlet as a valuable resource for memorization, crucial for learning a foreign language. For language learning, she also recommends watching movies, tv shows, and videos in your target language. 
Online resources like Notion and Evernote organize notes and tasks, allowing students to keep track of assignments and projects in a digital agenda. Go Conqr provides visual learners with a library of mind maps and flow charts for a variety of subjects. For writing, programs like Hemingway can help with structural editing while Audible and SparkNotes assist students with completing and understanding assigned reading. 
6. Or Stick to Traditional Methods
However, if technology isn't for you, you're not alone. Many students rely on traditional paper-pencil methods of studying. A 2016 back to school report from Paper and Productivity Learning found that 74% of students, grades 7-12, study using paper in the form of notes, flashcards, and worksheets. The same report stated that students are 1.5 times more likely to say that they learn best using paper-based studying. 
"I prefer paper-pencil studies over digital because I feel like I don't focus as much when looking at (material) on a computer, but I focus more writing it down," says Martinez.
While online programs provide study structures within the platform, paper-pencil studying requires individual planning.
Vocal senior Reed Wolfrom explains his study strategies, a combination of regiment and conventional methods: "Basically, I just look back at my notes, see what I've written down, refer to them every now and then," he says. "(I recommend) 25 minutes, then break, repeat, times four. After that, you can have a nice rest."
Similarly, The Learning Center at the University of North Carolina suggests completing short, but intense study sessions, followed by a break. These may include making concept maps, writing your own quizzes, or restating information based on what you read in your notes.