Real Student Study Methods
As exam season approaches, three students share their realistic study tips
Studying is glamorized by TikTok and YouTube, but some students may have trouble attaining the aesthetic routine put on by seemingly successful "Study-With-Me" content creators.
With students cramming for upcoming exams, three students give us some insight into their study methods, and what has worked for them to help others unlock their potential. 
Digital Senior Emma Shukla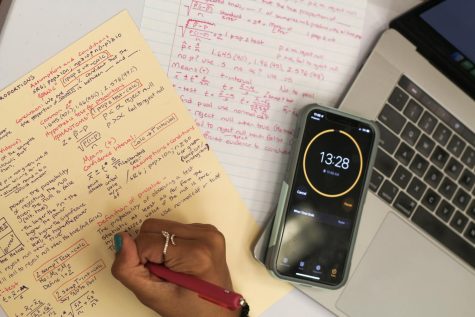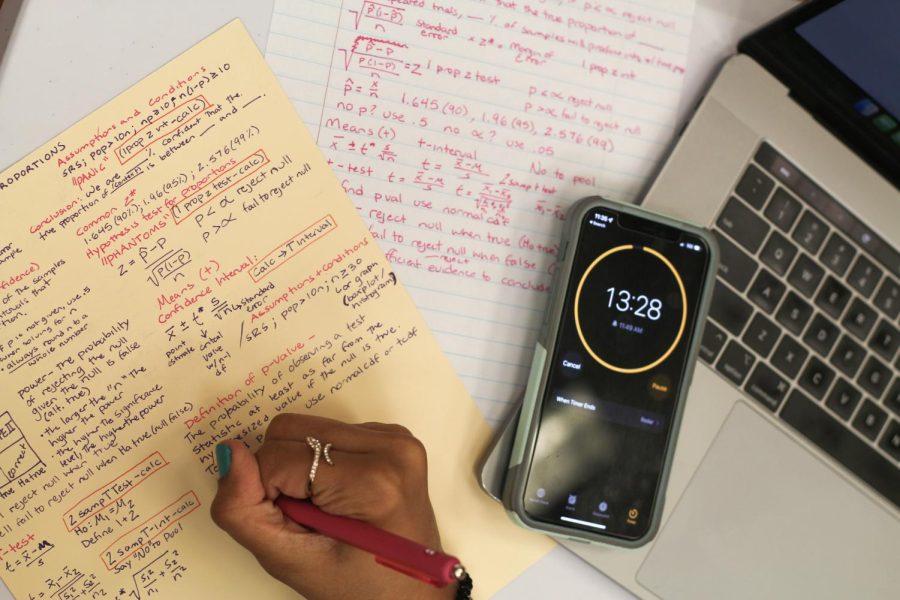 Every day during the drive to school in eighth grade, digital senior Emma Shukla remembers having her binder opened on her lap with papers spread around her. Whether it is reviewing vocabulary or studying for an upcoming AP Statistics test, Emma has it down. 
The habits she has accumulated throughout the years have allowed her to maintain good grades all throughout high school.
"My study methods have made it possible for me to feel more confident about topics covered in class by reviewing information before tests and exams," Shukla said.
Shukla studies by creating study guides with the main information she wants to retain. She also condenses her notes into bullet points and uses methods such as the "Pomodoro Technique."
"The 'Pomodoro Technique' has 25 minutes of studying and five minutes of break, so I don't get burnt out in long study sessions," Shukla said. "Oftentimes, I will try to teach the material to someone else to prove to myself that I know the information well enough."
Shukla's study methods have altered over time. In the past, she used study tools like Quizlet to quickly review vocabulary. Now, she prefers to summarize her notes and teach the topic to others.
"Finding a study method is a trial and error process, and it's important to figure out what works for you because it's different for everyone," Shukla said.
Communications Sophomore Ana Valdarrama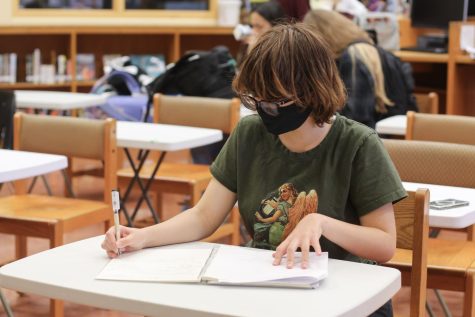 Communications sophomore Ana Valdarrama proclaimed that she is "not good at math." 
"I'm not really a math person," Valdarrama said. "So for me, it's something that I have to constantly look over."
Still, she manages to stay on top of her AP Calculus AB class.
Especially for a more application-based subject, Valdarrama finds that practicing and drilling practice problems beyond what the teacher assigns during class helps.
"I do other problems that aren't just in class because you can apply them in so many different ways," Valdarrama said. "If you only know how to do them in two different ways, you're going to be in a bad position later on."
Experimenting with her learning style is crucial to Valdarrama, and she seeks out online resources like math tutorial videos. For extra practice, Valdarrama finds practice tests online and uses AP review books like Princeton Review. 
"If I just took in the content the first time I heard it in class, I genuinely wouldn't be able to do most of my work," Valdarrama said. "So by studying, I basically just repeatedly read it, go over it, and revise it to the point where I feel like I can trust myself to know it when the time comes around."
Valdarrama advises others to study as soon as possible once the test is announced and review lesson concepts the day of. But, Valdarrama also struggles with a lack of motivation to do work. She has found that understanding and maximizing productivity rhythms is also key to efficient studying. 
"It's just that over the years, I recognize that I am, in fact, a lazy person," Valdarrama said. "When I wake up, I don't want to study. That's just how it is when I wake up. The first thing I want to do is eat, go on my phone, and watch a movie. And then at night I'm like, 'Okay, fine, I'll do what I need to do.'"
Strings Senior Natalia Sanchez
Strings senior Natalia Sanchez runs on stress.
"When stress kicks in, it motivates (me) to study to get rid of the stress," Sanchez said. "If not, I just feel terrible before and after the test. I'd rather just get it over with. And once I start, it's not a problem, and then I'm on a roll."
Sanchez is quick to speak on the plethora of tips and tricks for each course she has taken. For one, she is a devout Quizlet user.
Sanchez uses memorization tricks like creating acronyms and reciting definitions to help her retain material for tests. When talking about her study habits, she said: "In one word: Quizlet." Sanchez condenses the notes she takes in class using Quizlet, allowing her to create digital flashcards. 
"So (I) can click on the flashcard to remember to (review) them, and there's a learning setting," Sanchez said. "The shorthand of my notes helps me memorize it more because it's taking out the extra words from my notes, so I can really grasp the key concepts."
Sanchez emphasizes taking advantage of the resources at school. She highly recommends the NHS tutors (she gives a special shoutout to physics tutor and strings senior Abby Hart) who are willing to help anytime.
"The tutors are actually good at teaching, and they're really flexible, too," Sanchez said. "If you're nervous to ask a teacher, you can ask another peer, and they'll just be happy to help you."
A mix of movie scores, instrumentals, and Lo-fi beats to get your mind focused.