The words "no pain, no gain" echoed throughout the gymnasium as the girls basketball team broke their huddle and took their home court. On Jan. 10, the team played their first home game against Inlet Grove Community High School. By playing selflessly — passing the ball around to every teammate and communicating on the court — the girls won 53 to 21.
"Seeing all your work come to fruition, (with) all the ups and downs with injuries and people getting sick … it's really fulfilling," communications senior and co-captain Se'Maj Griffin said. "Now, we can finally bring it back to our school."
Fans in the crowd encouraged the team through cheers and chants such as "let's go jaguars," as the team continued to make a barrage of baskets.
"(The environment) was positive and electrifying, and knowing that it was our first home game, we were able to win it with a lot of people supporting us," strings sophomore and shooting guard Athalie Bazile said. "It was very hype." 
Because this is their first season, the team hasn't had much experience together. Tryouts were held in October and practices started mid-November. Their first game on Dec. 9 was their first glimpse of court time with each other. However, that hasn't stopped them from using the home game as a stepping stone to create momentum for a mid-season three-game win streak.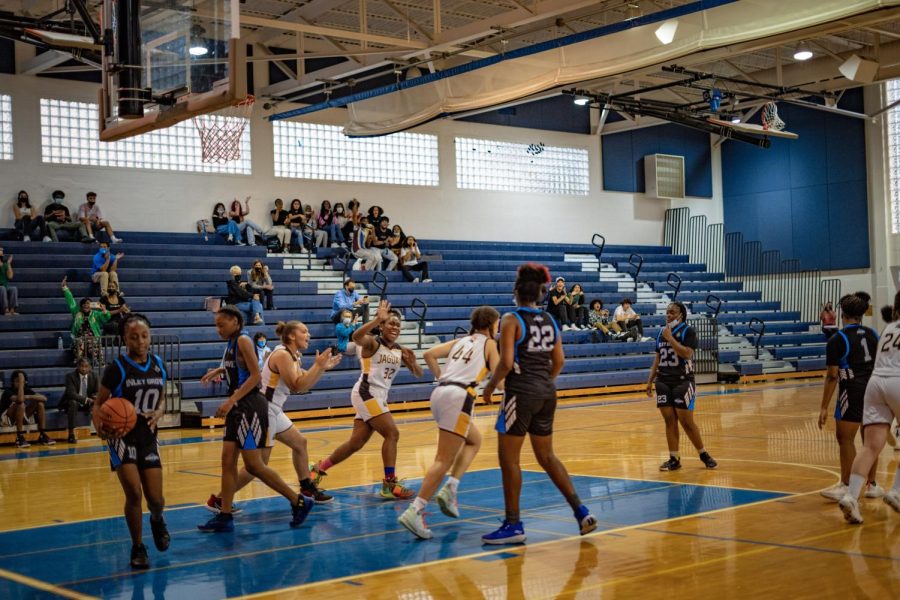 "Because we have a lot more home games (coming up), I think all of us are excited to feel that energy again and be in that environment," communications senior and co-captain Penelope Ryan said. "We've had the chance to practice a lot more since break, so I think that we're in a very good place with our skills, and we can have a really good season."
The team has created a tight friendship and chemistry which helps them on and off the court. 
"We have a group chat (and) send basketball TikToks there," Griffin said. "We're quizzing each other on different basketball terminologies. We make sure to hype each other up in practice, on and off the court. We make sure (we) say hi to each other. I wanted the team to be not only for sports, but also a separate community that people come to."
Regardless of how the season ends, the players say they are proud of what they've accomplished in the short time they've been together. 
"Despite this being our first year, I think it doesn't matter because (this team) is a milestone," theatre freshman and point guard Gilly Pacheco said. "it's going to go down in history."