Inner Beauty Shines
How the Dreyfoos Beauties Instagram account is helping to satisfy the global demand for a beneficial change to social media.
"She is so beautiful, so kind, and so sweet. She can always make me laugh and I'm so lucky to call her my friend."
"She is definitely one of the nicest people I know, and she always makes me feel good about myself, so I just wanted to return the favor."
"He's such a vibrant and fun person, he's very positive and nice to be around!"
Dreyfoos Beauties has been anonymously promoting kindness and individuality for almost a year. In early August, communications senior Jordan Teitelbaum stepped out of the shadows, announcing that she created the account on Nov. 9, 2020 and has run it ever since. The account's immense popularity among students has made it an essential part of school culture.
 With a bio that reads "You're beautiful — inside and out!" Dreyfoos Beauties gives students the opportunity to lift one another up by celebrating individual beauty and positive attributes. Teitelbaum says she created the account to combat the hate that she saw being spread by another school-related Instagram account.
"So what I tried to do is take the idea of anonymous submissions and turn it into something that, instead of bringing people down, [helps them]," Teitelbaum said when discussing her motivation behind starting the account. "Instead of bringing darkness, it's bringing light."
Dreyfoos Beauties quickly grew in popularity, gathering 433 followers on Instagram by Oct. 18. Its message of empowerment, self-worth, and the importance of celebrating inner beauty spread throughout the student body with submissions representing students of all grade levels. 
"I honestly didn't think it would turn out how it did," Teitelbaum said. "I started off with maybe two followers. All of a sudden, maybe a couple months ago, I started getting random followers. I was completely in awe [of] how big of a family I had formed with the Dreyfoos Beauties page."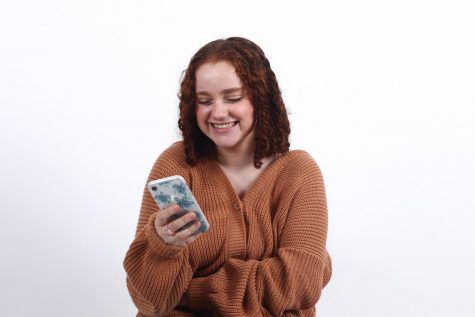 When Teitelbaum first began accepting submissions for positive messages, the volume of nominations she received overwhelmed the platform she used causing it to crash. After reformatting the submission process, Teitelbaum received 200 nominations in a month. Teitelbaum sorts through the entries she receives and posts nearly all of them, with the exception of those she feels do not reflect the message and goal of Dreyfoos Beauties. 
"If [a student] DMs me [with a submission], I make sure to ask them to change it a bit and to make it more of a compliment on who they are as a person and not who they are on the outside. Not their body. Not appearance-related." she said.
Communications sophomore Faustina Duvigneaud follows Dreyfoos Beauties on Instagram. She says that the account "offers a really kind and uplifting environment that [helps] a lot of the people who follow them and view their stories."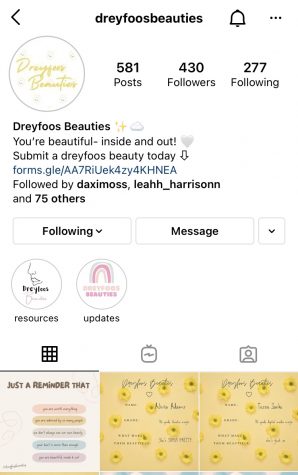 Today, the account continues to grow; 581 posts can be found on the page, with almost all of them featuring a Dreyfoos student who had inspired or impacted someone around them. 
"It's fun for the people who get shoutouts on the page," Faustina explains. 
The shoutouts given to students anonymously often come from their friends and feature statements highlighting their talents, attributes, and affect on others. One example, a shoutout given to junior dance major Jonelle Brinkley, states that she is "the nicest person ever and an amazing friend." Another, addressed to junior band major Jordan Aboderin, reads "He's the funniest and coolest guy I know. He's so sweet and tries to brighten everyone's day."
According to the National Center for Education Statistics (NCES), 15.8% of students between the ages of 12 and 18 who reported being bullied had been bullied online or by text. Similarly, the Cyberbullying Research Center reported that of the 4,972 middle and high school students surveyed, 37% responded that they had been cyberbullied in their lifetime. The Pew Research Center found that girls between the ages of 15 and 17 are the most prone to cyberbullying, with 41% of those on social media saying that they had experienced it. 
 Commenting on Dreyfoos Beauty's position in the social media community, Duvigneaud said, "[Dreyfoos Beauties] was created around the same time that [another Dreyfoos-related Instagram account] was a big thing, and it was made to be a more kind parallel to that page. It's nice how [the account is] a nice place to share positive thoughts."
While Teitelbaum runs Dreyfoos Beauties, she wants it to continue to stand on its own and retain its status as a place for students to spread love and praise. More than anything, she hopes others look to her as someone who has made a difference in her community, and she wants those people to strive to make their own difference as well.
"Compliment someone on who they are on the inside, like their talents, or their dedication and their hard work, to doing what they love, and to standing up for what they love," Teitelbaum said. "I think that's what we all really need to be focusing on."