Swim Team Redefines "New Normal" With First Live Meet Of The Season
Reporting contributed by Annabella Sacarro, Dylan Dam, and Bridget Frawley. 
When the swim team arrived to practice on the day before the meet, Swim Coach Nathan Hesse had a strange request for his swimmers: make sure to bring your own Sharpies. 
During a normal swim season, swimmers would write their events on their arms or legs in black Sharpie to keep track of the meet's scheduling. Wearing these temporary tattoos became a tradition — last year, athletes took turns using the team's set of permanent markers. 
But this year's swim season isn't exactly normal. Coach Hesse has made it clear that the Sharpies were not to be shared. And it's not just the markers –– swimmers are also forbidden from borrowing swim caps, goggles, towels, and snacks from each other to prevent the spread of COVID-19. These are just some of the adjustments the swim team has made to stay afloat in the midst of the pandemic. 
The swim team competed in their first in-person travel swim meet of the year at Calypso Bay Waterpark against Royal Palm Beach Community High School on Oct. 28. Previously, the team only participated in "virtual" meets, where coaches from different schools would time athletes at their home pools and compare the results. Some swimmers, like communications sophomore Faith Parkinson, found that virtual meets "put a damper on the entire season" because they lacked the competitive spirit of traditional meets. 
"I never feel motivated when we're doing virtual [swim meets]," Parkinson said. "There's no one in the pool with me … there's no one to compete against."
Others found that conducting the season's first few meets in this way was comforting. Vocal freshman Arielle Ward joined the team this year, but she was "feeling good" about the live meet because the varsity team members had been encouraging and welcoming from the start. Easing into the season by timing swimmers at their home pool made meets more reminiscent of a laid-back practice session than a high-energy competition, making the transition easier for the team's newest members. 
"When you're doing [a virtual meet] just with the team, you're able to focus on your team and how you do," Ward said. "Everyone there is supporting you. It makes it easier."
Wednesday's meet was the first time the team had come face-to-face with their opponents since last November. Now that teams compete in person, new regulations have to be put into place to ensure students' safety. Athletes are required to wear facial masks whenever they are out of the water. Parents and spectators are no longer allowed on the pool deck –– instead, they can set up lawn chairs behind the fence surrounding the pool. While one athlete was assigned to each lane while competing, they had to share lanes with several other swimmers as they warmed up. For swimmers, the new guidelines have turned a familiar extracurricular into a surreal experience. 
"It's definitely a lot different. I wish we could swim more [at] practices and all that, but I get [that] because of the restrictions, we can't all swim at once," strings junior Sydney Felton said. "But our team is so fun to be around, and I always have a great time at the meets and practices."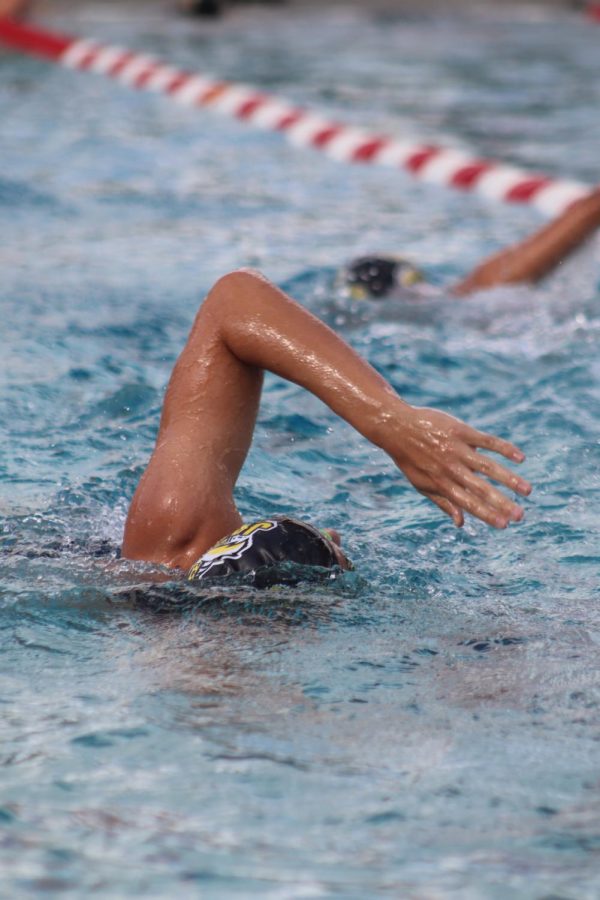 Initially, the athletes reported that the safety regulations at Wednesday's meet were straightforward and simple enough to follow. Visual sophomore Jenna Sparling had confidence that the coaches and the officials would "keep everything under control" by surveying students to make sure they were following the safety protocol at all times. 
Communications freshman Madeline Kahn agreed that it was important for students to reengage in high school sports now that restrictions have loosened, but she emphasized that student safety should always come first. Similarly, Sparling and Ward were grateful that these competitions were giving them an opportunity to exercise after months of quarantining.
"I needed to get out of the house and be active, because I've pretty much done nothing and I haven't been practicing swimming since the beginning of the pandemic," Sparling said. "It's good to fully join back into the regular routine."
As the event progressed, however, the sometimes-chaotic nature of swim meets conflicted with the established safety guidelines. A brief rainshower caused swimmers to crowd onto the bleachers, where they could stay dry but not socially distanced. Additionally, many athletes left their masks by their belongings before walking over to the pool. Many unmasked swimmers had to cluster together in large groups on one side of the pool, violating the specific safety regulations. These lapses in protocol were concerning to some swimmers, including Kahn.
"Since I'm in a relay, I'm kind of concerned about when I get out of the water and someone's just about to dive in," Kahn said. "I'll need to wear a mask [while they're] passing by me, but they're getting in the water, so they won't have their mask. The best you can do is have your mask on every minute you can."
The Centers for Disease Control and Prevention define close contact as being within six feet of another person for a total of 15 minutes or more. To ensure student safety, athletic officials frequently reminded swimmers to maintain social distancing, and swimmers on both teams appeared to make an effort to keep their masks on as often as possible. This fall, the swim team adapted to their unprecedented situation to preserve the fundamental spirit of past swim seasons. Assistant Swim Coach Carmen Gallardo explained that even though the team had to "play catch-up" by scheduling weekly meets, a shortened season was better than no season at all.
"We have so many variables now that have changed what 'normal' is. At least by keeping sports in some capacity, we're maintaining a sense of normalcy," Coach Gallardo said. "Whether they're at home or whether they're face-to-face, sports and extracurricular activities are the things that keep the social gears of high school moving."
Parkinson found that adjusting to the new swim team experience during the pandemic was less difficult than she first predicted it would be. Her "new normal" ended up being more familiar than she expected.
"I came into the season expecting a lot of changes. But the truth is, swim really never changes," Parkinson reflects. "You're still in the pool. The technique doesn't change, your dives never change. When you're swimming, you don't think about COVID-19, and you're not thinking about the pandemic. You're thinking about your strokes. You're thinking about your performance." 
Your donation will support the student journalists of Dreyfoos School of the Arts. Your contribution will allow us to purchase equipment and cover our annual website hosting costs.
About the Writer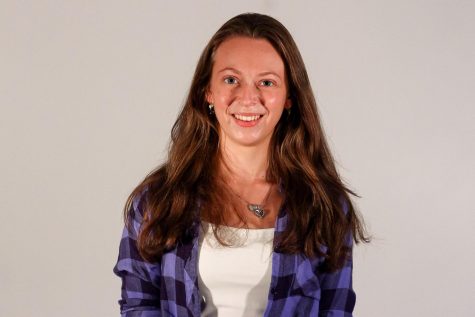 Sophia Roud, Editor In Chief
Sophia Roud is a third-year staffer and co-editor-in-chief of The Muse. During her time on the publication, she has specialized in writing in-depth feature...