SEVEN QUESTIONS WITH STEFFAN GAWLIKOWSKI
Class of '15 alumnus Steffan Gawlikowski achieved his dream of playing soccer for a U.S. national team. Having made memories and honed in on his skills during high school, he had recently returned to Dreyfoos to be an assistant coach for the boys soccer team. In an interview with The Muse, Gawlikowski discussed his soccer experience. 
Steffan Gawlikowski
Q: What team do you currently play for? 
A: I play for FSI Vultures FC. We play in the UPSL [United Premier Soccer League]. UPSL is one of the three leagues considered the third division in the USA. 
Q: What did high school soccer contribute to your recruitment on the FSI Vultures FC? 
A: [High school] was the most important time to be seen by scouts. Playing for the number two team in the state at the time, Palm Beach Nomads, was the main reason for me [playing] college soccer. They had us flying to England to play in an international tournament called the Keele Cup, and we flew back home with the trophy. 
Q: How did playing soccer at Dreyfoos better prepare you for your future as a player?
A: Playing soccer at Dreyfoos received me recognition due to my father sending in the scores and stats to the newspaper after every game. I finished senior year with 12 goals and five assists in only eight games. I also missed five games due to having a concussion. Dreyfoos had nominated me as their Pathfinder representative for sports. 
Q: What is your best memory from your years of playing Dreyfoos soccer? 
A: My senior year came around, and Dreyfoos, I believe, hadn't won a district game in 7–10 years. We brought Blanche Ely [High School] to our home field, and we won 4-3 on Senior Night. Parents, players, coaches, students, and teachers all went crazy.
Q: What was an obstacle you had to overcome while playing soccer at Dreyfoos? 
A: Dreyfoos is a great school and community. I've met extraordinary people, from students to staff to alumni. I'm still close with a lot of them, too. But, to get recognition was the biggest struggle I had attending Dreyfoos. I wouldn't have made it as far as I did without the help of my parents sending stats to the newspaper or recording my games for me. 
Q: Did attending an arts school put you at a disadvantage athletically? 
A: My youngest brother [Trevor Gawlikowski] attended Forest Hill High School, [and], at the time, had a superior team around him. He had scored around 30 goals in a single season because of them being able to have double the amount of games, the reason for this being they could play home games. At Dreyfoos, we could not. Instead of other schools playing 15-30 games, my senior year, I only played nine games, therefore getting less recognition from college scouts. 
Q: How have you managed to juggle school and sports throughout your high school years? 
A: Soccer has been my most outstanding achievement. It has impacted my life by everything I do. I've been playing since I was 3 years old in Pennsylvania. [When] I was 15 years old, my schedule was…
4 a.m.—Work out in Boca YouFit with select kids and trainer. 
7:30 a.m.—Catch Tri-Rail to school [because] I lived in Lake Worth.
8:30 a.m.—Start school in West Palm.
4 p.m.—School practice, whether it was soccer, track and field, swimming, or cross country.
7:30 p.m.—Travel practice in Palm Beach Gardens.
10:30 p.m.—Eat dinner and start homework. 
I managed to graduate Dreyfoos still above a 3.0 [GPA].
Leave a Comment
About the Writer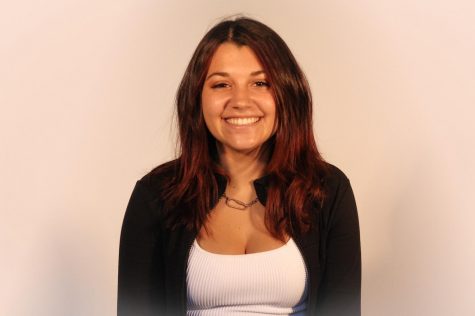 Jules Popiel, Sports Editor
Communications junior Jules Popiel is the Sports Section Editor. She is very excited to rejoin her Muse family. Outside of The Muse, she is a part of the...