In one corner of the dance floor, a couple dances to upbeat trap music, arms wrapped tightly around each other. In another, a crowd makes conversation between breaks from the chorus as students pull up the bottoms of their dresses and shuffle to the rhythm. Others remove their tuxedo jackets and roll their sleeves back to the elbows. It's Prom 2019, and the evening is just beginning.
The annual prom was held at the Palm Beach County Convention Center on April 6, lasting from 7 p.m. until 11 p.m. The theme was Enchanted Forest, and mystical decorations illuminated the ballroom.
"So far, the best part of the night was getting ready with all my girlfriends and driving over here together," communications junior Lillian Khanna said. "Something about being outside of school with the rest of everybody―eating, having fun, listening to music―it's going to be a great night."
When students arrived to the Convention Center, some by limousine, they were met with a floral archway near the check-in table. Teacher chaperones shared in excitement with students.
"[Prom is] one of the privileges of working with our Dreyfoos students," guidance counselor Laura Tomasello said. "The students are all so well-dressed and well-behaved, they're like already adults, and they're enjoying a really sophisticated party."
Outfits ranged from traditional tuxedos and gowns to less conventional velvet jackets and bolo ties. Earrings, makeup, and floral crowns completed some looks; theatre senior Catherine Moriarity was even spotted wearing a red cowgirl hat. Students who wore heels or wedges were relieved to see buckets of colorful, socks near the DJ booth.
"I was like, I'm gonna get germs on my feet from taking my shoes off," digital media junior Sophia Dawson said, leaning in to project her voice over the music's loud bass, "but there are socks!"
Popular songs throughout the night drew crowds to the center of the dance floor. When "Only" by Nicki Minaj came on, people who were sitting to eat jumped up and rushed to the floor in time to scream the lyrics of Drake's verse. "Bodak Yellow" by Cardi B had a similar effect, and when the DJ played the song again an hour or so later, students once more tested their rap flows. However, a number of students noticed the repetition of a few songs.
"Prom would have been better if the DJ didn't play the song 'Shots' by LMFAO five times," Moriarity said. "But even with that hindrance, my pals and I were still able to have a good time."
Projections of stars on the walls and floral centerpieces with lights on clothed tables fed in to the Enchanted Forest theme. A large banner across the wall behind the DJ's stage read, "Dreyfoos School Enchanted Forest." Throughout the night, students posed for pictures in a photobooth and in front of decorative backdrops.
"I really like the photo booth; I think it's really fun," theatre sophomore Alexa Rubenstein said. "Also, the food is really good, surprisingly."
Rubenstein was one of many sophomores who attended as a date, shifting the demographics of the event aimed at upperclassmen. Sophomores were required to have their ticket sale approved by junior class sponsor and foreign language teacher Thomas Ruth.
"It's interesting because I don't know as many people here," Rubenstein said. "So, I kinda just talk to people that my date talks to, but it's just really fun anyway."
For Class Co-Presidents and communications juniors Mara Vaknin and Nikolas Zimmerman, prom was enjoyable but also stressful. The two worked closely with Mr. Ruth to plan the event, and they were finally seeing the results.
"I tend to be way more critical of every aspect of prom, since I know the planning that went into it," Vaknin said, "so even while I was at the party and having a good time, I was still constantly checking in with all of our vendors and their sponsors to make sure that everything was going smoothly and according to the plan that we created."
Overall, Vaknin reflected that prom was successful and well received by the students. She felt grateful to have gotten to work with Class Council leading up to the momentous night.
"Planning prom was a lot of fun," Vaknin said. "There were definitely stressful moments, but I was really excited to put on a huge party for our seniors and juniors who work so hard."
After hours of chatting, eating, and dancing with friends, the floor was cleared in anticipation of the Prom Court announcement. The crowd hushed, and students stumbled for their phones to record as principal Dr. Susan Atherley approached the microphone. Moments later, band senior Savannah Bell was crowned Prom Queen and band senior Aidan Dixon joined her as King.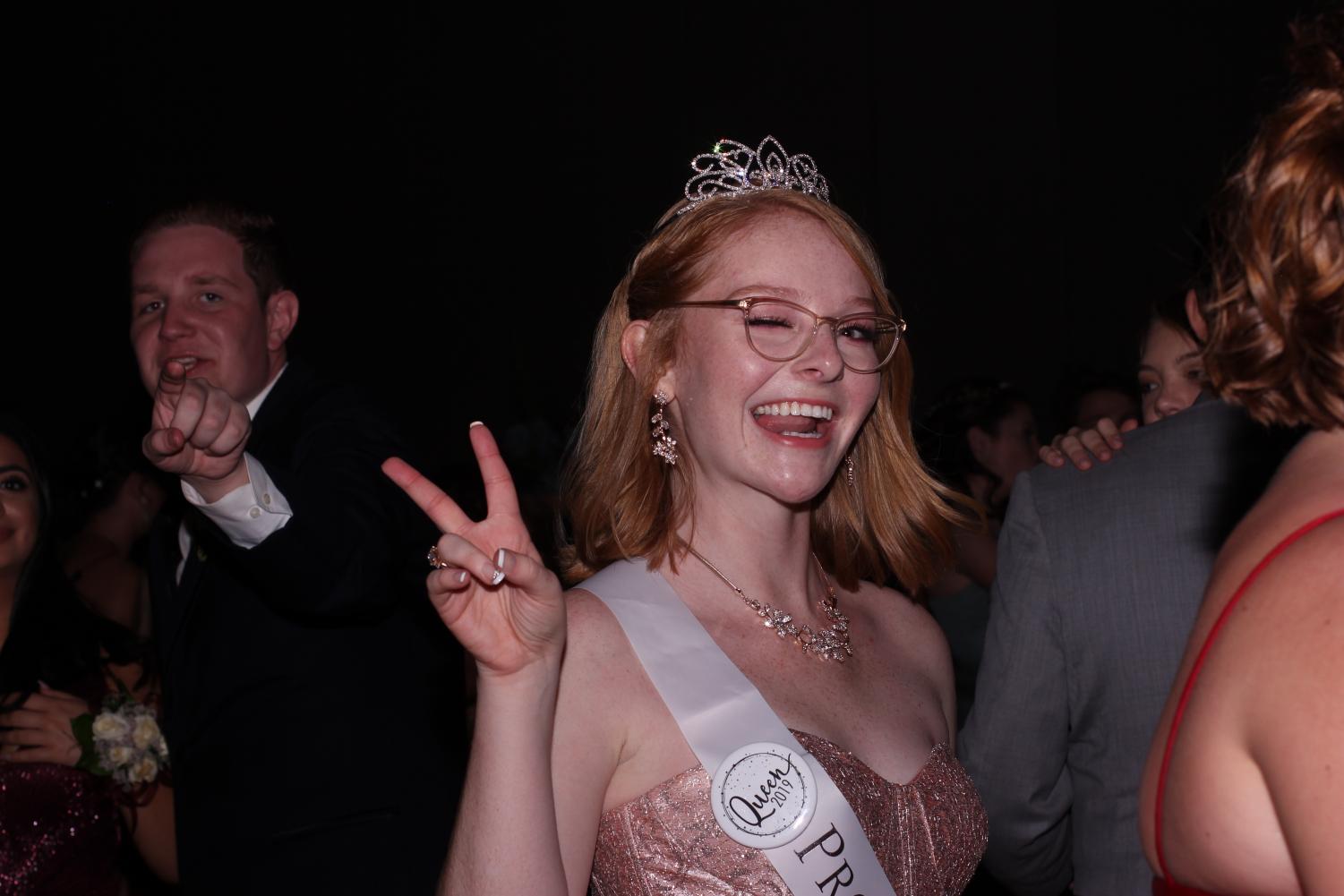 "It was exhilarating," Dixon said. "It was the climax of the night, like everything was leading up to that moment."
On cue, the 2019 Prom King and Queen―Bell and Dixon both described each other as best friends―moved to the center of the empty dance floor and showed off their moves. What threw some onlookers off, though, was their choice of song.
"Instead of slow dancing, we danced to '7 rings' by Ariana Grande," Bell said. "We just wanted to bust it down."
Following their moment, they were joined by other couples for a traditional slow dance. Couples embraced each other and swayed to Ed Sheeran's "Perfect."
"I was extremely happy that my best friend in the whole world was my prom queen," Dixon said. "Overall, it was a great experience and an amazing night."
As the night neared 11 p.m., groups of students headed outside to leave for after-parties or late-night snacks. Last-minute photos in the hallway and goodbye hugs marked the end of another successful prom.
"Everyone in our school, especially the juniors and seniors, work so hard," Vaknin said. "So, just getting to put on this event where everyone can come and have a fun time and be with their friends was a really rewarding experience."