THE TRUTH ABOUT ZODIACS
Hang on for a minute...we're trying to find some more stories you might like.
While some are quick to dismiss astrology as a pseudoscience, humans have been using the alignment of the planets and stars for everything from navigation to rituals. Today, people look at their natal charts as a way to evaluate their personalities and find an explanation as to what defines their character.Some take their horoscopes very seriously, and plan their day and interactions accordingly; others use it just for fun.
The zodiacs are grouped into four categories according to the elements: Water (Cancer, Scorpio, Pisces), Earth (Taurus, Virgo, Capricorn), Fire (Aries, Leo, Sagittarius), and Air (Libra, Gemini, Aquarius). Signs under the elements have distinct but similar traits. Fire signs tend to be described as passionate, Air signs are flexible, Earth signs are realists, and Water signs are intuitive.
Though horoscopes aren't always true, it is fun to read up on them and see how they relate to our personalities. Here are some common misconceptions about each sign:
Aries (March 21-April 19):

Aries are seen as angry and explosive. Maybe it's because you care so much and all that emotion pours out in everything you do; maybe it's because you don't let people walk all over you and that is seen as too abrasive. They have incredible leadership skills, motivation, and energy.
Celebrities under this sign:
Liza Koshy, March 21

Danielle Bregoli, March 26

Mariah Carey, March 27

Lady Gaga, March 28

Quavo Marshall, April 2

Skai Jackson, April 8

Brendon Urie, April 12

Selena Quintanilla, April 16

Kourtney Kardashian, April 18
Taurus (April 20-May 20):
You guys are seen as lazy and stubborn; what people don't know is that you work hard for what you earn and you like to appreciate the finer things in life. You have a taste for luxury and are always seeking new adventures.
Celebrities under this sign:
Gigi Hadid, April 23

John Cena, April 23

Travis Scott, April 30

Dwayne Johnson, May 2

Chris Brown, May 5

Adele, May 5

Blac Chyna, May 11

Miranda Cosgrove, May 14

Sam Smith, May 19
Gemini (May 21-June 20):
Geminis are always called two-faced, conniving, and rambunctious; what's great about Geminis is that you are flexible and sociable. They obviously aren't going to treat every person the same, they are going to adapt to their personalities, which is probably why people think they are fake. Their heart is in the right place and they evolve with new information.
Celebrities under this sign:
Fetty Wap, June 7

Iggy Azalea, June 7

Kanye West, June 8

Johnny Depp, June 9

Kodak Black, June 11

Donald Trump, June 14

Ice Cube, June 15

Tupac Shakur, June 16

Kendrick Lamar, June 17
Cancer (June 21-July 22):
Emotional, weak, and defenseless: the common misconception of many Cancers. This doesn't always ring true because Cancers are some of the most understanding and resilient people. They have an unwavering determination and can stick through any tough situation while empathizing with the other people involved.
Celebrities under this sign:
Lana Del Rey, June 21

Ariana Grande, June 26

Chandler Riggs, June 27

Khloe Kardashian, June 27

Ashley Tisdale, July 2

Post Malone, July 4

Kevin Hart, July 6

Jaden Smith, July 8

Selena Gomez, July 22
Leo (July 23-Aug. 22):
Leos are seen as narcissistic and reckless. The truth is that Leos are very sensitive and are conscious to how other people feel. Don't worry about what other people think and do what is best for you.
Celebrities under this sign:
Lil Uzi Vert, July 31

Dylan and Cole Sprouse, August 4

Barack Obama, Aug. 4

Shawn Mendes, Aug. 8

Whitney Houston, Aug. 9

Jennifer Lawrence, Aug. 15

Lil Pump, Aug. 17

Demi Lovato, Aug. 20

Dua Lipa, Aug. 22
Virgo (Aug. 23-Sept. 22):
Virgos are pinned as scholarly, uptight, and detail-oriented. Virgos just need time to get to know someone before they open up. They are grounded, loyal, and and practical.
Celebrities under this sign:
Lil Yachty, Aug. 23

Michael Jackson, Aug. 29

Zendaya, Sept. 1

Beyoncé, Sept. 4

Wiz Khalifa, Sept. 8

P!nk, Sept. 8

Gaten Matarazzo, Sept. 8

Nick Jonas, Sept. 16

Jimmy Fallon, Sept. 19
Libra (Sept. 23-Oct. 22):
Libras are known for being indecisive, diplomatic, and fake. Those who can really see through this know that they just like to hear both sides of a situation before they come to a conclusion. They're not fake, they just conform to the person they're talking to.
Celebrities under this sign:
Will Smith, Sept. 25

Avril Lavigne, Sept. 27

Lil Wayne, Sept, 27

Halsey, Sept. 29

Bruno Mars, Oct. 8

Cardi B, Oct. 11

Snoop Dogg, Oct. 20

Kim Kardashian, Oct. 21

21 Savage, Oct. 22
Scorpio (Oct. 23-Nov. 21):
Scorpios are called snakes, liars, and overall possibly the most evil out of all the zodiacs. While it does take them a while to open up, once they do, they are some of the most caring and considerate people that will do anything for their friends.
Celebrities under this sign:
Drake, Oct. 24

Hillary Clinton, Oct. 26

Bill Gates, Oct. 28

Kendall Jenner, Nov. 3

Lorde, Nov. 7

Gordon Ramsay, Nov. 8

Leonardo DiCaprio, Nov. 11

Jeffree Star, Nov. 15

Tyga, Nov. 19
Sagittarius (Nov. 22-Dec.21):
Known as the most energetic, Sagittarians are the life of the party and there is never a quiet or dull moment around. They are human too; you have your moments of weakness, and trying to cover up your negative feelings with fake smiles will hurt you more than help you.
Celebrities under this sign:
Miley Cyrus, Nov. 23

Charlie Puth, Dec. 2

Britney Spears, Dec. 2

Jay-Z, Dec. 4

Walt Disney, Dec. 5

Nicki Minaj, Dec. 8

Raven-Symone, Dec. 10

Taylor Swift, Dec. 13

Sia, Dec. 18
Capricorn (Dec. 22-Jan. 19):
You guys are often pegged as boring and no fun; they're just a long term thinker that likes to work hard now, so that they can enjoy themselves in the future. They are some of the most interesting people and know that the best way to enjoy life is by working hard.
Celebrities under this sign:
Meghan Trainor, Dec. 22

Louis Tomlinson, Dec. 24

Lebron James, Dec. 30

Gabby Douglas, Dec. 31

Elvis Presley, Jan. 8

Zayn Malik, Jan. 12

Liam Hemsworth, Jan. 13

Martin Luther King Jr., Jan. 15

Michelle Obama, Jan. 17
Aquarius (Jan. 20- Feb. 18):
As an air sign, Aquarians are deemed thoughtless and detached–always with their head in the clouds. While they may not vocalize their thoughts, they do some of their deepest thinking when they are alone.
Celebrities under this sign:
Xxxtentacion, Jan. 23

Ellen DeGeneres, Jan. 26

Oprah Winfrey, Jan. 29

Harry Styles, Feb. 1

Shakira, Feb. 2

Abraham Lincoln. Feb. 12

Gucci Mane, Feb. 12

The Weeknd, Feb. 16

Ed Sheeran, Feb. 17
Pisces (Feb. 19 – March 20):
People think Pisces are downright crazy, emotional, and fickle; in actuality, they just like to enjoy life and keep away from negative energies. They care a lot and that might make them come off as emotional, but it is all with good intentions.
Celebrities under this sign:
Millie Bobby Brown, Feb. 19

Rihanna, Feb. 20

Steve Jobs, Feb. 24

Ke$ha, March 1

Justin Bieber, March 1

Camila Cabello, March 3

Simone Biles, March 14

Ansel Elgort, March 14

Adam Levine, March 18
About the Writer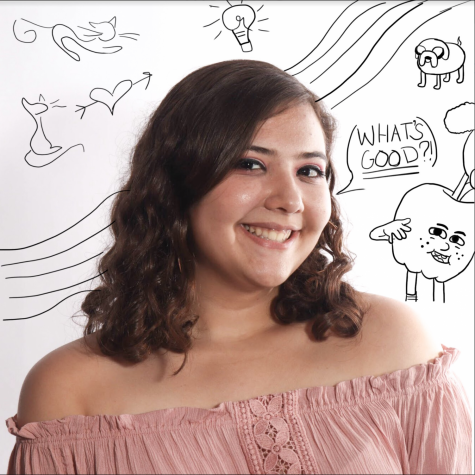 Daniela Esquenazi, Culture Editor
Communications senior Dani Esquenazi is entering her third year on The Muse as Culture Editor. She likes cats, cartoons, and anything that will make her...