Starbucks' Unicorn Frappuccino Review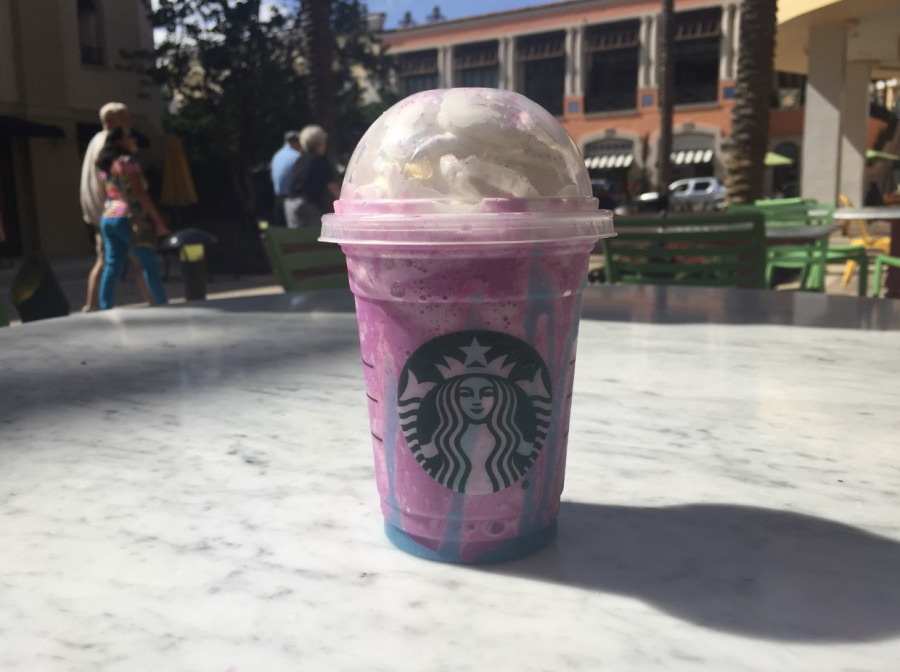 2017 might as well be the year of the unicorn. From fashion to pool floats, unicorn themed items are everywhere and are quickly taking over the world. A recent addition to this unicorn trend has been the release of unicorn inspired foods which have been seen all over social media. Unicorn food, to put it simply, is food typically decorated with many different bright colors or pastels, and sometimes even edible glitter. The aesthetically pleasing unicorn inspired treats are usually desserts and are typically loaded with rainbow candies and decorations. What more could you possibly ask for?
Starbucks decided to jump on this trend on April 19, coming out with its limited time Unicorn Frappuccino. The drink was a vanilla cream frappuccino with mango syrup. It was then mixed with a sour blue drizzle and topped off with whipped cream and pink and blue powder, or "Fairy Dust." The item was only available on the menu while supplies lasted, or until April 23. The epidemic of the unicorn went viral fast, creating a sudden Internet craze and major hype amongst social media users and Starbucks lovers everywhere.
Hearing that it was only available for five days, I was very curious to get a taste of the mysterious drink for myself. So after school, I walked to City Place to get one and the Starbucks line was out the door. Many other Dreyfoos students and other Starbucks goers must have had the same idea. The poor baristas looked like they were about to go crazy, with unicorn frappuccino orders coming from just about every customer. When it was my turn to order, I ordered the smallest size, and proceeded to wait in line for the drink to be ready. As I waited, I looked up the drink's nutrition facts. The average tall size was 280 calories with 39 grams of added sugar. Considering the recommended amount of added sugar per day is 25 grams, the drink was already above the healthy limit, and I knew that I was about to make a mistake.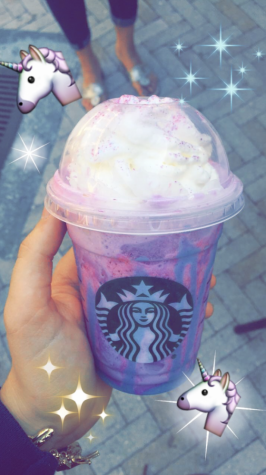 Leading up to ordering the drink , I had heard many mixed reviews about it. Some said the drink tasted like sour birthday cake while others were convinced that it tasted like a creamsicle covered in pixie sticks ,which was a very specific comparison. Based on these reviews, I was kind of nervous about it as I am not the biggest fan of sweets.
When my name had been called to finally retrieve my drink, I could not contain my excitement, but I was also terrified at the same time. Before taking a sip, I of course had to take some pretty pictures of it for my Snapchat story because the colors were beautiful and the "fairy dust" on top was to die for, so I knew it would fit the Snapchat aesthetic that I was going for. Then, came the moment of truth. My first sip of the unicorn frappuccino and it was… disgusting. I had taken a sip of the sour blueberry drizzle, and I immediately felt like spitting it out. But after another sip where I tasted the actual frappuccino part, I decided that it wasn't so bad. Although it was super sweet and the mix of flavors was definitely a weird combination, I still thought it was okay. There was an interesting mix of a mango taste along with a blueberry taste. The cool thing about it was that, as I drank it, the flavors of the drink changed allowing a new flavor with each sip. This magical aspect made it feel just like unicorn heaven. It was sweet one minute and then sour the next. It definitely took me awhile to get used to the flavor, but once I did get used to it, I actually kind of enjoyed it.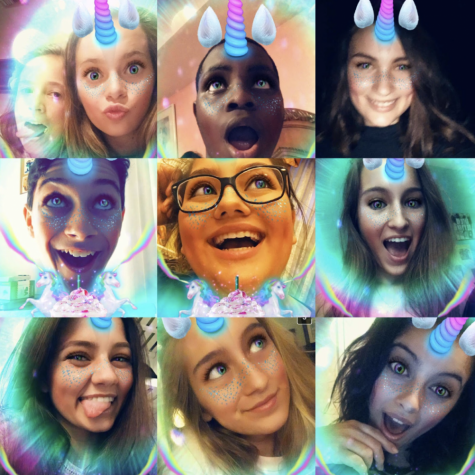 Though I probably would not order the drink again, I am glad that the unicorn was not just a myth at Starbucks for five days. I am very pleased that they were able to incorporate the majestic creature into a menu item of theirs. The craze was a lot of fun while it lasted and the drink itself definitely brought in a lot of attention for the company. Overall, the limited time Unicorn Frappuccino was worth trying and brought Starbucks to a whole new level of magical!

The Unicorn Frappuccino at Starbucks made its debut on April 19 for a short time span of only five days. Its vibrant colors and "magic" factor attracted many customers for the short few days and was widely promoted on social media throughout the nation.
About the Writer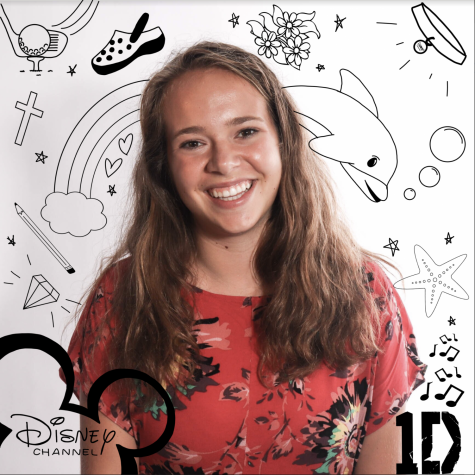 Lilly Randolph, Assistant Managing Editor
Communications senior Lillian Randolph is a third-year staffer on The Muse. Before becoming Assistant Managing Editor, Randolph was a Sports staffer for...