Trip Summary: Taking on Charleston
At the start of summer, I attended a program through the Jewish Federation of Palm Beach County called Project Tikvah.  From June 5-9, a group of 17 high school students and two group leaders flew to Charleston to help provide relief from the city's October floods, as well as focus on Tikkun Olam (Hebrew for repairing the world) and on racial and social justice. We lived out of suitcases at the Holiday Inn Express, ate like Southerners (but moved at much faster pace,) and tried to make the world a better place. Overall, it was an eye-opening experience.
Day 1: Sunday, June 5
We took two planes; the first was to Atlanta and the second was to Charleston, our final destination. When we arrived, we went to a deli, where I embraced my Sephardic roots by ordering a gyro. Today we didn't do any volunteering, but explored the city instead. We took a ferry to Fort Sumter, learning about the Civil War and walking near the ocean, with the wind blowing us back. That night, we visited an Orthodox temple, and a caterer attempted to make Southern food simultaneously kosher (fried green tomatoes, breaded catfish, and collard greens.) We ended our day at our hotel.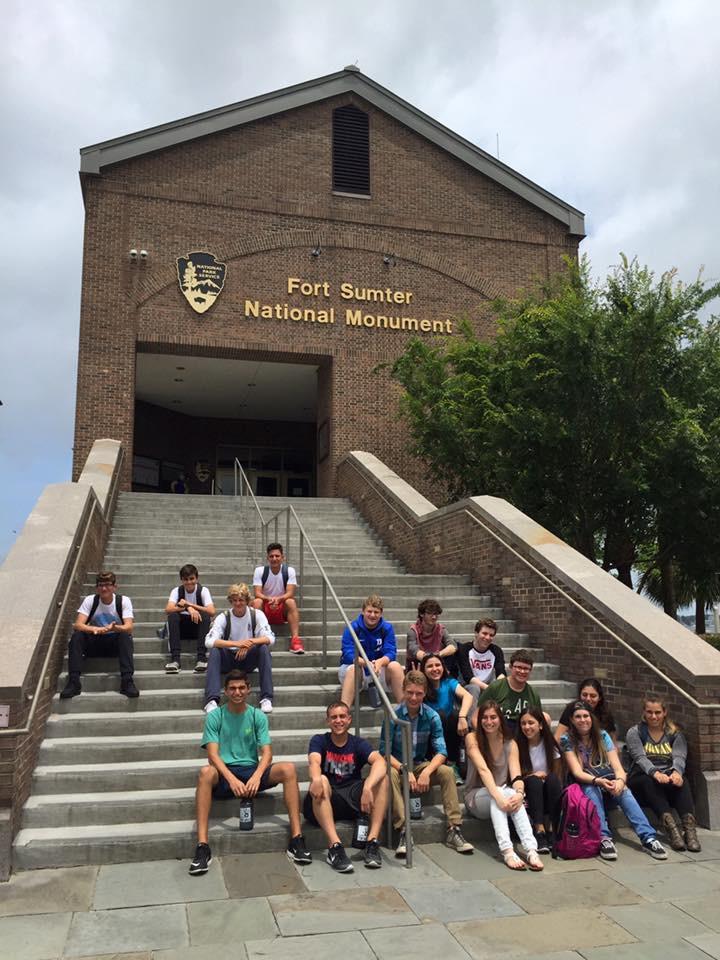 Day 2: Monday, June 6
My roommates and I awoke from the blaring of an alarm we set for 7:30 a.m. We immediately fell back asleep for obvious reasons (a. It's early b. It's summer c. Did I mention it's early?) to be awakened once again less than two minutes later as a pre-recorded message told us it was time to get up. Today's plan was to go to a place where we would take oyster shells and create something with them, but it didn't go as planned. A tropical storm decided to rear its ugly head. We scratched the original plan and walked through Charleston's marketplace, danced in the rain, and I left behind my cheapness and (regretfully) bought hideously expensive ice cream. After eating mediocre ice cream, we ended our day by visiting the oldest reform synagogue in the United States, the temple where my parents got married. We ate more kosher Southern food for dinner (red rice, pulled chicken sandwiches, and green beans) and ended our day at the Orthodox temple where a few professors from the College of Charleston came to talk to us about race and social justice.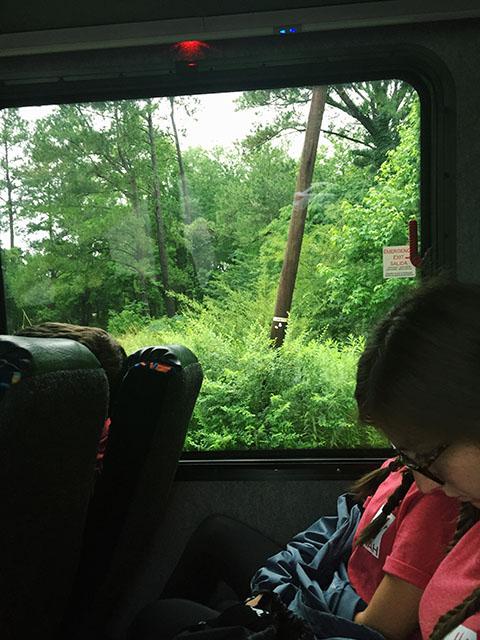 Day 3: Tuesday, June 7
If I thought it was an early wake up call yesterday, I was totally not prepared for today. Today's alarm was set for 6 a.m. We ate breakfast at 6:30 and boarded the bus at 7, to be on our way to Middle Of Nowhere, South Carolina (It's a real place.) By the time we arrived, I calculated that 98 percent of the group had fallen asleep and also that we had been traveling for two hours. We ended up in a small town called Georgetown, and checked in at a volunteer center by the name of All Hands. From there, we were split into three groups to go to different homes to provide assistance to people whose homes were ruined in October's mass flooding. I, along with five others, chose to scrape mold off of a house, thinking that it wouldn't be too hard. Turns out, it was. Very much so. At the home, we met a woman named Patricia, who told us that her family had lived in the house for generations. After Patricia finished explaining what it was we were to do, she handed us hazmat suits, goggles, and gas masks, and we all went inside the house. When I walked in, I was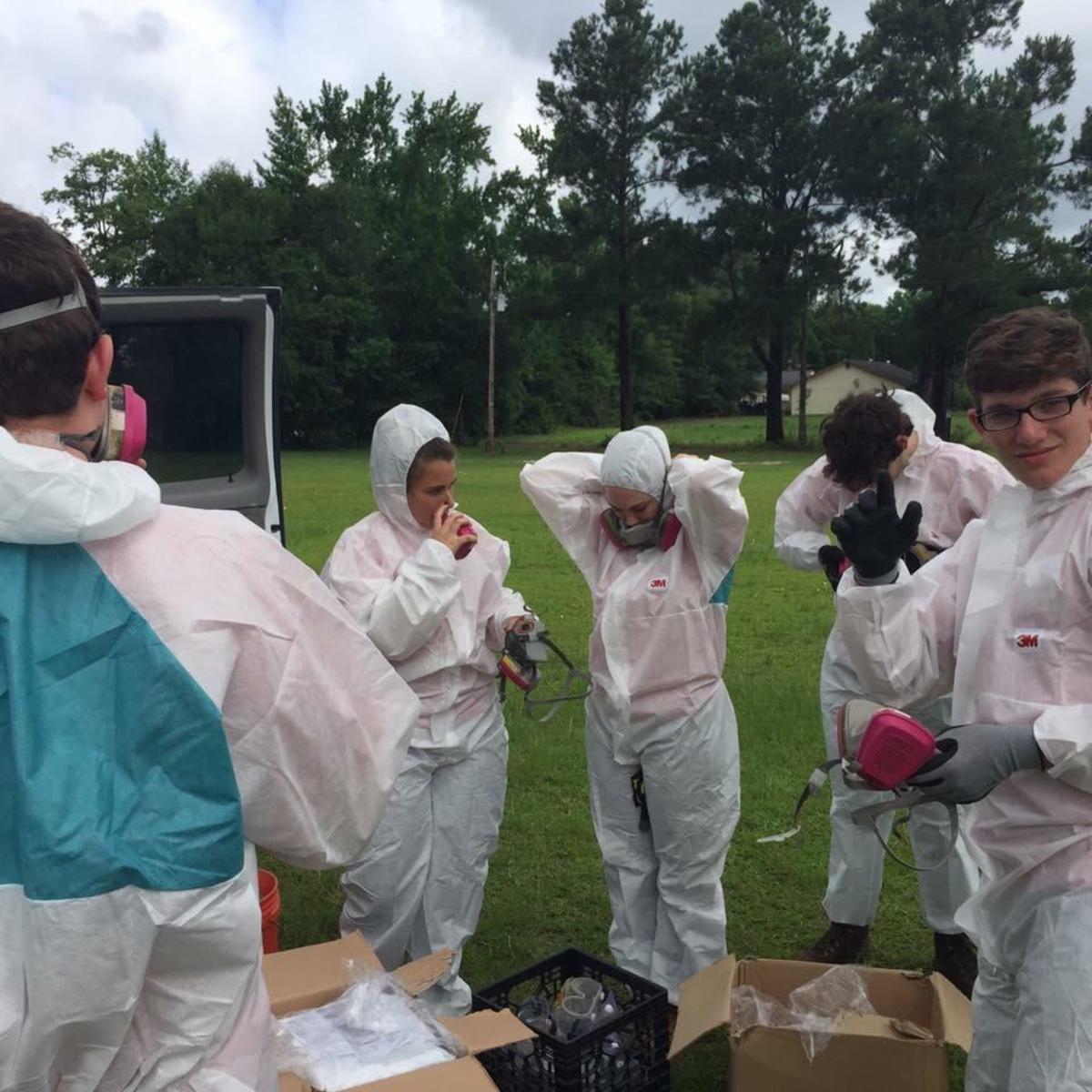 taken aback by what was inside (or rather what wasn't inside.) In the house, we had to be very careful because there was no floor. We walked on floor boards and on long pieces of wood that had been previously put in and we got to work. It was hot and humid. We may have been inside, but the heat made it feel like we were outside. It was incredibly hard to breathe and see. Every now and then, we had to go outside so we could breathe in the fresh air and vigorously gulp down water. Back on the bus, I had actually fallen asleep because of my extreme exhaustion after today's project. Later that day, the whole group walked from our hotel to a restaurant called Hominy Grill and enjoyed our share of sweet tea, biscuits, and our chosen meal. We finished off the at a park, walking around and enjoying nature's beauty.
Day 4: Wednesday, June 8
Right after breakfast at 7:30 a.m., we hopped on the bus and headed to the Low Country Food Bank. After being shown around by a woman named Emily, we got right to work, creating an assembly line to package boxes for families in need. Each person had specific directions to follow when the box came their way (for example, when the box came my way, I had to put in two cans of mixed fruit) and at the end of the line, someone would package it up and put it on a cart. This was much less strenuous than Tuesday's task, and for that, I was eternally grateful. After lunch we toured Magnolia Plantation, a former slave plantation, and walked through the gardens and into cabins that slaves lived in.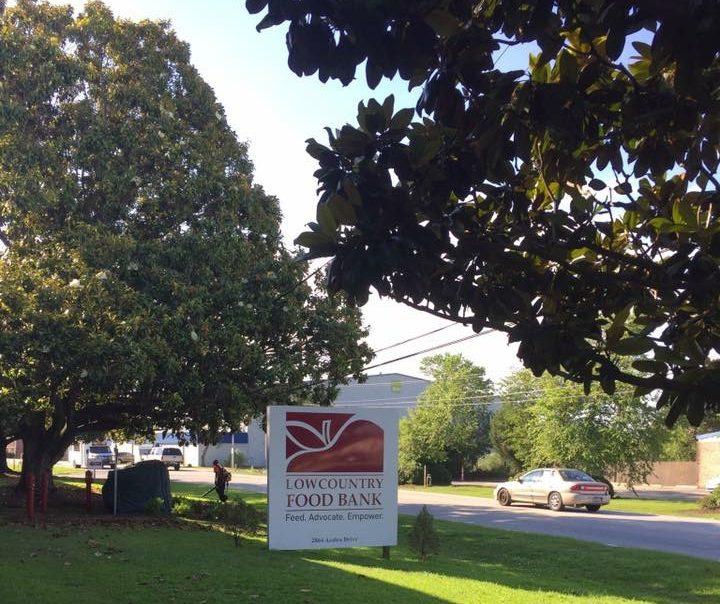 We ate our final dinner in Charleston at a fried chicken restaurant and attended Spoleto Festival, a live theatre festival put on by the College of Charleston. The play we saw was called "Golem;" it was based off a Jewish legend and similar to Mary Shelley's "Frankenstein."
Day 5: Thursday, June 9
Our last day in Charleston was bittersweet. After breakfast at 7:30 a.m., we went around and said things that had impacted us from the trip, and I talked about how I felt going in the house and scraping mold. Soon after, we finished packing our things, took the two planes once again, and arrived in West Palm Beach around 5 p.m., jolting us back into reality. As soon as I got home, I promptly fell asleep, exhausted from the traveling, exhausted from the trip, and exhausted from trying to make a difference.
About the Writer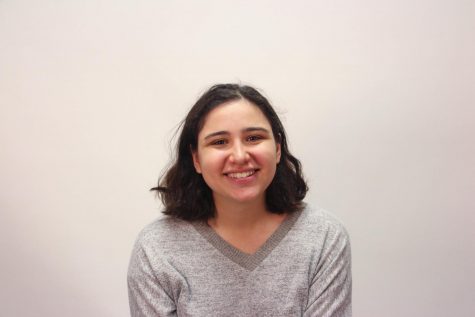 Ruby Rosenthal, Editor-In-Chief
Ruby Rosenthal is a third-year staffer and co-Editor-in-Chief of The Muse. She's obsessed with learning new things, whether it be through reading articles...