Throwing Her Way to Success
Vocal freshman Emese Nemeth is a year-round athlete. When she is not swimming her club swim team Performance Aquatics four days a week, Nemeth still finds time to be the only girl on the Dreyfoos track and field team to compete in the shotput and discus events.
"When I started [shotput and discus] in middle school [I practiced] five times a week for two hours. Right now I [practice] three times a week for two hours," Nemeth said. "It was interesting starting in [a] new school as well as [a new] district zone because I didn't know anyone, and as a freshman I was excited but nervous."
Although new to Dreyfoos, Nemeth has plenty of experience with field events. Nemeth started shotput and discus in the seventh grade at A.D. Henderson University School & FAU High School, where she received much support from her coaches and peers.
"[My coaches] just asked one day because I was a sprinter so I just tried it and I really loved it," Nemeth said.
Nemeth has put in a lot of her extracurricular time and energy into shotput and discus events. As the only girl on the Dreyfoos track and field team to compete in these events, Nemeth takes her role on the track team seriously.
"It's a really good feeling because many people support you and come and watch," Nemeth said. "I know even if I don't do my best it doesn't matter because the community of field events is really nice."
This is Nemeth's first time on the Dreyfoos track and field team.However, the older crowd that comes with a high school sports team has not taken her mind from her goals.
"The transition was not at all difficult to me because I threw for FAU High School as a seventh and an eighth grader," Nemeth said. "I was never [really] intimidated because I didn't start throwing to win. I started because it was fun to me. All in all, there were times when I felt the intimidation get to me, but I never fully let it because I knew if I did I wouldn't compete well."
Since joining the team, Nemeth has succeeded in impressing all those who have had the opportunity to watch her throw. This includes Dreyfoos' track and field coach and social studies teacher and Athletic Director Ross Vening.
"She's a swimmer and she practices [swimming then she] comes to practice [and] throws with us on Tuesdays and Thursdays," Mr. Vening said. "She's one foot away from the school record in discus. She's getting better and she's only a freshman, so she has a lot of room to grow."
About the Writer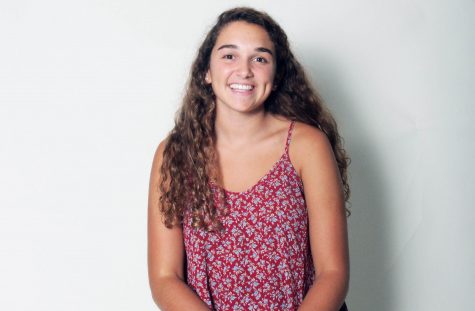 Alana Gomez, Assistant Managing Editor
Communications senior Alana Gomez is a third-year staffer and Assistant Managing Editor on The Muse. Apart from her love for journalism, Gomez also writes...