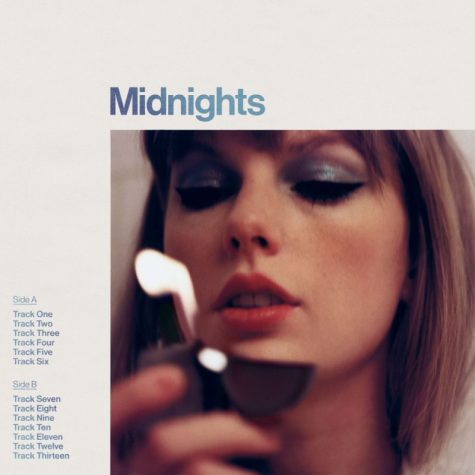 Minutes after the clock struck midnight, Taylor Swift claimed all 10 of the top spots on Billboard charts in record time with her tenth studio album "Midnights." On social media, it seemed that everyone we know was posting about or talking about the album — and it received mixed reviews. As eager fans listened intently, hoping for the next big thing, they stayed stayed stayed waiting. 
Charlotte's Version 
In second grade, I performed "Love Story" from Swift's album "Fearless" at the dinner table. In fourth grade, I screamed "Stay Stay Stay" from "Red" on the car ride to school. In sixth grade, I passed my first crush in the hallway, humming the tune of "Paper Rings" from "Lover." In eighth grade, I sat on my bathroom floor crying to "This Is Me Trying" from "Folklore." In tenth grade, I am nothing more than a collection of all these Swift-related moments. Although it was just an album release, it felt like a love letter to the generation that was raised on different eras of Swift's music.
Throughout her music career — from country, to pop, to (certainly an attempt at) rap, to indie — Swift has kept her music style versatile. Being a woman in the music industry, Swift has faced pressure to constantly bring something new to the table. 
"Everyone is a shiny new toy for like two years," Swift said in "Miss Americana," her 2020 documentary. "The female artists have reinvented themselves 20 times more than the male artists. They have to or else you're out of a job. Constantly having to reinvent, constantly finding new facets of yourself that people find to be shiny." 
This meant her fans, including me, had no clue what genre "Midnights" would be, and many were shocked when it wasn't consistent with the indie style of "Folklore" and "Evermore."
In those previous albums, Swift nailed the craft of articulating lyrics that convey specific emotions strictly through narrative. Her perfectly-planned lines created deep stories and characters, putting her audience in the world her songs create. 
But in "Midnights," Swift gave a more personal look into her own life. "Anti-Hero" and "Mastermind" each utilize a first person perspective,​​ changing the way she typically relates to her audience. Lines such as "I'm the problem, it's me" and "I'll stare directly at the sun but never in the mirror" come face-to-face with her audience, making the lyrics feel more relatable. 
However, "Midnights" is missing what its predecessors were so acclaimed for: lyricism that uses literary techniques that could charm a poet while still capturing the attention of a naïve middle-schooler. Instead, it almost goes 50/50, producing many emotional or fun lyrics but also hosting lines that are hard not to laugh at.
Ellie's Version
In the Symons family, our favorite song is "The Archer" off of the "Lover" album. Here, Swift describes her insecurities in great detail, singing "I cut off my nose just to spite my face," personifying her self-consciousness, a skill I feel Swift is normally talented at. In "Anti-Hero," another track about battling insecurity and self-hatred, she sings, "Sometimes it feels like everybody is a sexy baby, and I'm the monster on the hill." This line — though dealing with similar subject matter as the former — entirely misses the mark, and I caught myself laughing on the first listen. I know the lyric contains Swift's pain of self-comparison to other women and feelings of inadequacy, but it was written with such little grace compared to what I was used to and almost felt random.
Still, even with these clear struggles, "Midnights" maintains elements that have become Swift's trademark. The all-encompassing cohesive mood of the album — aided by production by Jack Antonoff — and a tracklist that does not overindulge in any specific storyline make this record consistent with the other albums I love. However, the synth-pop style of the album was still unexpected, as it contrasted so strongly with her two recent albums. This pop style presents a return to the Swift of the 2010s I know and love: a poppy sound and complex atmosphere that makes listening to the majority of the tracks on "Midnights" addicting. 
Though, while fun, it demonstrates some of her more lackluster and juvenile lyrics that were thankfully absent in previous albums. While I do think some aspects of the album could have been improved upon, "Midnights" has grown on me, and I can say I definitely enjoy it.
Crossword Quiz