The Road to Representation
Ketanji Brown Jackson's Confirmation is Proof of Progress
Growing up as a Black girl meant playing with pale plastic dolls I'd eventually envy and absorbing history that often was not my own. Gelling down my hair unnaturally flat. Admiring the light eyes and skin of my favorite Disney Channel characters. Explaining to my white friends that my food was not weird, gross, or dog food, but from Jamaica — and it was delicious. After 15 years of wondering how much longer I'd go without seeing my people in the influence of our country, I was introduced to Ketanji Brown Jackson, with her African name and Black excellence.
Miami-raised Judge Jackson grew up competing in debate tournaments and organizing student government campaigns, driving her to "persevere" with her ambitions and apply to Harvard, even after being dissuaded by her guidance counselor who told her not to set her "sights so high." Often on campus, I'm surrounded by students who set high standards for themselves and reach for scholarships and art accolades. At such a rigorous school, I see Jackson's character in my classmates who excel in their arts and academics.
With Jackson comes the reflection of women, Black people, debaters, aspiring politicians, and dreamers with the thirst for more. Despite her ability to persevere, it is no secret that highly ranked public positions lack representation. The 2020 US Census findings show that while minorities comprise about 40% of the population, the Partnership for Public Service in 2021 revealed that only 23% of all career Senior Executive Service members are people of color.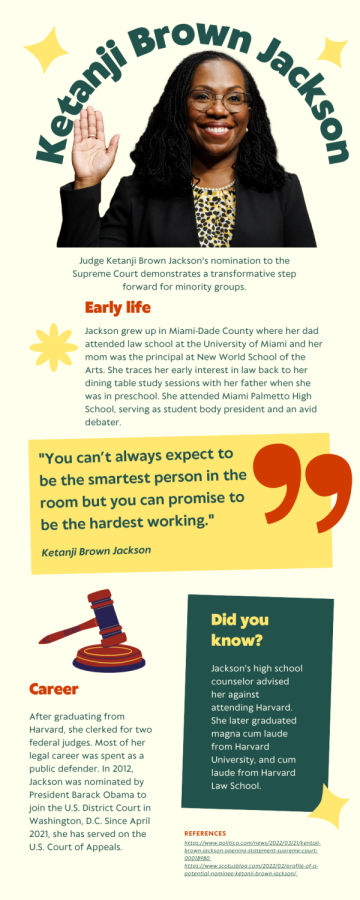 When minorities are not represented in their government, a missing connection develops that hinders the passage of effective regulation specific to those unheard needs. This leads to a lack of government trust and overall inefficiency. For example, the newly passed "Stop WOKE Act," affirmed by a Floridian state legislature that's about 69% white, prioritizes the comfort of the privileged over the basic need for minorities to have their history accurately represented in schools.
The lack of trust between citizens and government starts when governments around the world do not best serve the needs of all groups. In the United States, we see this clearly from the exacerbation of the fight for civil rights to recorded rates of discrimination in our legal and infrastructure systems. It's a shame that so many feel government distrust is justified, whether it's because of economic insecurity or poor logical and scientific communication. The reality is that more people need to vote and assume higher positions to create the change we need to better serve ethnic and economically marginalized groups. Luckily, we see an increase in minority numbers for both, but this is just the beginning of some overdue progress.
Jackson is the fourth person of color to serve on the court and the sixth woman. 
Her confirmation hearings further prove the consistent disrespect of certain professionals in the political space. While being questioned, as much as Jackson's nomination shows progress, her interactions with our nation's leaders show the endurance of irreverence to women and Black people — from interruptions, unanswerable or inappropriate questions, to trying to put words into her mouth. Articles have even gone so far to say her broadcasted experience was "discouraging" and "triggering" to Black female professionals around the country. As a young woman aspiring to enter the field, interactions like those prepare me with tough skin for sexism or racism in the workplace, an image I hoped I'd never come to see. 
Women in the United States have a long history of being underrepresented in politics. In 2018, The Carnegie Endowment for International Peace quantified that "At the current rate of progress, women will not achieve full legislative parity in the U.S. Congress for another hundred years," with the ratio in the Supreme Court being even worse. A study from the State University of New York showed that female judges "were about 10% more likely to rule in favor of the person charging sex discrimination," according to a 2010 NPR story. With more volatile gender-based topics coming to light, like women's health rights and pay, I believe it is more important than ever to have those who will be impacted by the decision making the decision.
"
The privilege of working with strong women role models has been essential to my career development and it's crucial to the development and advancement of girls like my daughters who need to learn that they have opportunities."
— Ketanji Brown Jackson
Jackson's confirmation also means another role model (of few) for the Black community. Whether it's the often-shunned natural locs that adorn her head, or the lack of minority representation (9%) during her time at Harvard, there are multiple aspects of the Supreme Court Nominee that Black Americans can relate to. It's important to have relatable figures in government to ensure "more public interest and investment in politics."
Jackson's prominence also provides a figure for students interested in politics and debate. She can be a role model for everyone from SGA candidates to the debate students on the third floor of Building 1, spitting rhetoric and works cited pages like me.
Just as I was granted my name, Jasmine, as a tribute to the 1992 Disney musical instead of a translatable cultural name, people who don't identify with Ketanji or share her interests can take just as much significance from her rise to prominence.
From the rigor of jury season to our consistent high rankings, our students generally strive to achieve. Regardless of cultural ties or even an interest in politics, any student with seemingly unattainable dreams can relate to Jackson. 
"
Be open to new ideas and experiences because you'll never know when someone else will have an interesting thought or when a new door will open to take you on the journey of your dreams. "
— Ketanji Brown Jackson
If Jackson's journey with her nomination and confirmation hearings can teach us anything, it is that society is progressing. It is my hope that soon enough the promotion of all types of minority groups becomes routine. But as we wait for the world to catch up, I also hope that we continue to dream. It is up to us to turn our desires into reality.
So yes, growing up a Black girl in America means years full of painting yourself into the landscape of your life, breaking normalities, and remixing possibilities. Rather than seeing this as a hurdle, struggling with representation is a source of motivation: the drive to be the first, to be the best, to set the standard for a more inclusive world. The next time you feel lost or out of place, just remember to always persevere.