The School District of Palm Beach County announced in August 2023 that the Advanced Placement (AP) Psychology course would not be taught in compliance with the Florida Parental Rights in Education Act. One day later — and six days before the start of school — the decision was revoked. 
UNIT SIX, TOPIC SEVEN: Describe how sex and gender influence socialization and affect other aspects of development.
When House Bill #1557 (Parental Rights In Education) prohibited "classroom discussion about sexual orientation or gender identity in certain grade levels or in a specified manner," it barred AP Psychology due to a lesson that instructs students on gender and sexuality. Before the decision was changed, the state informed superintendents that they were free to offer the course, as long as they did not mention any content regarding sexual orientation or gender identity. However, the College Board made a statement in response to this that "any course that censors required course content cannot be labeled 'AP' or 'Advanced Placement,' and the 'AP Psychology' designation cannot be utilized on student transcripts."
"(The College Board's) goal has always been to teach students so they can be prepared and excel in college," Senator Lori Berman, member of the Florida Senate Committee on Education Pre-K -12 (D)* said. "I'm glad that they stood up and said, 'If you don't include these parts of the AP class, we're not going to give your students credit.' I don't think that the Department of Education would have reversed (their decision regarding the course) unless the College Board had made that statement."
Although the Florida Department of Education eventually allowed AP Psychology to be taught in its entirety, there were six days where teachers and education officials scrambled for a solution. It was decided that the Cambridge AICE Psychology course would be offered on campus to students as an alternative to AP Psychology. 
"In that week before school started, I went to a training on (AICE Psychology) and got lots of details and resources," AP Psychology teacher Danielle Edwards said.  "Sadly, it was about a third of the content that's taught in AP Psych. It really would have been such a disservice to have kids take the Cambridge course when we could have offered (AP Psychology), but we were stuck in that."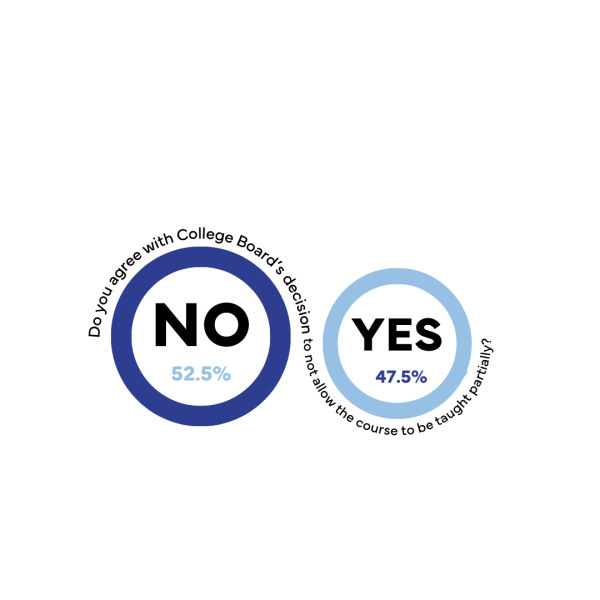 Before Ms. Edwards was informed that AP Psychology was allowed to be offered again this school year, she had "said goodbye" to the class that she taught for 18 years.
"The program when I got here was quite small, and I've grown it a lot over time," Ms. Edwards said. "I'm very proud of the impact that I've had personally on it, and to have that taken away was going to be very sad."
Principal Blake Bennett and Ms. Edwards informed the students enrolled in the course that they would be taking AICE Psychology instead of AP Psychology the day the decision was announced, and that they would still receive college credit. Ms. Edwards said that parents were "grateful" that the school was still offering a psychology course.
"I have a bunch of friends who had taken the course before and they were always saying how interesting and insightful (it was), and the fact that they would ban that, at least for a time, from all Florida schools, is pretty upsetting," said piano senior Jacob Liu, who is currently taking AP Psychology.
In a casual survey given by The Muse to students in AP Psychology classes, they were asked how concerned they were regarding the AP Psychology issue on a scale of 1 to 10. Out of the 80 students who responded to the survey, the results demonstrated 50% in the 8 to 10 range, with another 40% between five and seven. The other 10% fell below five. 
"It just makes you wonder if this behavior from the state is going to be limited to just AP Psychology or if there are more courses in the future that (this could happen to)," Liu said. 
Florida Commissioner of Education Manny Diaz Jr. wrote in a letter to superintendents that the course could be taught as written "in a manner that is age and developmentally appropriate." When asked what this statement meant to her, Ms. Edwards laughed.
"I feel like what I've always presented on those topics (gender and sexuality) was appropriate," Ms. Edwards said. "I'm not anticipating big changes."
Although the AP Psychology issue was quickly resolved and the course is being taught as it has been for 30 years, there are other education policy changes occuring in Florida. 
"
I think this is the tip of the iceberg. And you're gonna continue to see this in the state of Florida"
— Senator Berman
The most substantial change that Ms. Edwards — and many other teachers across the state — is having to make this school year is vetting all materials supplementary to the textbook. Whether it be an article, novel, or educational video, it must be submitted for a two week review period before it can be used in class. The review process includes posting materials online for parents or other viewers to comment on. Ms. Edwards said that she was notified of this review process one day before the start of the school year.
"My whole attitude I've attempted to maintain is that these kids deserve what the kids that I've taught in the past had," Ms. Edwards said. "Every time it gets frustrating, or overwhelming, that's what I tried to remind myself, that these kids deserve the same opportunities, the same materials. It's more work on my part, but it's worth it for them."
*The Muse reached out multiple times to Florida Senator Gayle Harrell (R) for a comment, but did not receive a response.