SunFest shares characteristics with other music festivals: screaming crowds clad in bright outfits, booming speakers blasting performers' music, and vendors offering free products to promote their businesses. What separates it from other music festivals is the local West Palm Beach community it incorporates into its experience. 
Communications sophomore Emma Yela described how the SunFest environment allowed her to connect with new people in the area, especially those who share a similar interest in "fun artists that (she) actually wants to see."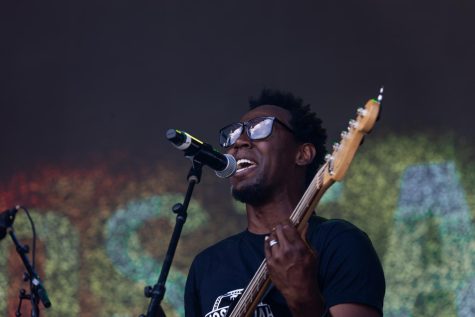 "There's a big community aspect," Yela said. "I think we were able to make friends (on Friday) actually. It's a lot of teenagers and younger people, and all of us are having a good time and are able to bond over that while we're here."
Students were also introduced to local businesses at SunFest. Sydney Woods, a worker at Mobile Murals, an interactive mural project displaying "giant coloring books" for the community to paint, feels SunFest is a way to get exposure.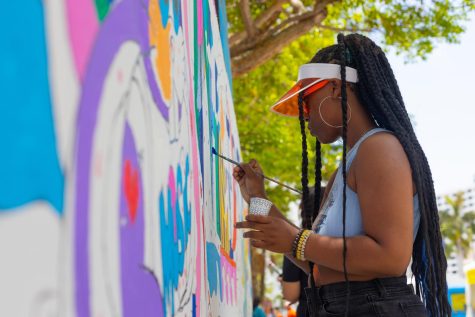 "Being a part of this event makes it fun to engage with the public," Woods said. "We're getting our name out there. The whole point of the mobile mural being here is for us to branch out, and now that we're in the public eye, we're hoping that more people will call us in, and we can reach out to new groups."
Mobile Murals had three locations at SunFest, each in the area surrounding the Ford and Ideal Nutrition stages. These locations featured a black and white outline of a drawing so that visitors could fill it in with a paint color of their choosing. They were one of several local projects, vendors, and businesses in the area hoping to gain traction. 
"The reason why we come to SunFest is because there's more (people participating) on just one piece here than we have (outside of SunFest) overall," Woods said. "Having a huge crowd gets more people involved with an activity that they might not have done or known about without it already being here."
Besides showcasing outside businesses, the festival serves as a non-profit organization, having awarded $40,000 in college scholarships to high school seniors from schools in the Palm Beach and Martin Counties for visual and musical arts, according to SunFest's official website. SunFest also states that one of their main goals in both the scholarship and the festival is to enhance culture and the arts.
Yela agrees that her main reason to come to SunFest is the arts, describing how she thought of the music as a way for her to "have a good time with friends and see more artists (than at a stand alone concert)".
Besides the headlining artists, such as Flo Rida, The Killers, A Boogie Wit Da Hoodie, and Jack Johnson, local artists performed at the event. GVIN, a South Floridian rapper, yelled into the microphone multiple times that he was from the area, or "the 561," as he referred to it.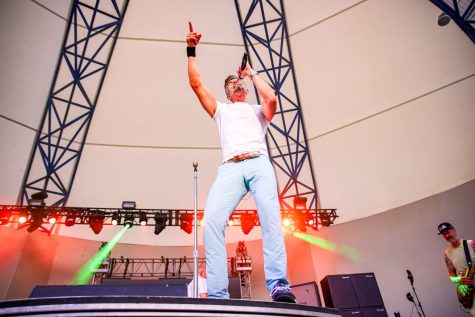 "Even though I didn't know some of these artists before coming here, I love concerts, so it's great," digital media junior Coral Johnson said. "The energy from everyone is so good. The vibes are great. Everyone's having a good time dancing and screaming, and I love it here."