A correction was made to this story on 2/9/2023.
The story stated that Amanda Gorman is the United States' National Youth Poet Laureate. She is the former United States' National Youth Poet Laureate. Her title has been rewritten as the correct one. 
The story below has been corrected with the noted revisions. 
Chalk drawings of suns, students, and famous figures illuminate a formerly gray sidewalk. Booming speakers blast Michael Jackson's "Rock With You" along with R&B classics to overpower the normal lunch chatter. But when it all quiets down, BSU co-historian and communications junior Faustina Duvigneaud recites Amanda Gorman's poem, "New Day's Lyric," calling for hope, remembrance, and unity of Black culture.
The Black Student Union (BSU) began their annual Spirit Week on Feb. 6 with Unity Day, a picnic and social event held on Freshman Hill, originally in honor of school integration. From drawing chalk art, playing games, sharing a meal, or even just hanging out with friends, students took the opportunity to socialize and celebrate Black History Month.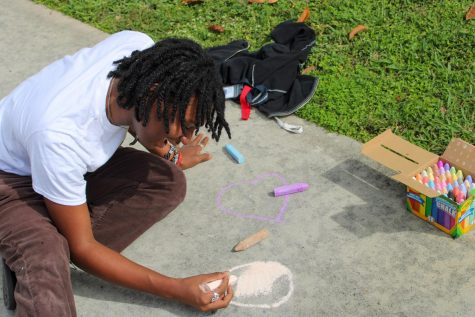 "I think it's really easy to lose perspective of how recent the Civil Rights Movement was, and I thought it would be a really good opportunity to express that gratitude and feel that change we have now that we're all together," co-president of BSU and communications junior Jasmine Mullings said.
On the first day of Black History Month, BSU put on a student showcase framed around the "Black on Broadway" theme, which included singing, dancing, and instrumentals performed by various students. From this, they transitioned into a wide range of events and activities throughout the month, with most of them during "BSU Spirit/History Week" an annual tradition since at least 2019.
"The main goal of Black History Week was to immerse the Dreyfoos community in Black culture," former BSU treasurer and visual junior Charlene Mbaeri said in 2019. "(We wanted to) encourage the celebration of Black history and create a week where the Black students at Dreyfoos felt safe to express themselves and learn more about our history."
This year's organizers chose to focus Unity Day on inclusivity and making everyone feel welcome.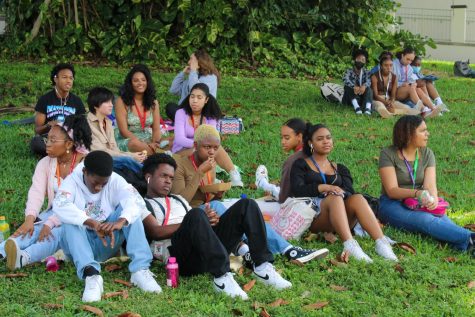 "The purpose of Unity Day was to basically make people aware of Black culture and to help them understand it can encompass everyone to make (them) feel welcome and inclusive," Ms. Nicholas, school counselor and BSU co-sponsor, said. "This event is an opportunity for the students to be able to express themselves and to find a place to belong where they feel comfortable and safe."
Unlike last year's Unity Day, which featured guest pianists and musicians, this year's was mostly a student-organized and focused event. This week, a new speaker will share an original piece or excerpt from Black literature each day, with Unity Day organizer Duvigneaud being the first of five speakers.
"The process was a little hard getting to where we finally agreed to do a picnic and just make it more about inclusivity because that's what we really want, and our theme is Black joy, so what's more joyful than getting together with your friends and being happy?" Duvigneaud said.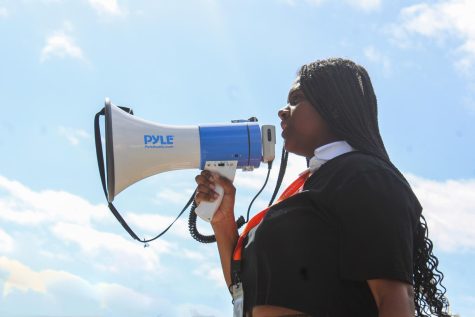 With students of all races attending, Unity Day provided a chance to get together on the hill to speak and spark conversation with each other while reflecting on Black history. Atop picnic blankets laid across the shade, students expressed feeling a sense of belonging and community. 
"(Unity Day) means unifying under the single word 'Black,'" band sophomore Amy Maloon said. "Although we all have different experiences, we all come together as a community. No matter our skin color, or gender, or our sexuality, we all fall under one community."