There are seniors in the class of 2021 who have not been to school since last March. The last time all of them spent the whole year in-person, they were sophomores. 
On Saturday, May 8, seniors celebrated their last weeks of high school with a banquet to reunite with friends, commemorate peers, and gain a sense of normalcy.
"It is so important for seniors to get some of what they have missed out on," Principal Blake Bennett said. "They've missed so much … You go to school for 13 years, and then you have a pandemic in your last year, so it is so important to be able to celebrate and honor them."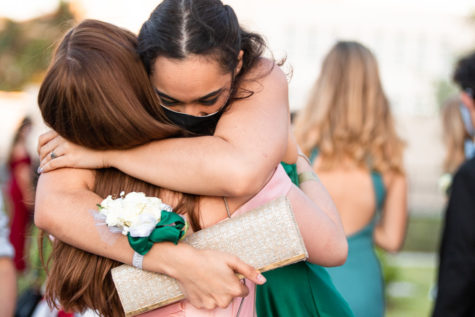 Seniors came to the student parking lot dressed in traditional prom attire. A white tent decked out with sphere light fixtures and neon spotlights stood in the parking lot. Seniors ran to embrace their friends, some of whom they had not seen in over a year. 
"It's exciting to see everyone after not being with them for so long," communications senior Katherine Oung said. "It feels so surreal to be able to hug everyone. I'm glad that we have this one night that we can remember to commemorate the year." 
Sixty-two tables were set up in four rows in the student parking lot, adorned with white tablecloths and electric candles. Seniors selected their seating arrangements prior to the event, with four seniors per table, and 231 students signing up. SGA and class council volunteers helped set up, along with parents and teachers.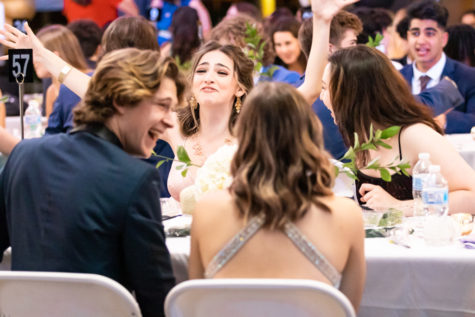 "It turned out great, better than I expected," digital senior Milan Tangirala said. "We didn't have a tape measure, so we had to measure if the parking lot was going to be big enough. I counted my steps and walked around the whole thing."
As events throughout the pandemic struggled to get district approval, the senior class council, along with senior class council sponsor Sarah Ray, felt something had to be done.
"I went to senior class council and Mrs. Ray, and they said 'We want something as close to a prom as possible,'" Principal Bennett said. "I felt like it was our responsibility to give something that was approved, and I think it turned out better than I had imagined."
While students enjoyed their dinner, Ms. Bennett presented awards to seniors who were in the top 20 in their class or had been nominated for Pathfinder or National Merit Scholarships. Every award that was presented was met with tumultuous applause.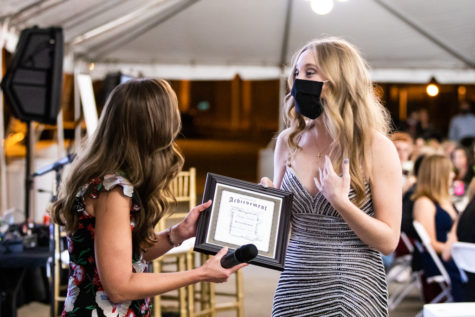 "I felt incredibly honored and blessed to have received this award in front of my peers," vocal senior Hope Sears, the Dreyfoos Pathfinder nominee for the vocal category, said. " I felt such gratitude and warmth from everyone cheering as I walked up and I'll always remember that special moment." 
As a surprise to event attendees, comedy hypnotist Doug McGraw called volunteers to the stage to be hypnotized. The snapping of his fingers and music bellowing throughout the tent brought some seniors to a new state of consciousness.
"I was curious to find out if the hypnosis would work or if it was a myth," communications senior Shelby Godfrey said, accounting her eagerness to volunteer to be hypnotized. "It was really interesting. It felt like a deep meditation. … I felt calm and my mind felt at ease."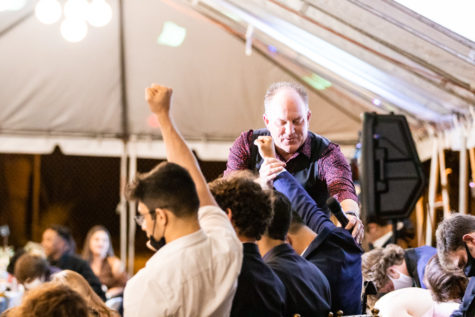 As the banquet came to a close, seniors exchanged hugs and smiles. This was the first event in over a year where the entire class got to be together without the stress of exams and graduation, which gave them a chance to enjoy the moment and each other. 
"I think it's a big deal because a lot of our opportunities for senior stuff has been taken away," theatre senior Gianna Romano-Hall said. "We all cherish this a lot more than we would if Covid had never happened. It's the last hoorah."