2020 has been a time of great struggle for humanity. It has seen the effects of a deadly pandemic sweeping across the globe, helplessly watched as flames swallow the heart of Australia. It has seen tensions between the U.S and Iran nearly boil over into turmoil, the tragic deaths of Kobe and Giana Bryant, and Ruth Bader Gingsburg. Protestors flooded city streets, bellowing the words George Floyd spoke before taking his last breath.
2020 is changing the way we perceive political issues and has witnessed the widening of an already tremendous divide. Polarizing views have engendered acts of violence and widespread fear and uncertainty. It is changing how students are involving themselves in the political sphere. Students are projecting their voices amid the growing political tensions and amongst the red and blue divide. Some are also focusing on bringing light to the voices that have been repeatedly silenced, illuminating their unique stories.
"I think getting out there from a young age and being involved in your community is so important," communications sophomore Isabelle Holcombe said. "It feels really nice being young and feeling like you're doing something good in the world already."
When the idea of politics is brought up, many think of red or blue, a spectrum ranging from cyan to auburn. A range of two distinct colors that has been perpetuated through their widespread use by media outlets. In reality, opinions may fall under a rainbow. An opinion does not necessarily categorize someone as a conservative or liberal — as seen by how Dreyfoos students perceive current issues that have taken place this year.
"If you can have a civilized conversation with someone about your opinion, you can get different perspectives on different issues," vocal sophomore Isabella Jordan said. "I just think that's really important because then that will lead to positive changes and impacts in the world."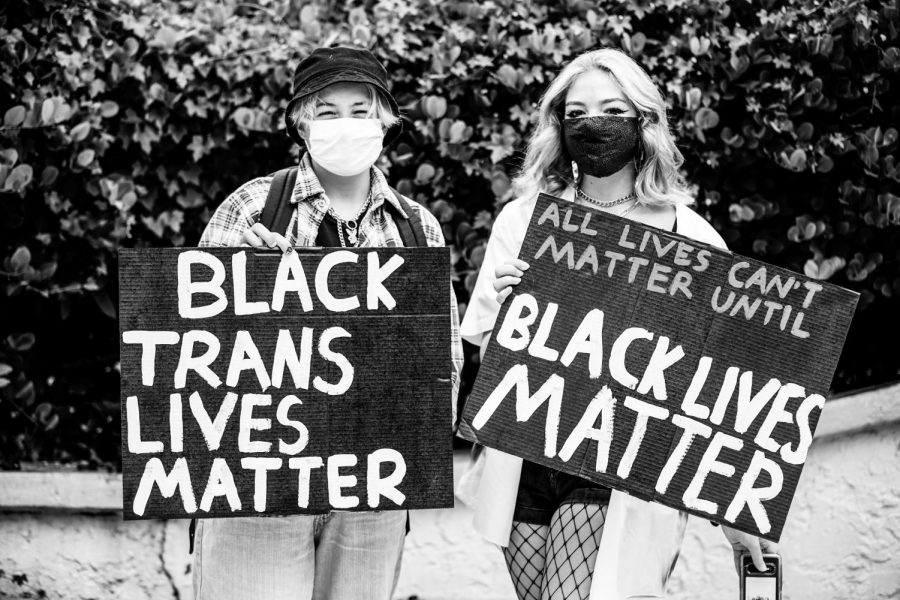 One recent issue that has led many Dreyfoos students to take action is police brutality, a conversation that was reignited by the deaths of black individuals such as George Floyd, Breonna Taylor, and many more who have faced death through police force. This topic has sparked an influx of perspectives, many taking their beliefs to the streets through forms of protest, both peaceful and violent. Many have questioned what could be done to mend the issue, or if anything should be done at all.
"I've definitely taken the time to educate myself on various human rights movements such as like Black Lives Matter," vocal sophomore Elizabeth Sylvester said. "I think that's very important because we're the next generation and I think we need to advocate for the change we want to see."
Students have been vocal on social media, with these platforms acting as a way to share opinions, and learn from others on a public scale.
"Social media is a great way of getting out the word, especially the protests and different political issues; honestly I've learned a lot from my peers and what they're posting on social media," communications junior Charlie Blackwell said. "Another way [is] word of mouth; I learned a lot from my friends and my family, and I think it's really important that we have those tough conversations with them about different issues because, in the long run, it's going to really help change our society for the better."
The Black Lives Matter movement has recently inspired the formation of the student-organized Equity Parade that some Dreyfoos students participated in, marching down the streets of West Palm Beach, with homemade signs in hand. These protests are not a tool to shove one's view down other people's throats, but instead a tool to spread awareness and change.
"I chose to participate in the Black Lives Matter protest because I'm extremely upset by what's been going on in our country and what continues to happen […] and I've been wanting to go to a protest for a while and this is one of the first ones I've heard of happening in our area that I felt very safe and welcomed going to," Holcombe said. "To me, it was really about wanting to get out there and make sure that my voice is heard and make sure that we show the world that we're tired of sitting around and waiting for something to be done."
Many topics concerning human rights and the oppression and misrepresentation of minority groups bring out sensitivity and vulnerability across a broad range of perspectives, analyzing the complexity some political topics can entail.
"[COVID-19 and quarantine] forced me to take a look around at what was actually happening [because] everything became a lot more clear because there [were] less external distractions," theatre senior Sailor Kathleen Ashley said. "When George Floyd, Breonna Taylor, and Elijah Mcclain were killed, all of a sudden out of nowhere we started seeing so much more than we've ever been, [than] I've ever been, exposed to. It opened my eyes to the fact that I live in a culture bubble, like I live in this bubble that protects me from certain scenarios and certain dangers."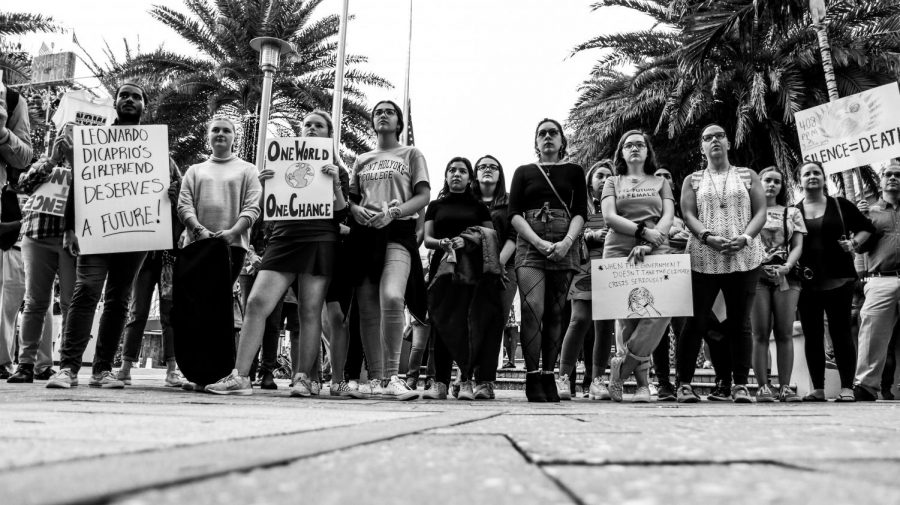 Politics often evokes the perception of a great divide between people. The opposing viewpoints act as grid points on a Battleship board, with each side constantly attempting to weaken the other's argument, sending a once civil conversation into a struggle to obtain the last word.
"It's becoming harder and harder to truly reach certain people because they refuse to listen," band junior Joshua Kopit said.
Contradictory beliefs have also led to some feeling strong emotion towards others, which has led theatre junior Kate Jeffcott to alter the way she expresses herself politically in public.
"I'm an open book, [but] when I'm in public I'm more cautious," Jeffcott said. "I've been driving and [I've] almost been run off the road by someone with a Trump sticker because they didn't like a political sticker on my car. So, it's violent and people will jump to violence as a form of politics right now."
The push for voting in the upcoming 2020 presidential election has been a huge topic, and heavily anticipated. Many people are advocating the importance of voting, showcasing how each vote can make a difference at the ballot box. "The most important states, though, were Michigan, Pennsylvania and Wisconsin," according to The Washington Post, which reported that Trump won those states by 0.2, 0.7 and 0.8 percentage points, respectively during the 2016 presidential election.
"Right now my drive is more [so] focusing on the election [and] getting people out there to vote if they're not registered already," Jeffcott said. "I personally can't vote, [but] I think pushing people who can vote right now is really our best option […] I've also been sharing on social media, pushing other projects that spread awareness and just really trying to push people to the end, to push through to this election."
As the election is soon approaching, even students who are not yet eligible to vote are still forming their own views on the political promises of the presidential candidates. Despite the numerous politically driven events that have occurred throughout the year, some students have been participating and following politics before the start of 2020.
"I've been following politics for a long time now," Blackwell said. "My interest [started] in the 2016 election, and I was really passionate about it, and my dad and I would have nightly talks about politics. That was what led into my interest, and my political opinions have changed a lot since then."
When in middle school, Blackwell won the Halloween costume contest with his innovative attire. Blackwell dressed half of himself up as president Donald Trump and the other half as Hillary Clinton, with a ballot box for his peers to cast their votes. Despite some students having involved themselves in politics prior to 2020, some have adopted a new passion and motivation to learn more about political issues, becoming more involved this year.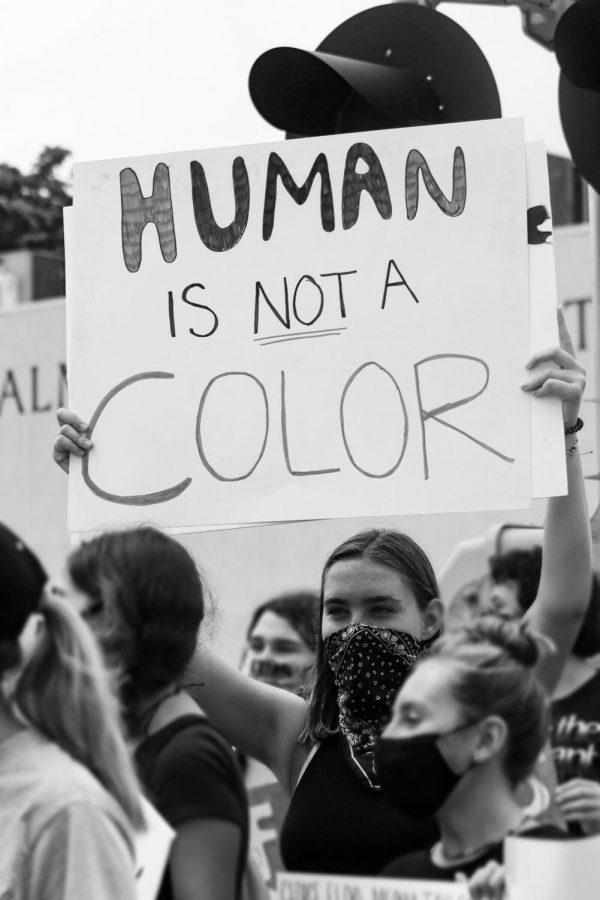 "I think now that I'm older, I understand more about what's going on in the world, and especially since 2020 is [an election year,]" Jordan said. "I wanted to do my research and get more involved, and create my own opinion different from my parents so that I would be educated for the future."
Against the backdrop of political and social struggles encircling society and tension brewing in the public sphere, some students have taken towards art as a form of political self expression and as an escape from the negativity and fear politics can bring.
"Right now, most of my expression is through my art, because ever since school started, I haven't been able to go out and protest or anything like that," visual senior Kailyn Bryant said. "I've just been doing a lot of pieces regarding either the social, political climate that we're in now or referencing things of the past."
Ashley sees our lives as controlled and trapped within this bubble of society, one so technologically advanced, yet one that remains blind to the magnitude of certain issues, pushing them under the rug to be addressed another day.
"I was thinking about how much I missed Dreyfoos during quarantine and how much I missed that community," Ashley said. "I also was thinking about the fact that that community is made up of so many people, of so many people that are endangered by police and by the society that we live in […] The election has just been so chaotic, and it's kind of forced me to reckon with the idea that life kind of exists, which is maybe a horrible thing to say that I didn't realize it before, but truly quarantine has allowed me to take a step back from my own privilege. [It has allowed me] to see other points of view and other crises that are happening to other Americans and people that I'm friends with."
These political and social issues consuming our television screens cause many to feel fearful and vulnerable throughout their day-to-day lives, questioning if the images displayed through news outlets will soon be them, if the virtual screen is depicting a fragmented future.
"When it comes to police violence, it's the only real thing that has really affected me, just being a black person in a white suburb is something alone in itself," Bryant said. "You possibly think about that in your relation to, I guess death as a black person. So I would say I definitely have thought about, like, if I was the next person to go because just solely being black."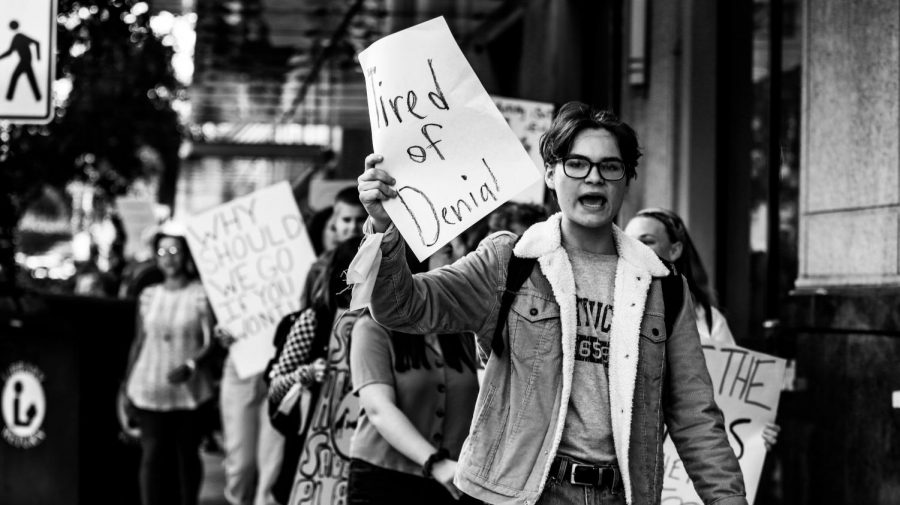 The concept of politics is not solely the constant bickering of politicians interrupting and battling to speak, for it contains a hidden vulnerability and rawness, touching people in ways that is often not brought to light. The hidden voices and concerns of the public may have remained hidden in the past, dug within a deep hole of misrepresentation, though they are now being broadcasted live, some of these stories now sweeping across the nation. Although, work still can be done towards clearing some fogged perceptions of certain political issues and the stories those individuals have to share.
"I feel like a lot of, I guess perspectives of people of color, often are drowned out by other things that people find more important," Bryant said.
Politics can be used as a way for us to grow as individuals and as a community, not as a constant argument. These perspectives cover such a vast range, creating a political rainbow that can lead to the glittering gold of change.
"My goal is to identify and challenge what I have been taught to believe all of my life, and hopefully to get others to do the same, and in doing that, amplify voices that have been suppressed for so long," Ashley said. "I think that that's one of the most important things that needs to be happening right now, not necessarily people like me who haven't really experienced the same oppression that people of color or that LGBTQ people experience, but to amplify their voices and listen instead of talking over and speaking for them."