You can tell Mayah Bernstein is excited only by the way she checks her watch.
She sits on the stoop in front of Dreyfoos, glancing at her pink Watch Shark in five minute intervals. Perking her back into needle-straight posture, she asks people without masks if they need one (with her piercing gaze, they do, in fact, always need one). Yet, nothing breaks her composition. After dealing with the city for weeks, after frustrating herself about Instagram performatism not translating onto the streets, after the worries of low turn-out and a conveniently placed once-in-a-century pandemic, she sits on the stoop unphased even when local news outlet WPTV requests an exclusive interview.
What we mean to say is that Bernstein is surprisingly chill.
One of the masterminds of the Equity Parade, Mayah Bernstein, worked alongside fellow seniors Auguste Wood and Kailyn Bryant to take part in what has been a long summer of racially-inspired protests in response to police brutality.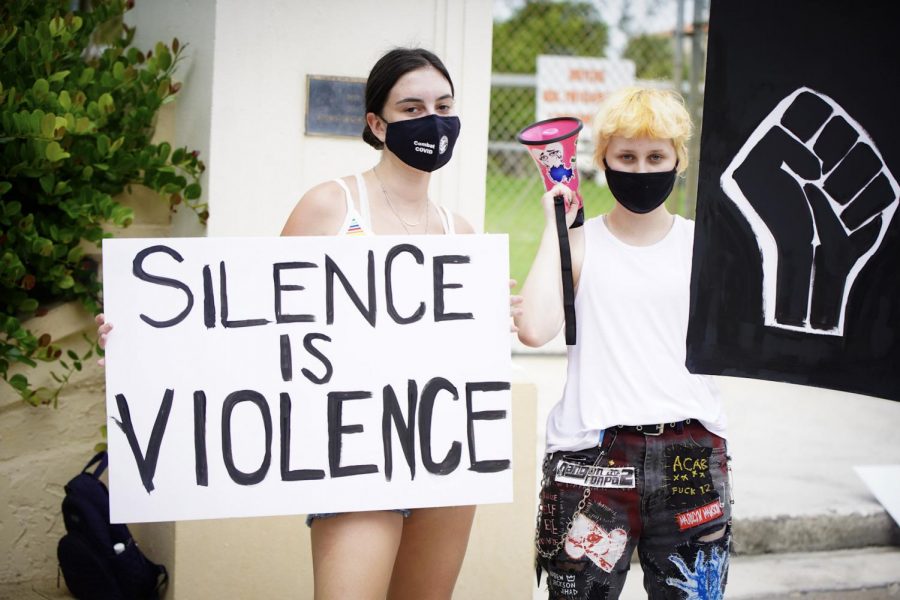 In front of the central gate, passersby weave between hand-painted signs commemorating black artists. Protestors rehearse chants and cheer while cars blare their horns passing the busy 502 Sapodilla Ave., a perk of going to school in the city. They laugh about Starbucks' consistent lack of adequate wokeness regarding race and the LGBTQ+ community. One protestor greets a friend with the line, "My dad's a conservative and a cop. I mean, like, pick a struggle!" In many ways, this strike is an interim first day of school, serving as the first time classmates have seen each other since Covid-19 shut Dreyfoos down in March.
The exact opposite of Bernstein's calm composure, Auguste Wood jumps at the chance to be interviewed.
"I want to be here for all of the black trans men and women who have been brutally murdered and whose names haven't been in any papers or in any media," Wood says, enthusiastically gesturing with his hands. In a way unique to Dreyfoos, his pants equally manifest the drive to start conversations about political issues through art. With shredded seams and safety pins strewn through the painted hems, ACAB, Black Lives Matter, and Eat the Rich exemplify the very issues he is protesting. Not to mention, a five-inch spider in a blue pen sketch crawls up the left thigh, adjacent with a crooked Marylin Manson patch, showcasing Wood's love for the unconventional.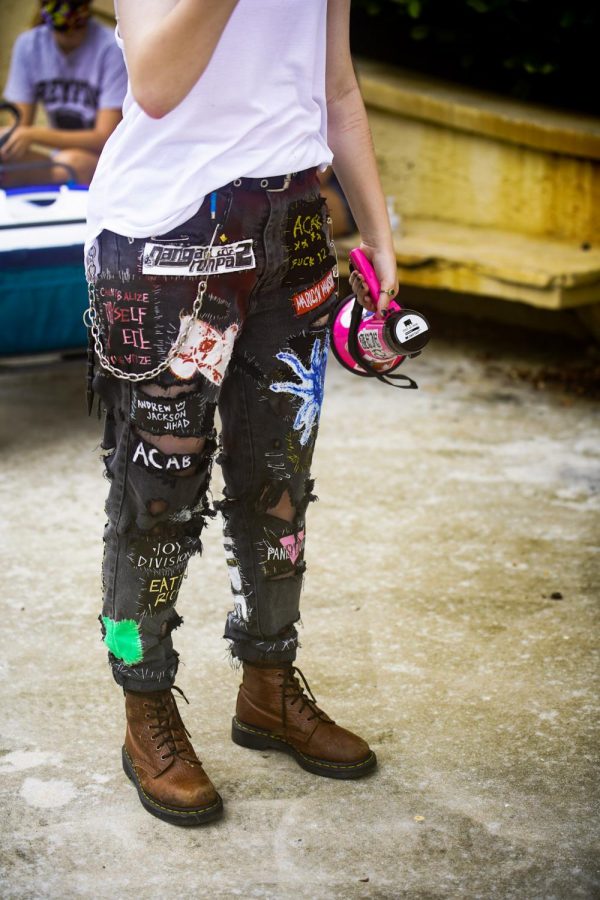 Wood shares that he is a member of the transgender community. His "Why I March" answer is as personal as his very existence—police violence is consistently skewed towards members of those identifying as LGBTQ+.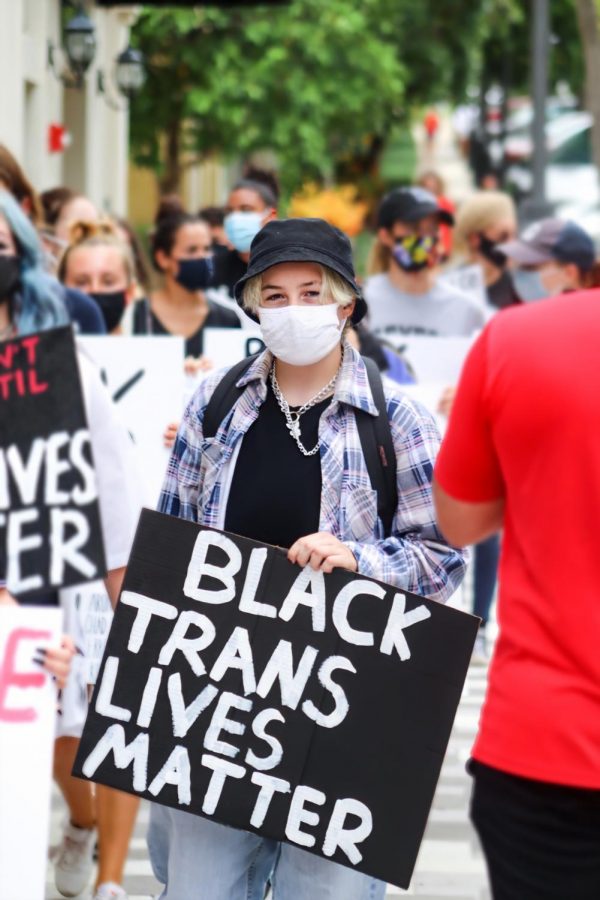 Apart from a handful of parents, the crowd of 50-odd strikers are primarily teens. The majority found themselves at the protest after a flyer was published on Embrace Black Voices, Bernstein and Bryant's passion project celebrating and educating followers about black artists. Wood and Bernstein press sidewalk buttons and patiently wait to cross––until they grow antsy, and our party J-walks (or rather, J-runs) across Fern and Quadrille.
The Equity Parade is set apart at Dreyfoos not by its student-organized aspect, but by its roots striving to highlight black artists. Misty Copeland and Jordan Peele, among other renowned black creatives, decorate the backs of signs and pose as inspiration to young artists walking Dreyfoos halls. Each year, the Black Student Union showcase is a popular event among students and faculty, begging for more black students to showcase their unbridled talent.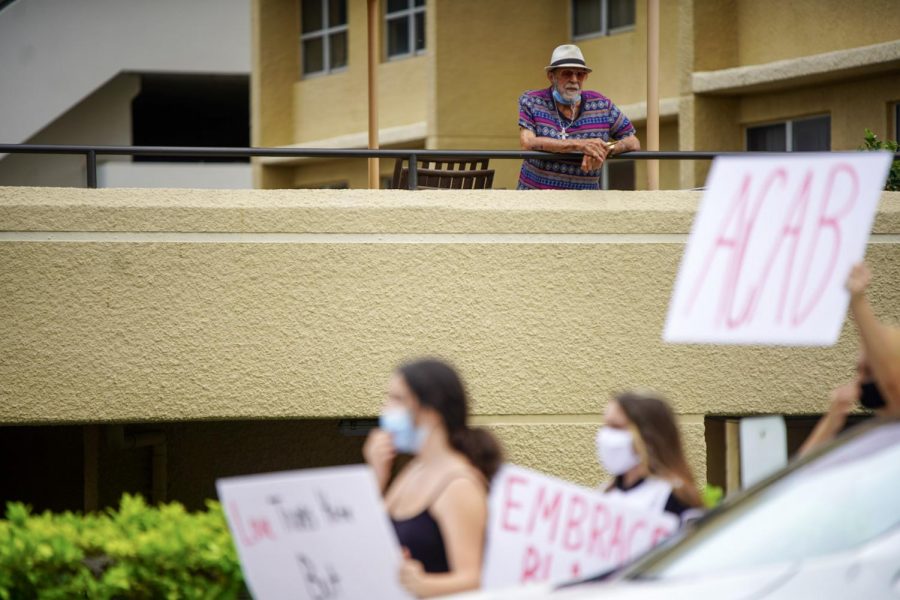 It is ironic that when we pass by Alexander W. Dreyfoos's intecoastal residence at the Trump Towers, the building's namesake wouldn't have been pleased with this loud and liberal mob of teenagers.
We get louder when, through Wood's pink megaphone, "WAP" starts to play.
You may be asking yourselves: What is Cardi B and Meghan Thee Stallion's hit single doing at the protest? Their chart-dominating song represents something greater than a non-Muse friendly expletive: The musical power that two black women hold in an industry consistently silencing their beats.
So yeah, we sing along.
And as suddenly as "WAP" turns up, the rain comes down.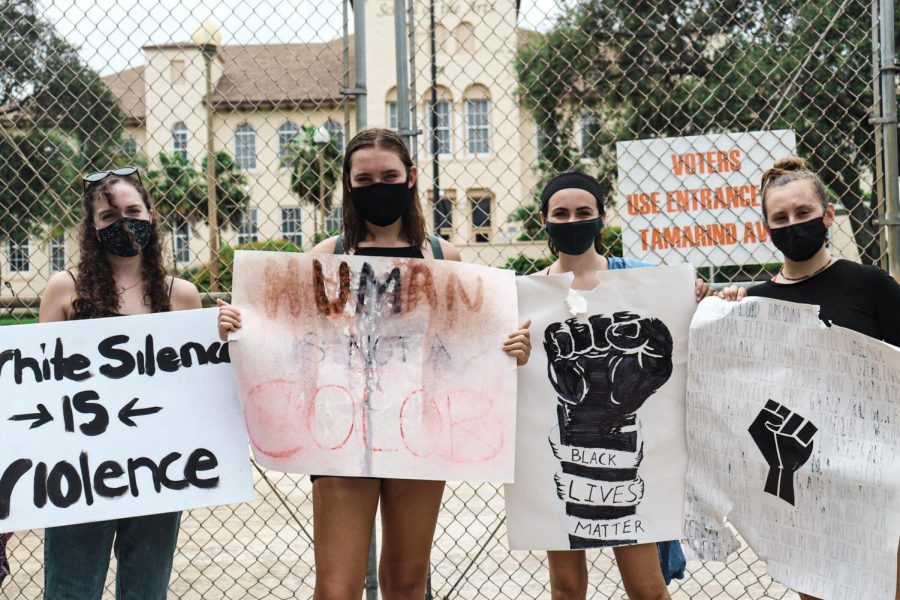 Coveted signs—serving a silent yet mutually recognized artistic competition—become umbrellas. Sharpie runs down the soaken cardboard, turning "ACAB" into a blur of blue and black ink that may as well be a chromatography sample from chemistry class.
"Rain or shine, protect black lives" comes at exactly the right moment, until a car drives by, rolls down the windows, and holds up a Neo-Nazi symbol. One of the men wears a MAGA hat and the other confidently lashes out, spitting politically-charged obscenities at this group of teens lining the sidewalk.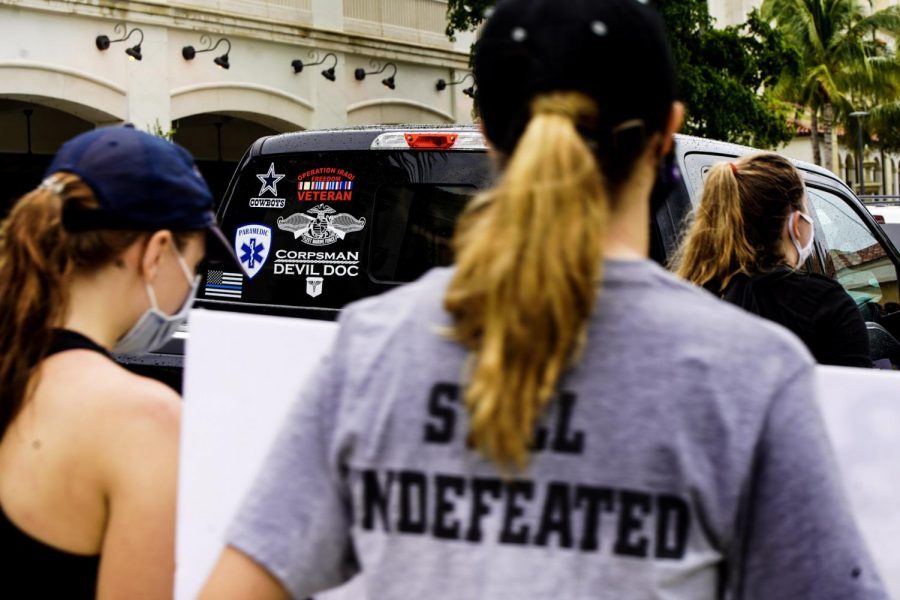 No striker hesitates—it is a sea of expletives and a particular finger raised in the air. Arguably, these obscenities are not suitable or proactive in a professional environment. It's not something frequently uttered at Dreyfoos.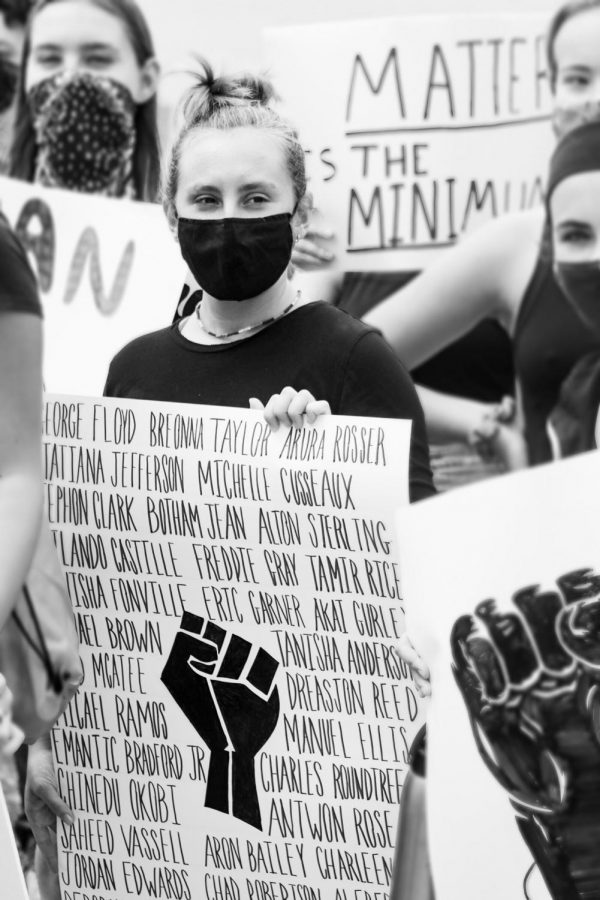 But when adult men stop to instigate an altercation with teenagers fighting for black peoples' lives, it is the only option we have. It is the only way to communicate to supporters of police brutality that their view is morally wrong (and that they are bringing us dangerously close to the racial cleansing of America.)
We apologize on behalf of The Muse if this piece is skewed with bias. We do not want to be on the wrong side of history.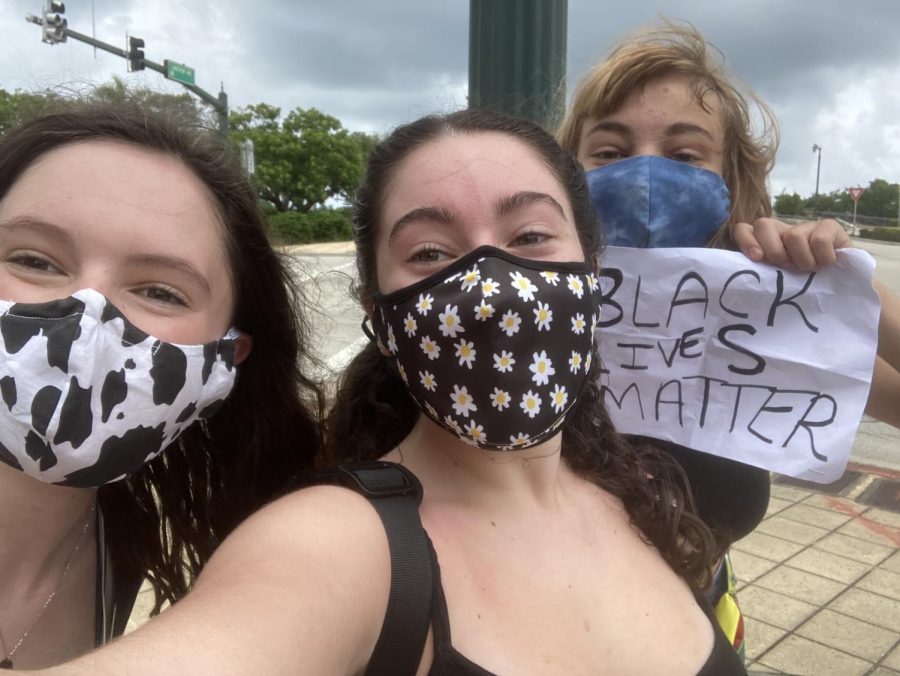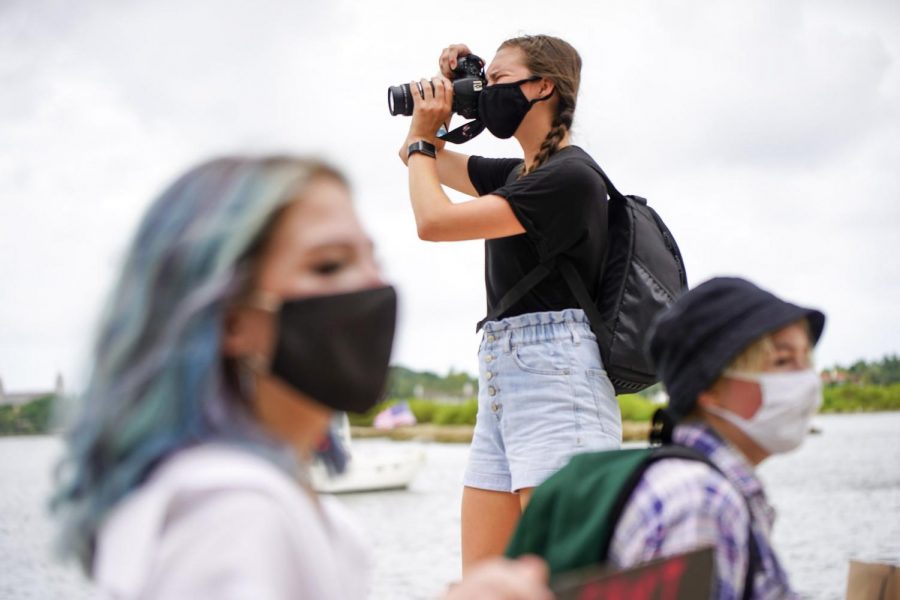 When we circle back to our starting point, 502 S Sapodilla Ave., Wood and Bernstein cheer with the crowd. Their first protest ever has gone relatively smooth.
And although this protest pales in comparison to the nationally covered strikes, it is only the beginning of vocal support of Black Lives Matter at our school. It is as simple as a student breaking up with their significant other when they didn't show to the strike—they reminded them that black lives matter today, tomorrow, and forever. (Anything less, and Dreyfoos calls it a deal breaker.)