On Thursday night, the media center was transformed into a winter wonderland, abounding with Christmas trees, wrapped presents, and sparkling lights in preparation for the annual event. Coordinated by the Artists Reaching to Society (A.R.T.S.) Club and named in honor of the late former A.R.T.S. club sponsor Lea Jefferson, the Jefferson Jubilee was held on Dec. 15. It was filled with gifts, live music, and dance shows.
Students from Pahokee, Gove, Pioneer Park, and Canal Point elementary schools attended this year's event. Many of the children are underprivileged minorities, so the Jubilee grants them a respite from the hardships they may face at home.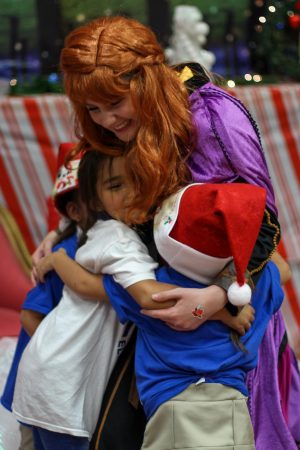 "I've seen how so many of these kids deserve gifts but they don't get them because they don't have the money," A.R.T.S. Club officer and visual sophomore Kate Cleary said. "It means so much to get them a gift and see how happy they are, and they're happy for the entire day because it really brightens up their mood, and that is really important." 
The event began with cheers and a live musical performance as approximately 70 elementary school students filled up the seats in the media center. For A.R.T.S. Club Co-President and band senior Jack Talkington, that first entrance is one of the best parts of the whole event. 
"When the kids come in through the front door and you see the smiles on their faces, it's really amazing," Talkington said. "I joined A.R.T.S. Club through Jubilee—I was a sophomore when I walked into the media center accidentally. I joined the club from there, and Jubilee has been my favorite event."
Throughout the day, student volunteers performed music from "Frozen" and "The Nutcracker". They also had performances by jazz and band ensembles and Santa's dancing reindeer. 
"I feel like our school is a very privileged school," visual senior Jessenia Abrigo said. "Having the opportunity to spread the arts and give back to the community is so good because not everybody gets what we have here."