LADY GAGA'S MENTAL HEALTH FIRST AID PROGRAM BROUGHT TO DREYFOOS
This past June, a mental health advocate introduced a new program to bring Mental Health First Aid to 20 new schools across the country, Dreyfoos being one of them: Lady Gaga. Through the Teen Mental Health First Aid program (tMHFA), the Born This Way Foundation, and the National Council for Behavioral Health, select Dreyfoos students will have the opportunity to undergo Mental Health First Aid training. 
"[Lady Gaga] started this with, like, eight schools — a couple in Las Vegas and areas like that," Principal Dr. Susan Atherley said. "She was picking another 20 schools, and we were one of the 20 schools across the nation to be picked for the pilot program." 
Mental Health First Aid is set to begin at Dreyfoos in the fall. As one of the 20 high schools selected for the program, sophomores will undergo an eight-hour program of Mental Health First Aid. 
According to the program's website, Mental Health First Aid will give students the skills to help someone who is developing a mental health problem or experiencing a mental health crisis. The course is designed to give ordinary people the opportunity to learn about depression and mood disorders, anxiety disorders, trauma, psychosis, and substance abuse disorders. Founded in 2001 in Australia, over 25 countries have licensed and adapted the program, including the United States. 
"It was actually an extensive application process that was also facilitated with the help of the district, and Dr. Atherley was instrumental in making sure that all of that was submitted on time and that we were given an opportunity to apply for it," Assistant Principal Corey Ferrera said. 
Both students and staff members agree that mental health is an important topic for all to discuss openly, particularly in the 21st century. In March 2019 Dreyfoos, in partnership with The Muse, kicked off its first Mental Health Awareness Week. Throughout the week, students from all backgrounds participated in activities designed to eliminate the stigma around mental health, learn strategies to help others or themselves, and find helpful resources they can reach out to. 
Staff members felt as if Dreyfoos sophomores were the ideal class to participate in the Mental Health First Aid program, and some students reciprocate similar sentiments.
"Sophomores are more adjusted to the school's environment than freshmen," digital media sophomore Luca Riley said, "but we would still have a longer impact than if the seniors were taught it [because] they only have a couple months, or the juniors [because] they only have a year."
Half of all mental disorders begin by age 14 and three-quarters by age 24. In the United States, almost half of adults (46.4 percent) will experience a mental illness during their lifetime. The program gives students the opportunity to acquire skills that will prepare them for the future and possibly save a life. School administration plans to incorporate the program into students' daily schedules, whether that be through assemblies or during class.
"Everybody always wants to help everybody [at Dreyfoos]," Dr. Atherley said. "We're a school of kindness and heart. What we saw at Stoneman Douglas was a mental health issue. So, I think that we can have more eyes and ears — I mean, we're not asking kids who are out there be mental health counselors. But I do think that the more we know, the better [we] help ourselves and help people we care about and help families."
Your donation will support the student journalists of Dreyfoos School of the Arts. Your contribution will allow us to purchase equipment and cover our annual website hosting costs.
About the Writer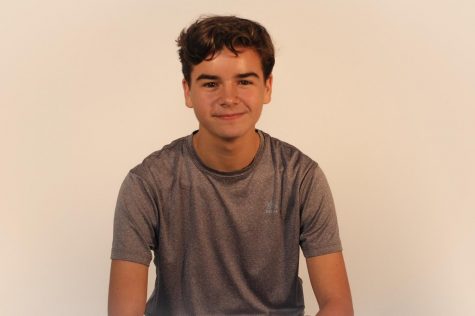 Charlie Blackwell, News Writer
Communications sophomore Charlie Blackwell is a staffer for the news section and is currently enjoying his first year on The Muse. He's very interested...