BREAKING: CODE BLUE DISRUPTS FIFTH PERIOD
When Assistant Principal Leo Barrett came over the loudspeaker to announce a Code Blue in Buildings 1, 2, and 3—an emergency procedure responding to bad air quality—many students assumed it was a repeat of the drill they had practiced just a few days prior. Today's announcement, however, was no drill.
On Monday, April 29, an announcement directed students and teachers from Buildings 1 and 2 to report to Meyer Hall and classes from Building 3 to report to the cafeteria, while students in the remaining buildings were told to "bunker down" in their rooms. As hundreds of students left their classrooms, the smell of gas outside was noticeable, but the source was unidentifiable.
"We didn't really acknowledge the smell, especially those of us [who had been] dissecting pigs because of the formaldehyde," visual junior Jose Hernandez said. "The smell of propane-like gas hit us on the way there, and that was when we noticed the issue was actually a reality."
Within five minutes, the Dreyfoos Moms and Dads Facebook page was flooded with comments, ranging from concerned parents asking about student safety to updates on the severity of the situation. In Meyer Hall, Student Services dean Ronald Lewis called teachers to the stage to discuss a plan of action for taking attendance of their respective students, many of whom had wandered to various corners of the room in clusters of friend groups. Meanwhile, Assistant Principal Corey Ferrera and other administrators were looking into the gas leak and waiting for an all-clear from the proper authorities after having evacuated buildings in close proximity to the smell.
"As soon as we get an OK from the fire department and the gas company that there are no toxic fumes here on our campus, then we're able to [release students]," Ms. Ferrera said.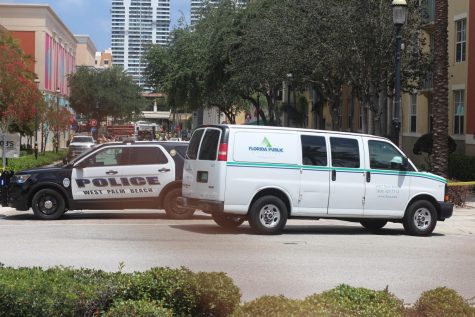 Students who weren't evacuated shared in the confusion, regardless of their location on campus.
"I was in Building 7 in the piano lab, and I was a bit worried there was a gas leak somewhere near our school when Mr. Barrett came over the loudspeaker," piano senior Devon Delgado said. "I did feel better that I was not evacuated since that meant I was at a safer distance away from the gas leak, but I still felt a little uneasy that … I was relatively close to it."
In a matter of minutes, Mr. Barrett came back on the PA, declaring, "We are under no threat, according to the authorities." By that point, the Code Blue had extended past the seventh period bell, so students were sent back to fifth period for a few minutes to gather their belongings. Magnet Coordinator Patrick Marshall shared after the fact that administrators were told the disturbance was a "gas leak in CityPlace … near Cheesecake Factory." However, it was confirmed that students would not be affected, and class resumed as usual, with only a faint gaseous odor tainting the air near the Sapodilla entrance.
 "We're trained for stuff like this," Ms. Ferrera said. "If we smell something that's as pungent as we did, then we go ahead and make the call that something's not right."
Bruce White
Your donation will support the student journalists of Dreyfoos School of the Arts. Your contribution will allow us to purchase equipment and cover our annual website hosting costs.
About the Writer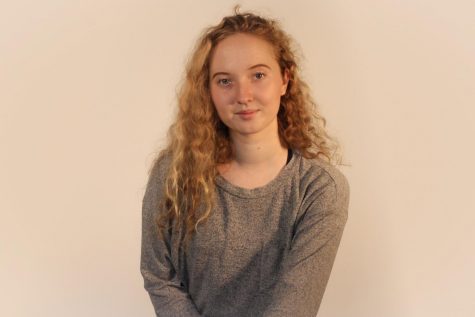 Izzy Kjaerulff, Copy Editor
Izzy Kjaerulff is Head Copy Editor and a third-year staff member of The Muse, as well as Public Relations Editor of the Marquee yearbook staff. When she...