IT IS ROCKET SCIENCE: DEVON DELGADO AND SECME OLYMPIAD
While most students at Dreyfoos are not studying astrophysics, electrical engineering, or rocket science, piano senior and SECME [Science Engineering Communications Mathematics Enrichment] Olympiad Captain Devon Delgado does exactly that. On April 7, Delgado and other members of the SECME Olympiad team competed at Santaluces High School in a regional competition. The Muse sat down with Delgado to learn more about his experience with SECME Olympiad over the past four years.
Describe your involvement with SECME Olympiad.
I actually started SECME when I was in elementary school. One of my friends showed it to me, and it carried through middle school. I was pretty excited to find it at Club Rush when I was a freshman all those years ago. I've had my friends from middle school also come to Dreyfoos and do SECME alongside me. My STEM knowledge has accumulated over the years, so my SECME projects became more refined than they were in elementary school and middle school.
I have been involved with SECME [in high school] for four years now. Basically, what I do with my friends is sign up for projects that we want to do for particular years. That may be a bottle rocket, a bridge, a generator, a mouse trap car—whatever we're feeling for that year. We make these projects, go to Olympiads, and compete with them [to] see if we win.
Describe the competition this past weekend.
This was a regional competition, and we saw schools from all over the county with their SECME projects and banners. We saw the rockets go off first. Then, they had the bridge competition, the generator competition, and the mousetrap competition. At the end of the day, we all saw every school's banner—their take on a particular theme of the SECME Olympiad—go by in a parade.
Why do you enjoy SECME?
I like SECME because it breaks from a typical classroom experience, where you have a teacher giving a lecture with students taking notes and tests. SECME is different. It is basically a chance for you to be as creative as you want, with no limits on your imagination and what you can put into these projects, except for the typical guidelines they give every year. It is basically a time for you to be you and to show everybody what your mind can do.
How do you incorporate what you have learned in the classroom into this extracurricular?
I've used quite a bit of what I've learned in science and math in the SECME and Science Olympiad. For instance, in SECME, we made the Balsa Wood Bridge and I used a bit of physics to figure out what would be the most efficient bridge design. For the bottle rocket, I tried to figure out how to use torque to balance out a rocket to get this hang time when it falls down back to the earth. We try to get it to fall on its side so that there's a maximum surface area hitting the hair, having the most air drag.
What are some other extracurriculars that you are involved in?
I'm involved in Tri-M, which is the Music Honor Society. I'm the president of the organization this year. I am also the manager of the piano department at school. I look over the build-up and tear-down of piano recitals. I do volunteer work for the National Honor Society. I mostly volunteer at Habitat for Humanity Restore. I also volunteer at soup kitchens in Delray and Boynton Beach. I was also involved in MOSTEC [MIT Online Science, Technology, and Engineering Community] this past summer to December. It is basically one of MIT's programs that they offer to raise seniors, and I learned quite a lot about different STEM fields like electrical engineering and computer science. I also learned about astrophysics and architecture, which was pretty cool. I was a member alongside 139 other "MOSTECers," as we call them.
How has SECME impacted your life?
This organization has had a major, major impact on my life. Actually, this is what made me realize that I want to do STEM in the future and that I'm not alone on this "nerd journey." I've always been singled out for enjoying science and math, but when I joined this organization, I realized that there are many other people just like me, and that gave me a confidence boost when going into STEM.
Delgado will be attending the University of Chicago in the fall, where he plans to pursue physics with a potential minor in music.  
If you know someone in the Dreyfoos community who The Muse should feature in a student spotlight, contact [email protected].
About the Writer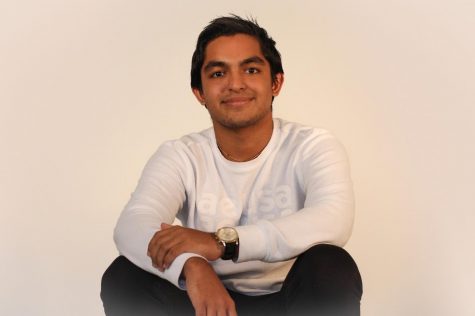 Nirmit Chandan, News Editor
Communications junior Nirmit Chandan is the news editor on The Muse. He loves attending Dreyfoos and is eager to further his passion in news writing and...