A COMPETITION FOR A CAUSE
Magic tricks, roller skates, and saxophones joined 13 tie-clad boys in a high-spirited competition to become the next "Mr. Dreyfoos." While the performances and personalities of each contestant varied, what remained the same was their motivation to help cancer-afflicted children attend prom.
The Dreyfoos chapter of A Prom to Remember held its fourth annual Mr. Dreyfoos Male Beauty Pageant in Meyer Hall on March 29 from 5 to 7 p.m. The show was one of many fundraisers held by APTR throughout the year, with the ultimate goal being funding a prom for adolescent cancer patients.
"While we are surrounded by textbooks and lockers, they're surrounded by IVs and heart monitors," Co-President and communications junior Sasha Monaco said in her opening speech. The prom thrown for the patients is meant to be "one night for these kids to live the high school dream."
The show began around five o'clock with an introduction from the hosts—communications juniors Kate McNamara and Kyle Ahern—followed by a speech given by Monaco. Math teacher Craig Adams and social studies teachers Ross Vening and Jeffrey Stohr watched closely throughout the performance as the judges of the pageant, tasked with deciding who would take the title of the next Mr. Dreyfoos.
"High school provides more than just opportunities; it provides experiences," Monaco said. "[APTR] is determined to give those experiences back to kids who have been diagnosed with cancer."
Before the show started, the contestants congregated backstage in Meyer Hall to prepare for the pageant. The boys fixed their ties and rehearsed songs, the tune of "Tequila" by The Champs playing in the background. Right before appearing on stage, they lined up behind the curtains and passed a handshake down the line.
"My favorite part about organizing this event has to be working with the guys and the officers who are participating in it," Monaco said. "It's such a beautiful thing when you're passionate about something and you want [the event] to happen so badly, and then you look around you and see all these people who are passionate about the same thing."
Each contestant walked up on stage with a glamorous entrance and a humorous introduction. Participants took turns stepping into the spotlight to participate in the different portions of the competition. The first portion of the event showcased knowledge of Dreyfoos culture and history, requiring each boy to answer one trivia question, followed by a beauty pageant question. McNamara and Ahern incorporated some humorous questions, including "What is your favorite pick-up line?" and "What is your ideal first date?"
"We decided to add [comedy] to keep the show entertaining," McNamara said. "We wanted to give them a chance to express their personalities in a funny way."
Some of the boys, such as vocal sophomore Chris Monette, decided "to wing it" during the trivia. Others, like visual junior Sam Mazzarino, googled quick facts about "when Dreyfoos was founded" prior to competing. Despite their levels of knowledge, every contestant had fun putting comical spins on their responses.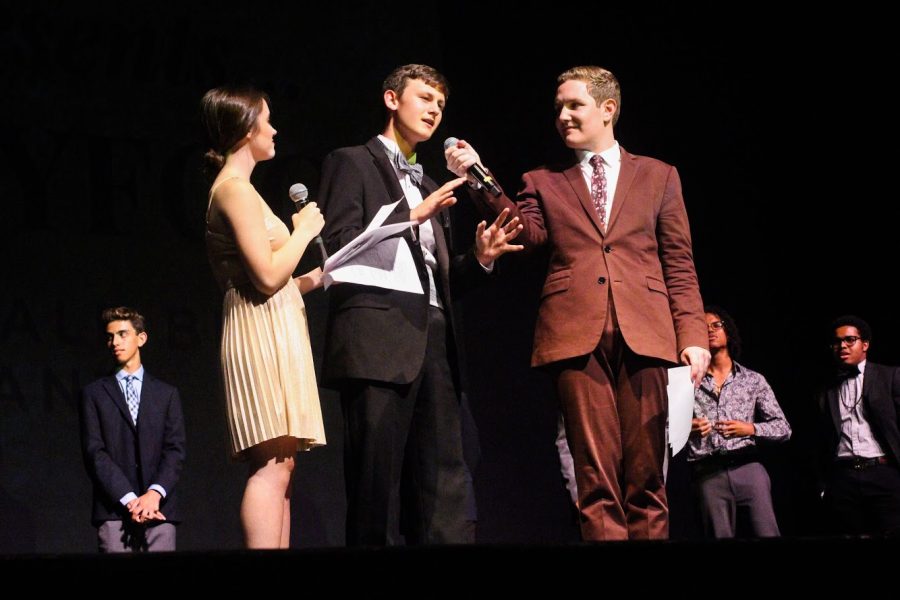 The next portion of the competition gave contestants an opportunity to showcase their hidden talents. Band majors sang with passion while theatre students showed off kickflips and magic tricks. Others, like band senior Mark Silver, took risks their performances. Silver cruised on stage in roller skates with a saxophone in hand, playing off several slips with dramatic notes and prompting laughter and excitement from the audience.
"My performance was pretty erratic," Silver said. "I just wanted to make people laugh and I figured roller skating while playing the saxophone would be hilarious. I went onstage without a plan, and although I didn't win, I had lots of fun [knowing] people enjoyed it."
The last performance, done by visual senior Njari Anderson and band senior Aidan Dixon, was an original rap followed by an unexpected promposal from Anderson to communications senior Catalina Correa, catching the entire audience by surprise.
"I didn't tell the guys what they were supposed to do until about five minutes before the show started," Anderson said, speaking about preparations for his promposal. "Organizing all [of] that was pretty hectic." He went on to acknowledge how all of the boys were "so supportive … and really generous."
An intermission followed, and the pageant contestants went to the front of Meyer Hall to lobby for donations as they held boxes with their own faces on them. Audience members walked around and donated to the box of their choice. The boy who raised the most money would get more points toward his final score in the competition.
"Fundraising for the club means so much to me and all the officers," Treasurer and communications junior Anamaria Navarrete said. "Having already been to the prom, we have all had the opportunity to see how much light the night gives to their lives, and anything people can contribute to make it that much more special means the world."
After the intermission, Barbara Hoard, the executive director of APTR, took the stage to make a speech on the mission of the organization and of the people who are a part of it. Hoard shared the obstacles cancer patients face on a daily basis and thanked the audience for supporting the cause.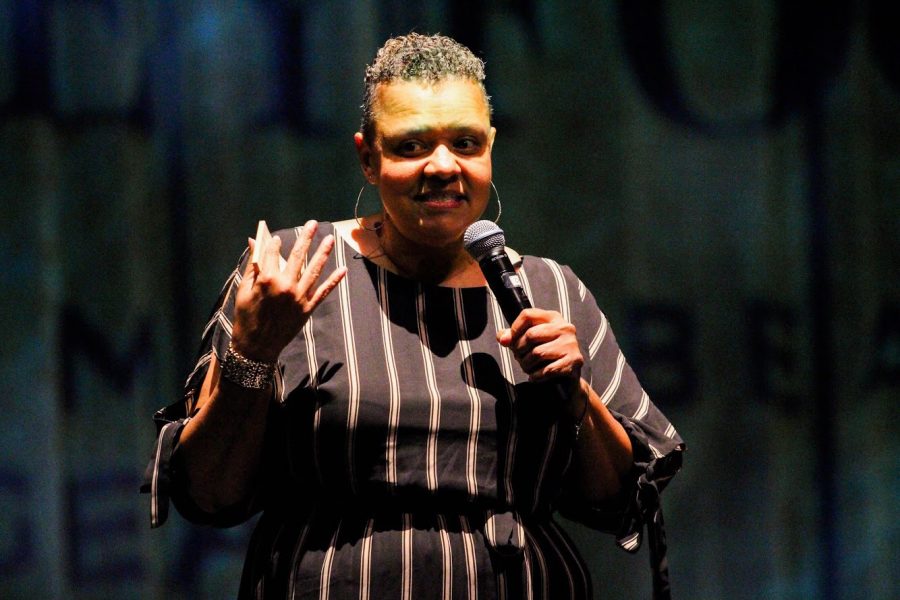 "What we do is create this magical moment where it really is not about cancer [and] it's not about the sickness," Hoard said during her speech. "It's truly about the one night [where] they are the kings and queens of their world."
As the show came to a close, the hosts announced Anderson had won the coveted title of this year's Mr. Dreyfoos, with Dixon and theatre junior Sawyer Hyatt taking second and third place, respectively. The judges based their scores on the number of trivia questions answered correctly, the talent performances, and the amount of money individually raised by each contestant.
"
Being able to work with [everyone] has proven to me that I'm not the only one who wants to raise money for these kids. It's such a nice thing when we can all work in harmony for such a great cause."
— Sasha Monaco
"Everybody here is a Mr. Dreyfoos in my eyes," Anderson said. "It all comes back down to charity and raising money for APTR. That's probably the most important part, and that's why I did it."
Your donation will support the student journalists of Dreyfoos School of the Arts. Your contribution will allow us to purchase equipment and cover our annual website hosting costs.
About the Writers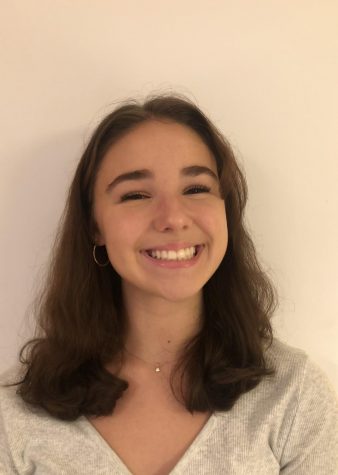 Sasha Smith, Coverage Editor
Sasha Smith is a third-year staffer and coverage editor on The Muse. Aside from randomly laughing at nothing every few minutes, she spends her free time...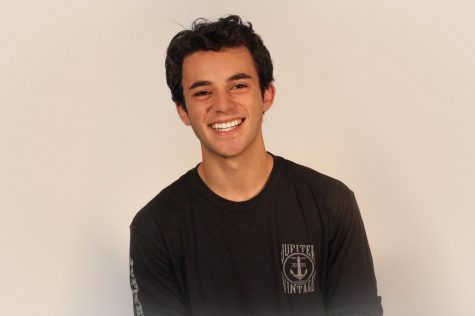 Adam Goldstick, Photo Editor
Communications junior Adam Goldstick is a second-year member of The Muse. For as long as he can remember, Adam has enjoyed telling stories, originally...