STRETCHING STUDENTS' MENTAL HEALTH AWARENESS
"With that being said, everybody to the front of your mats," visual senior Paige Duffack said as she led a guided yoga class for the fourth day of Mental Health Awareness Week. Through yoga, Duffack showed students how they could improve their mental health in their everyday lives. Studies have shown a direct correlation with strong physical and mental health, which Duffack strives to heal daily through yoga.
"The goal of the practice is to teach the importance of looking at life in a non-judgemental mindset and living in the present moment," Duffack said. "This can cause people's minds to stop racing at a million miles an hour and take time to be aware of themselves with a positive mind and take a break from the outside world, [leaving] others feeling more content and even happier than when they walked in before."
Due to the extensive awareness of the activity through the distribution of bracelets and flyers, many students found themselves eager to participate. Their realization of the importance of mental health has increased as a result of this week's events.
"I decided to participate today because I think that mental health is important in any way that we can find ourselves in peace, especially when we're dealing with a lot of stress, and yoga is an amazing way to do it," communications freshman Melodie Barrau said.
Throughout the week, other activities have highlighted alternative options to improve  mental health. Demonstrating a new approach, Duffack introduces the crucial role of physical activity in relieving stress.
"I always talk about focusing your mind on what's currently happening and avoid daydreaming, sending a message [of] relaxed behavior outside the studio," Duffack said. "Each position correlates with your breathing, so it becomes naturally rhythmic and physically releases tension that leads to a more positive mindset."
No matter the level of experience, whether previously practiced or a new interest, some students crave another yoga session soon due to its many benefits for mental health. Duffack's yoga class has left a lasting impact on students.
"I do not have a lot of experience [with] yoga, but it did relax me [from] some of the stresses from school. I would definitely try yoga again," Barrau said. "This event had an immense impact because it gave [students] an opportunity to release stress physically, while focusing on breathing and [pulling] my focus from all outside responsibilities."
Many students cannot recognize or have not been exposed to a healthy outlet for their stress. On the flyers handed out during this week, there has been information to guide students to healthy options on campus, at their disposal daily.
"Mental Health Week is important at Dreyfoos because it is good to spread the word that there are options at school for getting help," visual freshman William Dhana said. "Not everybody knows there are resources to help with stress."
If stress occurs outside of Dreyfoos' walls, students have found alternative options for personal stress relief. Duffack brought her stress reliever into our school through her voluntary yoga instruction for students who seek serenity.
"One out of four people in the world have mental [health] issues. It's widely belittled as a disease and is not addressed as much as it should [be]. Your mindset and emotions affect you the most in life, and it's very important to care for mental health," Duffack said. "It's important to teach people of all ages ways to cope with their minds so that they can develop a sense of self worth and mental stability."
Students have found that a stronger sense of mental health has a positive impact on their diligence. Outside of school, as well as in school, students can see their work being completed at a faster rate. The major shift they have noticed is primarily due to the participation in athletic activities.
"[Yoga] was kind of hard to learn. After a few days of doing it, I'd probably get the hang of it. But, I have other ways of relieving stress by playing sports and running," Dhana said. "Physical activity is a great stress reliever, so yoga is probably really beneficial for people."
For some, these benefits are only a breath away and can be achieved through focus, according to Duffack.
"Breathing in through your nose, rising your chest, rising your belly. Exhale out slowly," Duffack instructed participants to do during the class. "All that matters is the present moment. Just focus on your breath and close your eyes."
Your donation will support the student journalists of Dreyfoos School of the Arts. Your contribution will allow us to purchase equipment and cover our annual website hosting costs.
About the Writer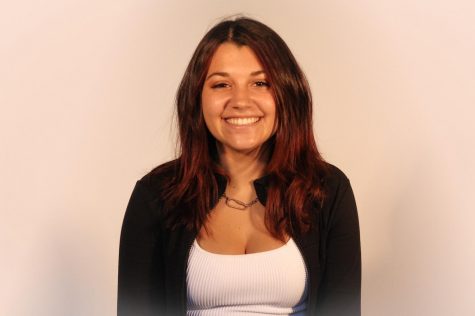 Jules Popiel, Sports Editor
Communications junior Jules Popiel is the Sports Section Editor. She is very excited to rejoin her Muse family. Outside of The Muse, she is a part of the...