GOVERNMENT SHUTDOWN AFFECTS COLLEGE APPLICATIONS
The United States is now entering its 31st day of the government shutdown issued by President Trump, and Dreyfoos students applying for scholarships like the Free Application for Federal Student Aid are being directly impacted.
FAFSA provides college scholarships and low-interest loans, andz since the 1960s, students from low-income households have relied on FAFSA funds to attend college. With the IRS closed, it has become increasingly difficult to get W2 income verification forms that are necessary to complete applications. Income verification is necessary because it is one factor in showing the level of need for aid that a family has.
"The upcoming tax year for 2019–2020 does require the 2018 W2 form," vocal senior Christian Arango said, "but because people aren't able to get their 2018 W2 form, they have to wait to apply, and FAFSA mainly comes on a first come, first serve basis. If you [haven't acted already], then you don't have as many funds available to you."
Without FAFSA scholarships, aid, and low-interest loans, many students may not be able to afford college.
"My mom recently lost her job in November and has since been working at a very low wage that is not enough for us, and I have had to take up two more jobs to help her out," communications senior Daniela Esquenazi said. "If I didn't have FAFSA, I just wouldn't go to college."
"
If I didn't have FAFSA, I just wouldn't go to college."
— Daniela Esquenazi
For students currently in college, not being able to get these same W2 forms means they cannot continue to access their FAFSA aid and other scholarships. The Department of Education is not giving financial aid to students who cannot provide current tax forms.
Beyond FAFSA, free and reduced school lunches provided by the federal government will no longer be provided if the government remains shut down past February. The provider, the United States Department of Agriculture, says they're running out of funds from last year. Once they're forced to close, school lunches for 35 million students can't be afforded unless local governments cover for Washington.
"[FAFSA is] important to me because I come from a single parent home," Arango said. "I don't really have the opportunities that some other students may have with double income or multiple jobs. I have to mainly pay for it on my own."
Decisions made in Washington affect individual people across America. While politicians argue over immigration, students may lose the opportunity to attend college.
About the Writer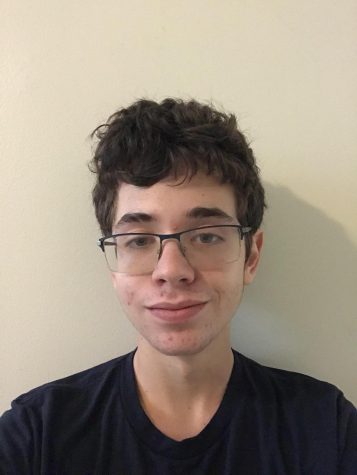 Asher Moss, Content Team Editor
Asher Moss is a third-year Content Team Editor. He loves politics and investigating important issues. Asher also enjoys cooking and makes a particularly...