FALL FESTIVAL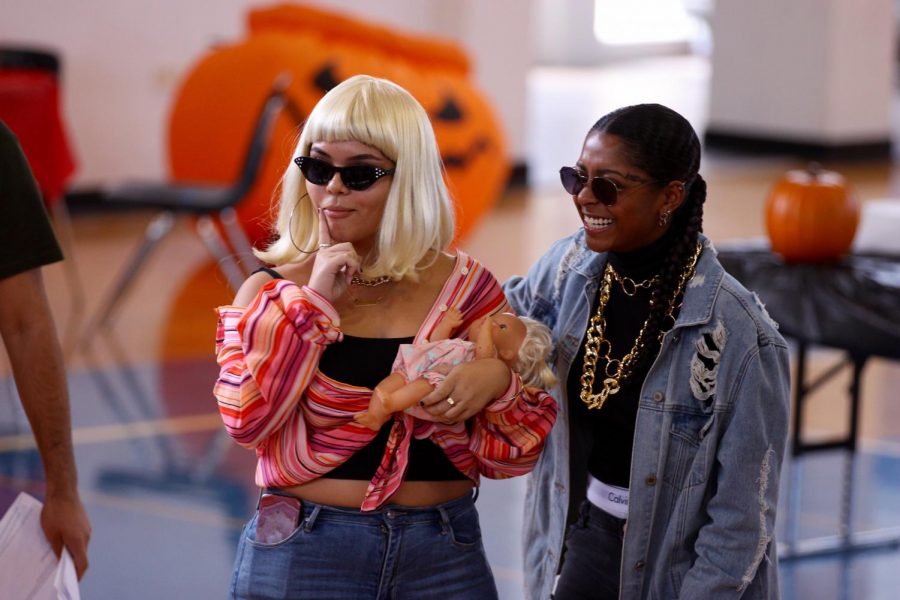 Glitter sparkled on the faces of unicorns, and blood glistened on the bodies of vampires as costumed students cheered on their classmates. The sound of popping balloons rang throughout the gym and faces became coated with sugar-filled whipped cream as onlookers witnessed one of many Dreyfoos traditions: Fall Festival.
"[Fall Festival] was fun because it is just such a tradition at Dreyfoos, and it would be sad to not see a Fall Festival every year," dance senior Mariana Mona said. "Dreyfoos stands out for the school events we have, and people have fun getting to show out for them."
This year, Fall Festival took place on Wednesday, Oct. 31 in the gym during lunch. Students were invited to spectate, catch candy, and participate in various games to win Pep Rally points for their classes as well as spread the Halloween spirit.
"[Fall Festival] is pretty cool," visual freshman Jaclyn Cohen said. "There are way more people dressed up than I thought there would be because in middle school, no one dressed up because it wasn't cool, but in high school, no one really cares."
The 2018 Fall Festival included the following events:
Balloon popping contest

Eating donuts from a string

Mummy-wrapping teachers

Pie-eating contest

Costume contest

Pumpkin decorating contest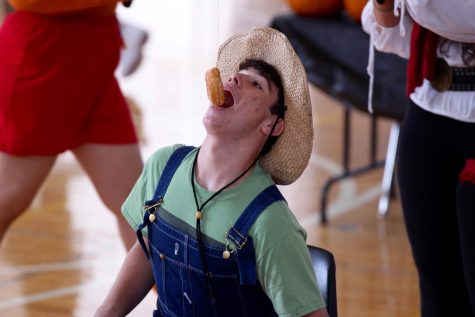 "The mummy wrap was really fun. I love Ms. Hertel so I am really happy we got to do it together, as we were a good team," communications junior Mara Vaknin said after winning first place in the mummy wrap competition. "I was really dizzy after because I was spinning around and around, but it was a lot of fun, and I was happy to get a lot of Spirit Week points for our class."
As it creates a lot of excitement, the costume contest received a lot of participants. The overall winners were Mona and dance senior Gabriella Angel for their duo costume, appropriately titled "Culture," dressing as pop culture icons Cardi B and Offset.
"I decided to participate [in the costume contest] because it's my senior year, and I really enjoyed my costume," Angel said. "We put it together last minute, and it worked out really well, and I was confident it would be really entertaining to the people at Dreyfoos."
Proving to be a great way to incorporate students from all grade levels, the lunchtime events were deemed successful by most students.
"My favorite part of the Fall Festival was winning [the pie eating contest] with my best friend Cooper," theatre sophomore Aaron Idlis said, reflecting on his first place win. "I think [Fall Festival] went really smoothly. Everyone knew what they were doing in the events, and sophomores even won at least two events."
In addition to the Fall Festival, SGA hosted "The Nightmare on Fern Street" fall event to create enthusiasm around the fall season and this event. Materials, decorations, and candy leftover from "The Nightmare on Fern Street" helped put the set-up of Fall Festival in motion.
"A lot of the things like the decorations and stuff we already had, thanks to "The Nightmare on Fern Street" event," piano senior and SGA Co-President Annemarie Gerlach said. "We had a lot of extra candy from that, which was awesome, because last year Armin had to go out and buy $200 worth of candy for Fall Festival, so it went really well in that respect."
Overall, Fall Festival created spirit around campus while simultaneously allowing students to show off their costumes, win points to give classes an edge in Pep Rally, and uphold a long-lasting tradition at Dreyfoos.
"I think [Fall Festival] went well. It was my first time doing it, so it was a little chaotic for me, but I think the kids really enjoyed it and I loved all their costumes," media center specialist and SGA sponsor Sarah Garcia said. "[I want to] thank everyone for coming and being so spirited on Halloween. I have never seen this at any other school, the way Dreyfoos does Halloween, and I absolutely love it."
2018 Fall Festival Winners
Balloon Pop
Sophomores

Seniors

Juniors

Freshmen
Donut on a Stick
Seniors

Sophomores

Juniors

Freshman
Mummy Wrap
Juniors

Sophomores

Seniors

Freshman
Pie Eating Contest
Sophomores

Juniors

Seniors

Freshman
Pumpkin Decorating
Juniors

Sophomores

Seniors

Freshman
About the Writer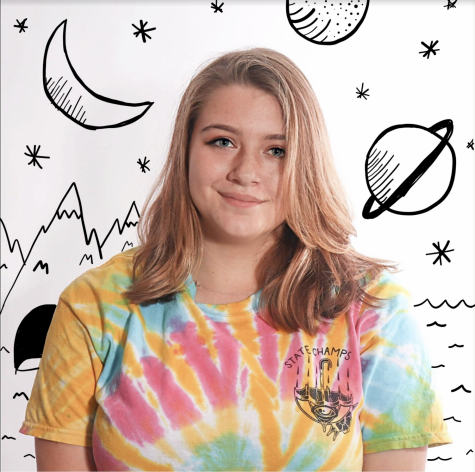 Carleigh Dickinson, Assistant Managing Editor
Carleigh Dickinson is a third-year staffer and one of few Assistant Managing Editors on The Muse. She is very involved with the Dreyfoos publications,...