NEW CODE RED DRILLS
Hang on for a minute...we're trying to find some more stories you might like.
Nearly every code red drill is marked by the sound of the intercom, giving assurance to the student body that there is no reason to worry—it is just a drill. Students hide beneath their desks, following the same three instinctual steps: duck, tuck, and hush.
This routine was recently changed in accordance with new district safety regulations, and Dreyfoos will now conduct unannounced code red drills, during which students must act upon their instincts without warning.
Uncertainty about the new lockdown procedures spurred mixed opinions around campus, causing many to reconsider their feelings toward school security.
"I'm very uncomfortable with unannounced code red drills," visual sophomore Julia Lachowicz said. "I don't want to worry that something bad may be happening on campus when nothing really is. It's sad because although these drills are instilled to make sure we are all safe, they remind us of the horrible things that have occured at other schools."
In wake of the Marjory Stoneman Douglas High School shooting—as well as an overall rise in school shootings—administration tightened regulations regarding code red drills, making them last longer and occur more frequently. Along with being unannounced, the procedures were made more strict, limiting what students and teachers got away with in previous years.
The new procedures were "a cold splash of water in the face" for strings sophomore Jay Coleman, who thinks that code red drills are being taken more seriously than they had been before. For underclassmen like communications freshman Brooke Kaplan the changes were "especially nerve-wracking" and "scary."
"You have to expect that it can come at an unexpected time," Kaplan said. "You don't really know what's going on … you don't know if it's real or not. We might not be scared if there's a real one because we might think it's fake."
Administration also expressed their concerns but has worked to create a plan to provide an approximate schedule for the unannounced drills.
"We certainly don't want to send our students into fear," assistant principal Leo Barrett said. "One of the things [Principal Dr. Susan] Atherley announced [was that] we will do the code reds in either the first week of every marking period or the first two weeks of the marking period, so that if one happens in that timeframe, you should not be fearful."
At the start of the year, each teacher was instructed to review the new code red drills with their students and answer any remaining questions. Some teachers implemented extra procedures to assure their students of safety, such as social studies teacher Sara Stout, who turned a project into her own classroom security feature.
"Ms. Stout noticed that some of us were worried about what would happen in a code red situation," communications freshman Kate Davis said. "She told us that other schools in other states had bins of rocks in their classrooms and asked us if that would make us feel better. She told us to bring in rocks, paint, and paint brushes to paint mandalas on rocks. In [an emergency] situation, she said that she would throw the rocks to keep us safe."
Although the changes were an adjustment for students, administration has worked to ease the transition and help students feel more assured of their safety.
"The code red drills make me feel that Dreyfoos, even though it's a lax school with lax rules, appropriately takes students safety very seriously," Kaplan said. "Dreyfoos wants to make sure all students are 100 percent safe so that they can have healthy, secure students."
Although she is skeptical, Lachowicz agrees that there are benefits to the new code red regulations.
"They teach us what to do during a time of crisis," Lachowicz said. "Without them, I think we would all freak out and forget what to do if something bad did happen."
Besides unannounced code red drills, at least one code red will occur during non-instructional time. Of the several code red drill changes, this has resulted in the most backlash, and many fear that it will lead to chaos.
"If it's non-instructional time, kids have to move in a direction where adults can guide them," Mr. Barrett said. "Remember, the adults will be out there; if it's a drill, we would be guiding you. The adults would take charge if it's a drill to show you where to go, so there would be a safe answer for you guys somewhere."
"
Remember, the adults will be out there; if it's a drill, we would be guiding you. The adults would take charge if it's a drill to show you where to go, so there would be a safe answer for you guys somewhere."
— Mr. Barrett
Despite concerns, administration assures students that their top priority is to keep students safe and that faculty is always available for support.
"The staff, as long as it's a drill, will be totally involved with [students] … and [will] offer a debriefing after it's over so that they can feel better after the drill," Mr. Barrett said. "I want students to know that during all these drills, your administrative staff will be out there for you to guide you, answer any questions, and help you if need be."
About the Writer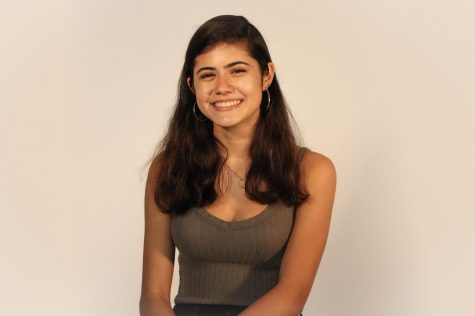 Isabella Ramirez, Assistant Managing Editor
Communications junior Isabella Ramirez is one of three assistant managing editors for The Muse. She is almost always found in the publication room, whether...