STUDENT MEMORIAL MOTIVATES CHANGE
From West Boca Raton Community High School to G-Star School of the Arts, students across South Florida have staged countless protests, rallies, and walkouts to honor victims of the shooting at Marjory Stoneman Douglas High School in Parkland, Florida on Feb. 14. Dreyfoos students joined these leagues of adolescent activists through the organization of a schoolwide tribute during lunch on Feb. 22.
The event, which was held in the gym, was initiated by dance seniors Lauren Clair and Gillian Kovacs as a means for the school to come together and respond to the tragic events of the past week.
"We started this because we want to bring awareness to the situation and show that we care," Clair said. "Even if only one news organization hears about this, we can do everything we can to show that we are here. If a [memorial] like this happened to every school in the nation, imagine the impact."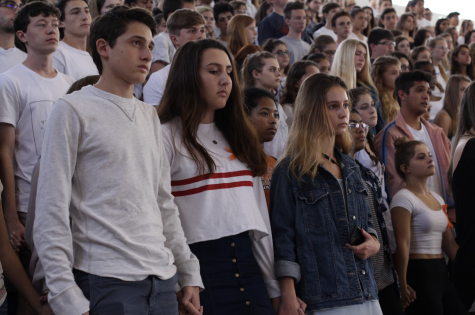 Preparation for the memorial began in the middle of the night at 3 a.m. on Sunday, according to Clair, who woke up and sought support from her classmates for the cause. Through inspiration and encouragement from her peers, Clair's vision for the event began to manifest.  
"It was multiple people who were involved in this; everyone had connections, and everyone was willing to help out," Clair said. "I asked my friend [communications senior] Dylan Pollak if she thought I could do something like this, and she was my biggest inspiration in this."
On Monday, Clair and Kovacs met with Assistant Principal George Miller and Principal Dr. Susan Atherley, who helped to organize the location and logistics of the event. From there, the pair visited businesses throughout the week, requesting donations of refreshments, and advertised the event on social media.
"We spent all of Tuesday going to 10 or 12 different stores, and we just asked them if they'd be willing to donate," Kovacs said. "Not one person said no. Everyone was willing to help, and it was such a beautiful thing to see the whole community come together."
At most memorials, attendees are adorned in black clothes to represent a feeling of mourning for those who have passed, but Clair claimed that this was not most memorials–she requested that participants dress in white clothing to create a symbolic message.
"We chose white because it's a pure, innocent color; we didn't want a dark funeral type of thing. We wanted it to be like a phoenix," Clair said. "When you're so broken down, all you can do is rise up. This is us rising up."
Dance junior Brida Gibbons introduced the tribute with a visual presentation to honor each of the victims from Marjory Stoneman Douglas High School. After, vocal seniors Bijou Aliza, Samuel Point Du Jour, and Haley Paulk, along with strings seniors Elisabeth Schreiber and Allen Cadet performed covers of "Jealous" by Labrinth and "Hometown Glory" by Adele.
"If I have a gift for singing, I should be able to use it to express my political views, my emotions, and everything else," Aliza said. "It needs to be your outlet. At Dreyfoos we are so fortunate to have those gifts. We're different, we're unique, and we need to take advantage of that and embrace it. Our gift matters."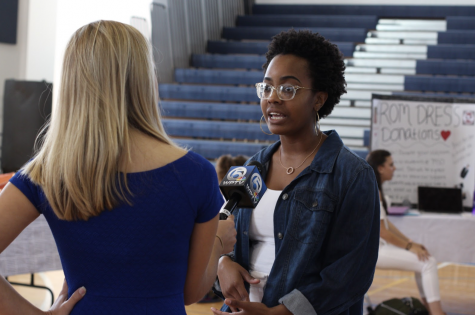 Following the first musical performance, theatre senior Eli Jacobson shared a poem and communications seniors Maya Levkovitz and Christiana Boehme delivered a co-written speech. Their performances allowed them to voice their opinions on the issue and encourage others to do so as well.
         "We had a lot of personal feelings that we wanted to express, and the best way we can do that is through our art and our speech," Levkovitz said. "What we really wanted the community, for Dreyfoos, to get out of it is that they can make a difference, that the youth have the ability to change our world and our nation. I wanted our students to be able to know that."
           Above all, Clair, Kovacs, and others who worked to organize the memorial hope that it will unite the community and begin the healing process.
          "We are embracing the lives that were taken from us, whether we know them or not," Aliza said. "They would have been our doctors, our secretaries, our neighbors. This will show the families that we are trying to embrace these students' lives, and we are showing that we need to remember these people and make a change in any way possible."
About the Writer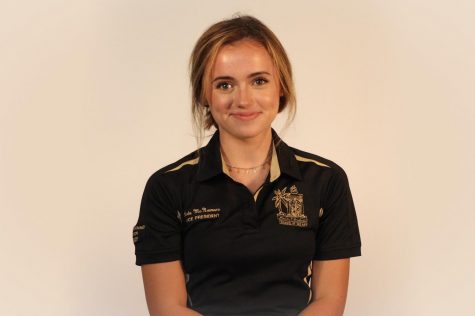 Kate McNamara, Editor in Chief
Communications senior Kate McNamara is a third-year staffer and one of the editors-in-chief of The Muse. McNamara is also one of the vice presidents of...